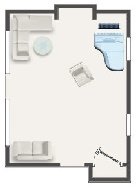 Piano room placement has been said to be a greater critical decision for piano owners, than maintaining and caring for a piano, long-term.
Correct piano room placement can result in achieving the best sound, performance, and most of all, longevity, of your piano during its lifetime, and most importantly, during your lifetime.
On this page, we will discuss both the advantages and disadvantages of different piano placement options, and their respective locations, below.
Several diagrams can be found on this page, showing where to place, and where NOT to place, your piano in a house, room, or building.
If you are searching for piano caster cups, to protect your floor or carpet, you may buy them, here.
If you need a cover for your piano, if placed in the path of direct or indirect sunlight, you may request one, here.
If you wish to protect the delicate
…
Read More