As parents, we often struggle with wanting to make our spaces look pretty while still keeping them functional and practical for our families. The struggle is real, but it's not impossible to overcome. If you're looking for ways to make your main living area more family friendly, check out these kid friendly living room ideas to manage the chaos.
Smart Kid Friendly Living Room Ideas
If you have toddlers, you know just how precarious a drink on the coffee table can be. Using a slim table behind the sofa like this keeps little hands from reaching drinks, the remote, etc. and knocking them over.
Hang baskets on the wall to hide toys, blankets, and games when they're not in use. And when the kids want them, you can easily pull the basket off the wall to make reaching their things easier.
Cube storage works so well when your living room doubles as the kids' play area. The cubbies can hold books, puzzles, board games, etc., and you can add pretty baskets to some of the cubbies to contain smaller toys like blocks and dolls.
Have a dual purpose coffee table! Add a couple of kids' chairs to allow them to color, make crafts or work on their homework while they're with the rest of the family.
The bean bag chairs and teepee in this living room make it so much more kid-friendly. Still, the neutral colors help it blend in seamlessly with the rest of the furniture and decor.
Blend your kids' artwork into the decor of your home. Here (at the St. Jude's campus), you'll find white framed cork boards where kids' artwork is rotated regularly. You can do the same in your home… the frames around the cork boards tie the pieces together and make the displays look so much neater.
Use hidden storage wherever you can. This under chair storage basket is smart and attractive, and as long as the contents aren't spilling over, it'll look tidy.
If you keep a toy chest in your living room, you know that the kids will drag everything out to find that one toy (that somehow always happens to be at the bottom). Use plastic storage containers to keep your toy chest organized.
Create a window seat storage area. What home couldn't use more storage and more seats? I know ours could!
Let the kids draw on the walls. Don't worry… you can do this chalkboard paint on a small wall to contain the chaos.
Or if the idea of an entire wall dedicated to drawing intimidates you, try this chalkboard coffee table instead.
A rounded coffee table and white bookshelves make this room so kid-friendly! The shelves hold toys for now and transition with the family as the kids get older. The rounded coffee table is more toddler and preschooler-friendly (no sharp edges, thank you!) and the little poufs offer comfy seating.
A storage ottoman with a fun pattern is a great way to store kids' toys because it doubles as seating, too.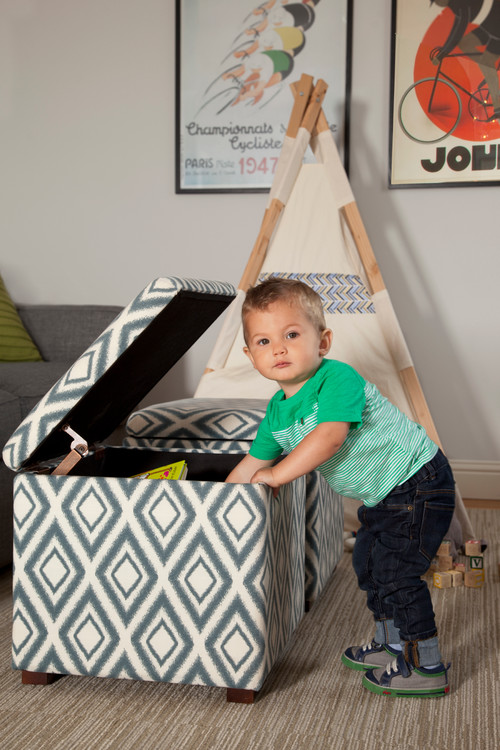 This post may contain affiliate links. For more information please review our disclosure policy.