Outdoor rugs have come a long way in recent years—and they're not the thin, plastic-y carpets you might be imagining. They can be just as beautiful as indoor ones (in fact, you'll find plenty of outdoor-graded rugs being used inside). 
The key to finding a rug that can endure the elements lies in the materials. "Solution-dyed acrylic is the gold standard because it's fade resistant and can be cleaned with bleach without compromising the fibers," says Sarah Cole, an interior designer based in Newton, Mass. Polyester and polypropylenes are also durable and easy-to-clean materials. Avoid rugs with a blend of materials, including any with cotton, jute or sisal, which can mold and deteriorate.
When it comes to design, it's wise to choose a flat-weave style, which will dry much faster than thick or hand-knotted ones. The designers we consulted also favored relatively neutral choices. As Cole explains, "A lot of indoor/outdoor rugs feature vibrant summer hues and patterns, but I prefer sophisticated designs and more muted, classic tones because they provide a neutral canvas—so your garden can be the star." 
Note: Prices below are for 5-by 8-foot rugs or similar dimensions.
Ultimate sisal look-alike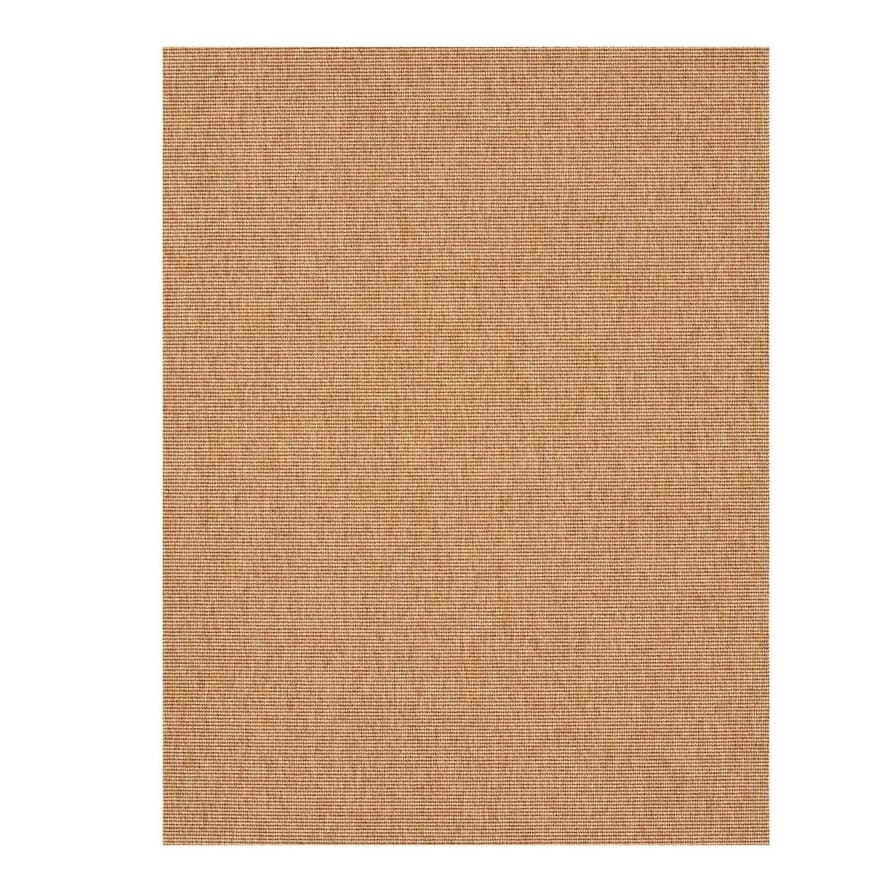 Sisal Rugs
Belize Outdoor Sisal Polypropylene Rug
Alex Kalita, founder of Common Bond Design in Brooklyn, N.Y., swears by this SynSisal Belize rug in the Dune shade. "It is the most convincingly sisal-looking option I've found because it avoids the orange undertones you often find in polypropylene masquerading as a natural fiber," she says. Kalita notes the Belize rug is softer underfoot than other SynSisal rugs. "It's even soft enough to use indoors, which I've done in my own home and in the homes of clients who wanted an extremely pet- and kid-friendly floor covering."
---
Customizable carpet
The Perfect Rug
Saunders Beach Rug
If you're craving a sisal look with even more customization options, designer Julie Brown of Brownhouse Design in Los Altos, Calif., recommends ordering from ThePerfectRug.com. "Our clients always walk away happy with a rug that is durable, high-quality and easy to maintain," she says. Recently, Brown ordered a custom Saunders Beach Rug in the Dune color for a client's poolside lounge, noting, "we typically go with an option that blends with the backyard rather than contrasts to create a flow between the outdoors and indoors." With six base colors and 48 binding options, the site offers dozens of possible design combinations.
---
Best of both worlds design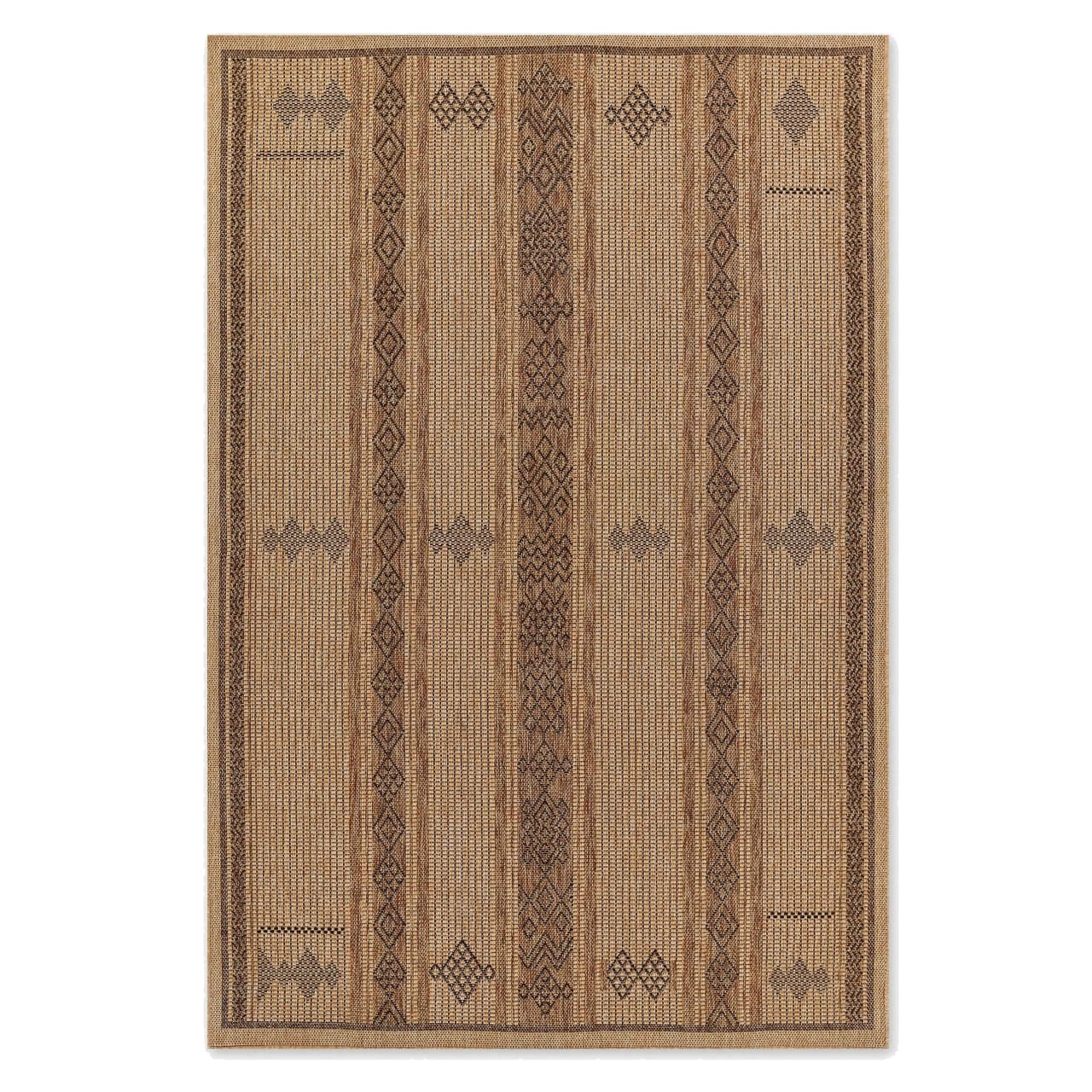 Lulu and Georgia
Ember Indoor/Outdoor Rug
This outdoor rug combines a traditional woven pattern with a sisal-like fiber, a combo that Austin, Texas-based interior designer Sarah Stacey has found useful for several projects. "This rug works in so many spaces," she says. "We have specified them for covered patios, spaces that are open to the elements and indoors in high-traffic spots like family rooms, breakfast nooks and play rooms." Stacey notes that the neutral rug is a great foundation to layer bold colored furniture and accessories on top.
---
Classic with a twist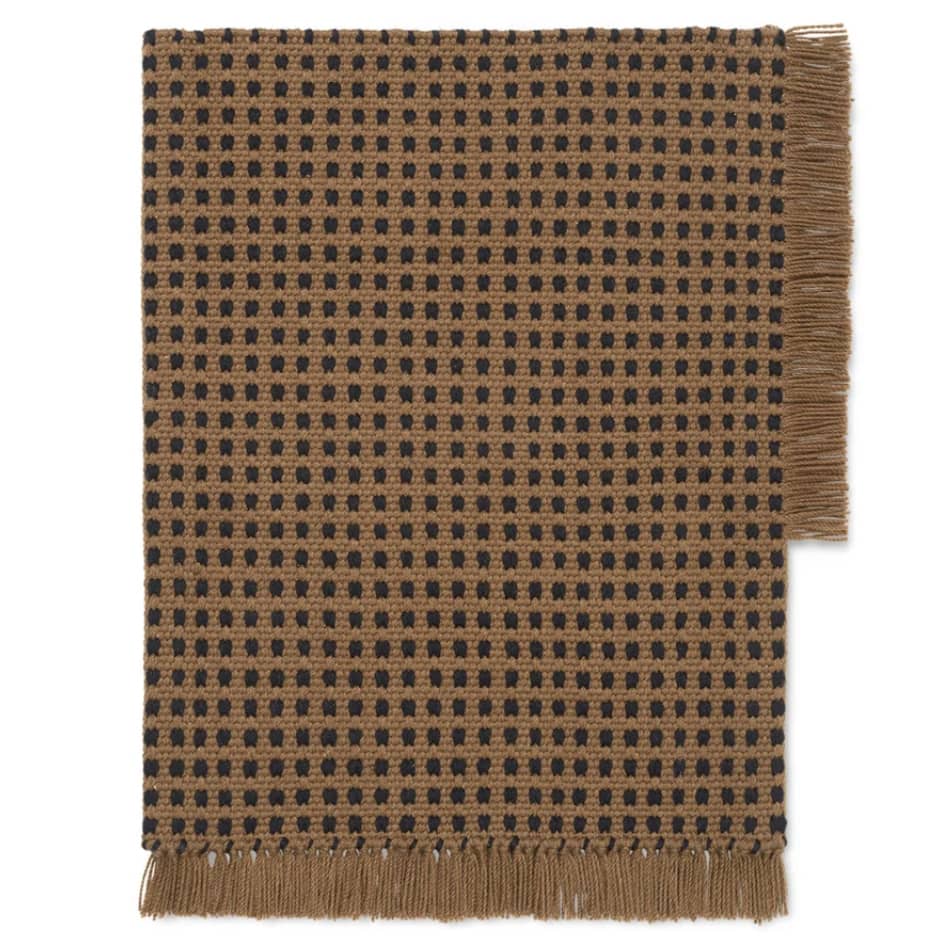 "Realistically, you are not going to clean an outdoor rug regularly, so you want one that will look good after being stepped on with dirty shoes or covered in leaves," says Amanda Gunawan, co-founder, OWIU Design in Los Angeles. She advises finding a rug in "a color that is natural enough to withstand all that, like this brown rug from Ferm Living." Bonus: Its asymmetrical fringe detail gives the timeless weave a little designer edge.
---
Well-defined neutral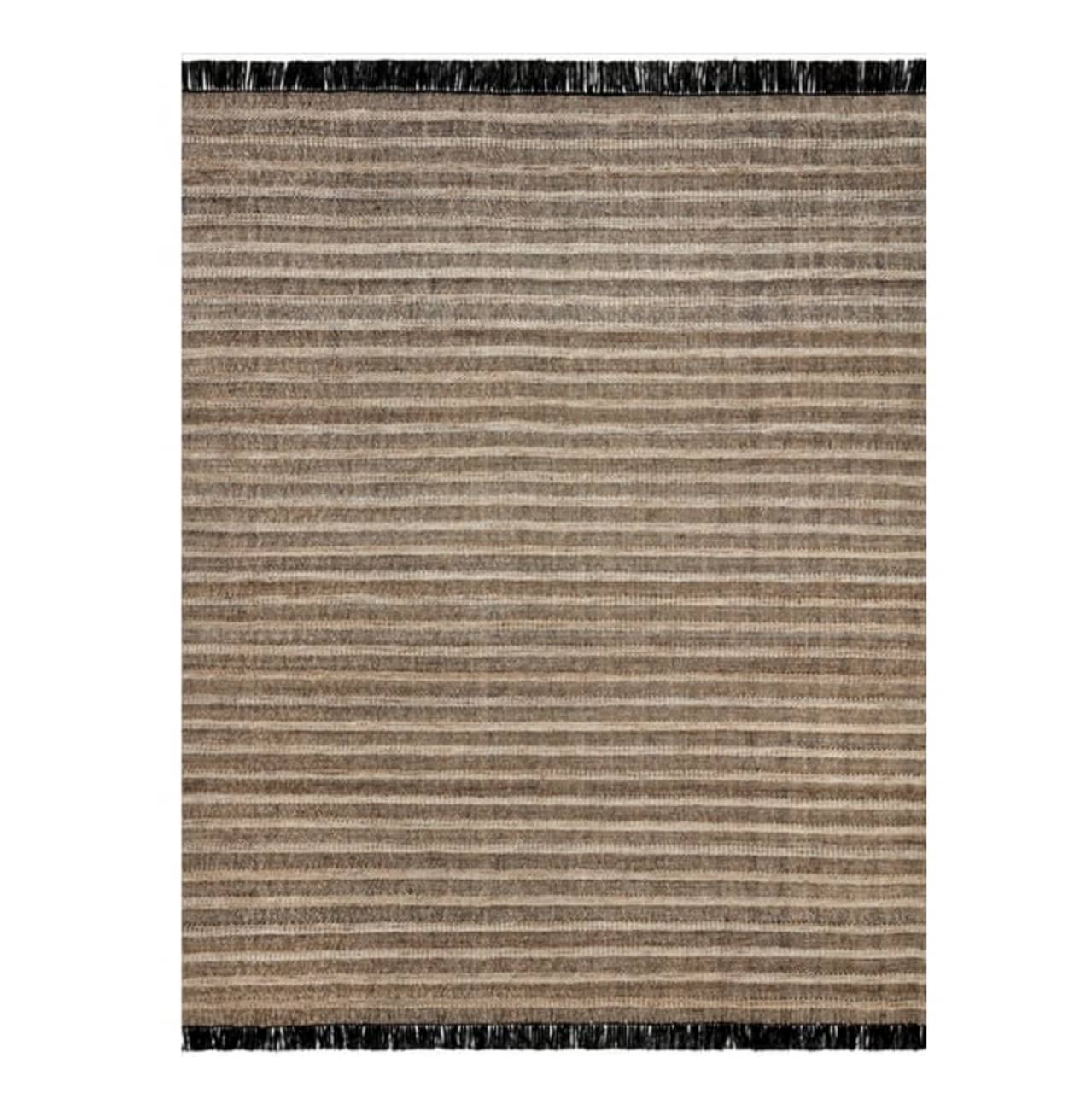 Justina Blakeney x Loloi
REY-01 Area Rug
A rug that Stacey recommends and has specified for projects hails from Justina Blakeney's collection for Loloi. "It's budget friendly and extremely versatile," she says of this rug in the Camel colorway. Black fringe at the ends gives the neutral design some definition. 
---
Color chameleon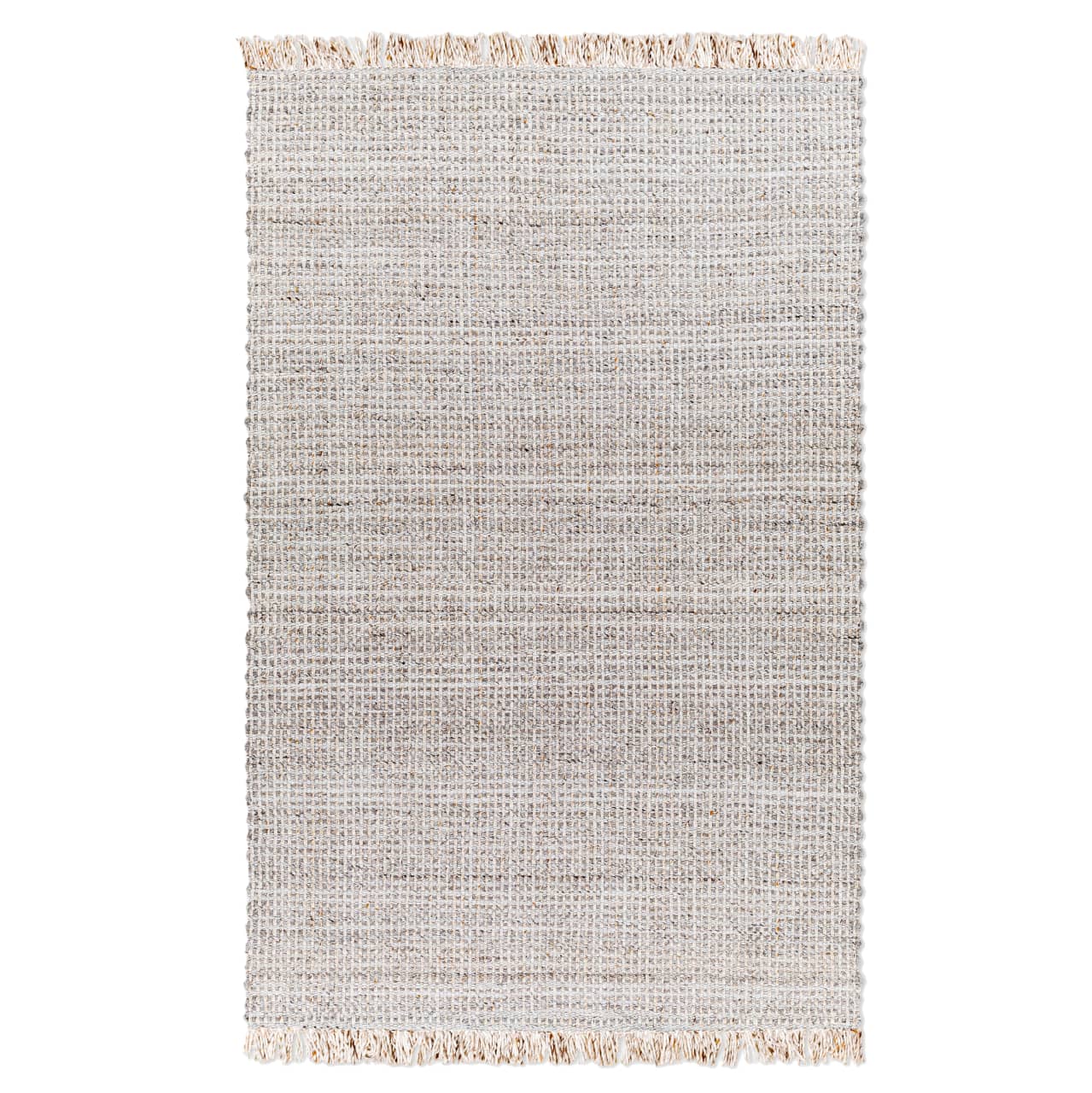 Lulu and Georgia
Jubal Indoor/Outdoor Rug
"The color of the Jubal rug mixes well with both warm and cool neutral colors, making it easy to go almost anywhere," says Bridget Tiek, an interior designer based in Baton Rouge, La. Tiek notes that this rug looks and feels like a natural fiber, even though it's made of PET yarn. Another reason she loves it is that it's available in many sizes up to 12 by 15 feet.
---
Perfectly understated pattern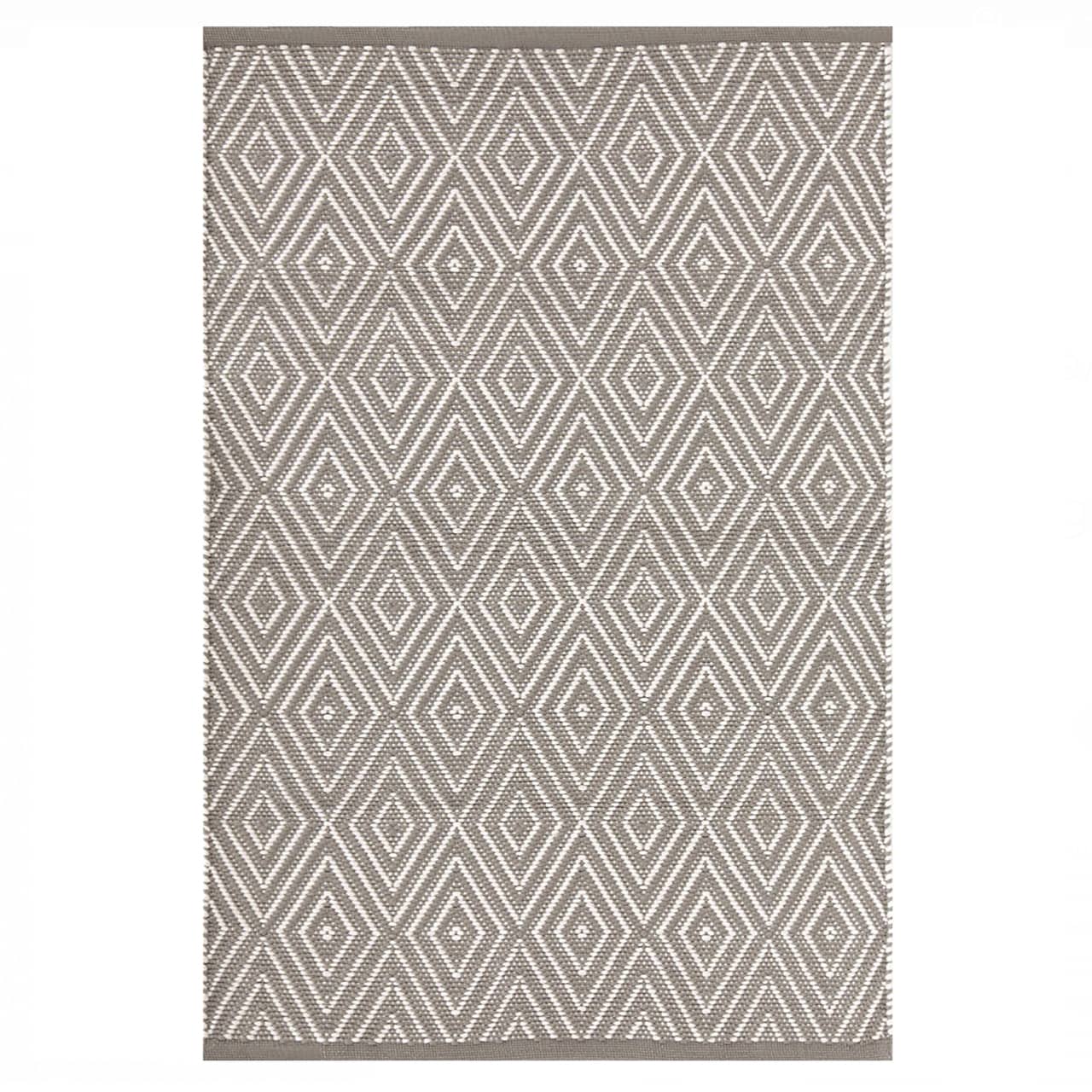 Annie Selke
Diamond Handwoven Indoor/Outdoor Rug
Interior designer Katie Davis, founder of Katie Davis Design in Houston, Texas, likes Annie Selke's Diamond Indoor/Outdoor rug so much that she used it in her own screened porch. "The pattern is interesting but at the same time seamlessly disappears into my overall outdoor scheme," she says. Plus: "It is really easy to hose down—between all of my pets, kids and party drinks we've loved and used it well!" Shoppers can order this (and other Annie Selke outdoor rugs) in custom sizes.
---
Nearly solid stunner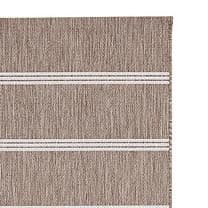 Suzanne Kasler
Striped Indoor/Outdoor Rug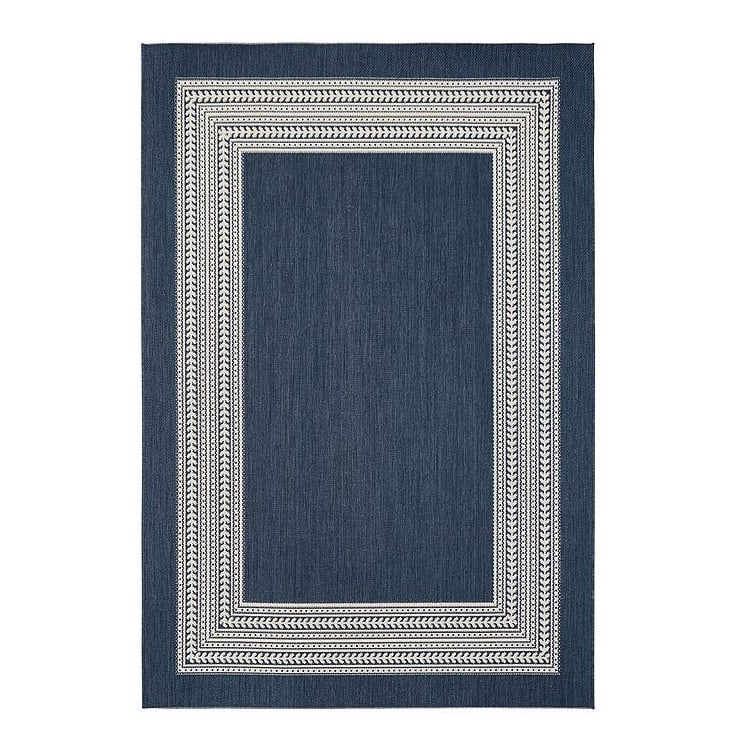 Suzanne Kasler
Fleur Indoor/Outdoor Rug
Davis also likes the subtle outdoor rugs from Ballard Designs, in particular this striped option from Suzanne Kasler collection. "The border stripe is interesting but at the same time seamlessly disappears into my overall outdoor scheme," she notes. This writer knows a homeowner in New York City who has used Suzanne Kasler rugs outdoors and in a beach house and notes that they clean up well with a power washer or even at a DIY carwash. For a similar vibe from the same collection see the Fleur rug at the top of this story
---
Laid-back stripe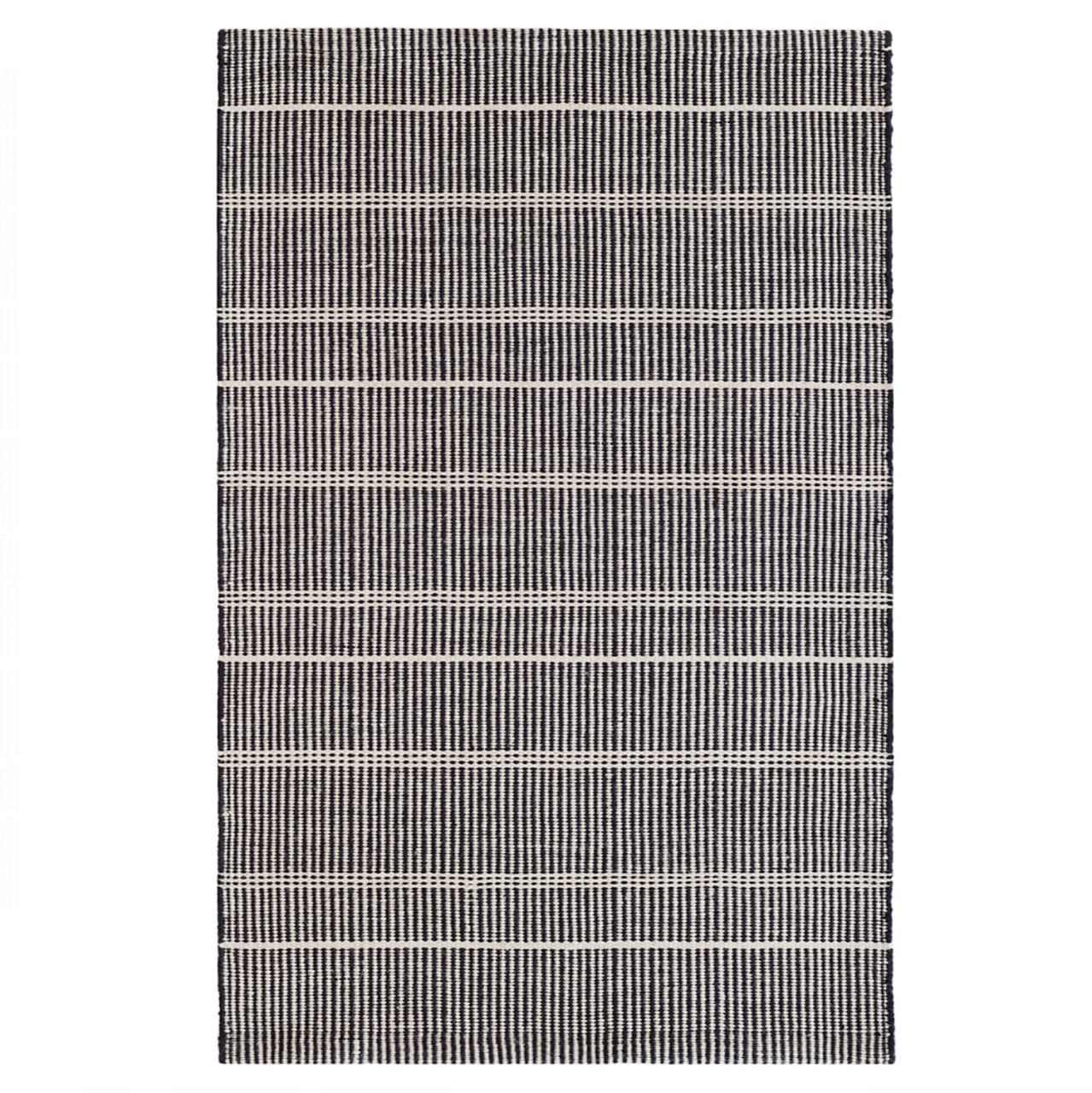 Annie Selke
Samson Black Handwoven Indoor/Outdoor Rug
Other designers who sing the praises of Annie Selke's outdoor rugs' quality and custom sizes are Sarah Cole and Katie Davis. "The Samson rug adds so much texture and a classic pattern to an outdoor space," Cole says. Davis also praised this flat-woven polyester fiber rug, noting its "beautiful neutrals that compliment a ton of different styles." Part of the Bunny Williams collection, it comes in four color options.
---
Pool house pick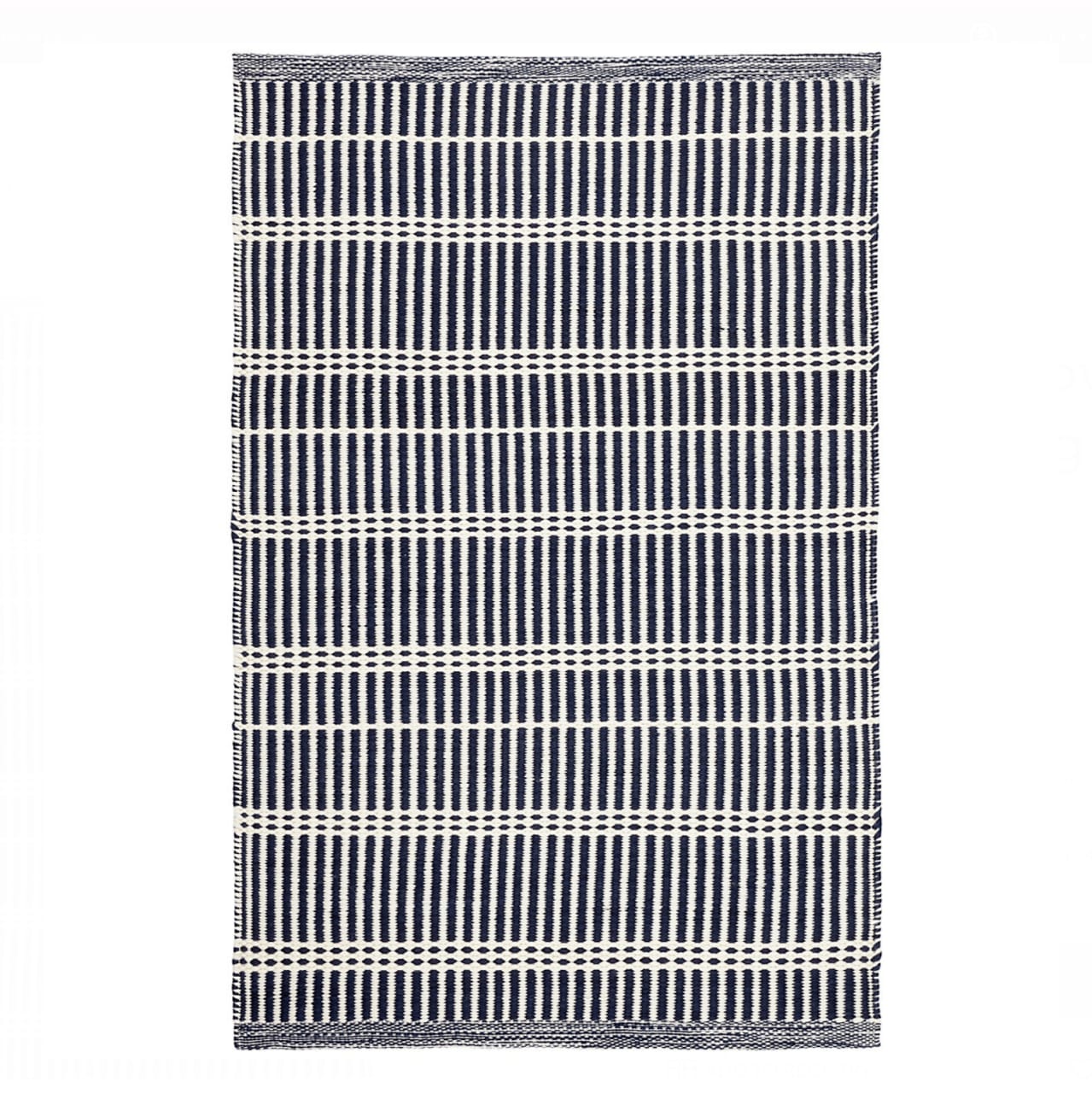 Annie Selke
Marlo Navy Handwoven Indoor/Outdoor Rug
Susan Wintersteen of Savvy Interiors in Solana Beach, Calif., chose the Marlo for a recent pool house project and notes that lightweight and reversible rugs offer versatility in style while also being easy to move or rearrange according to your design needs. While Wintersteen likes dark colors like navy and black for their grounding quality and ability to camouflage dirt, the Marlo comes in six colors, including punchy fuchsia and a lime green, if your tastes lean more colorful.
---
Artful abstract option
Studio Anansi
Faro Handwoven Performance Indoor/Outdoor Area Rug
This outdoor rug designed by London-based Studio Anansi for CB2 breaks the mold with its unusual organic pattern. Daniella Villamil of Daniella Villamil Interiors in Las Vegas likes that it has a point of view but "the neutral, soft and organic lines are still perfect for anchoring a seating arrangement." 
---
African-inspired motif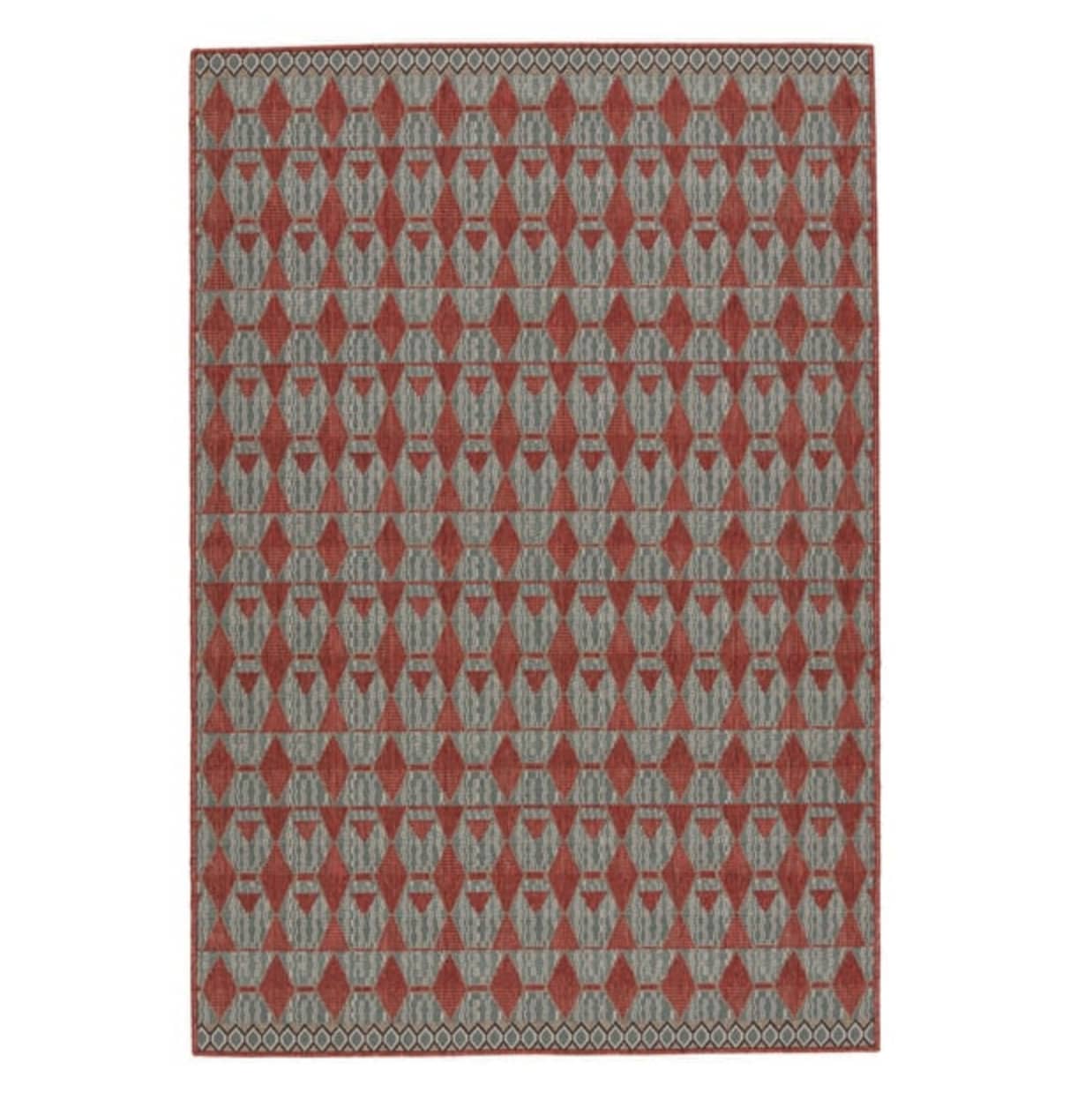 Vibe by Jaipur Living
Mahaba Maji Area Rug
For something bolder, Kirsten Conner, an interior designer based in Seattle, likes the outdoor rugs by Jaipur Living, in particular the Mahaba collection. This one "has a dynamic African motif with brick red, blue, green and grounding browns that pick up the brown color of many outdoor furniture lines," Conner says, noting that she recently used it on an outdoor covered patio facing Puget Sound. It also comes in two neutral colors for those who prefer a quieter look.
---
Pattern with vacation vibes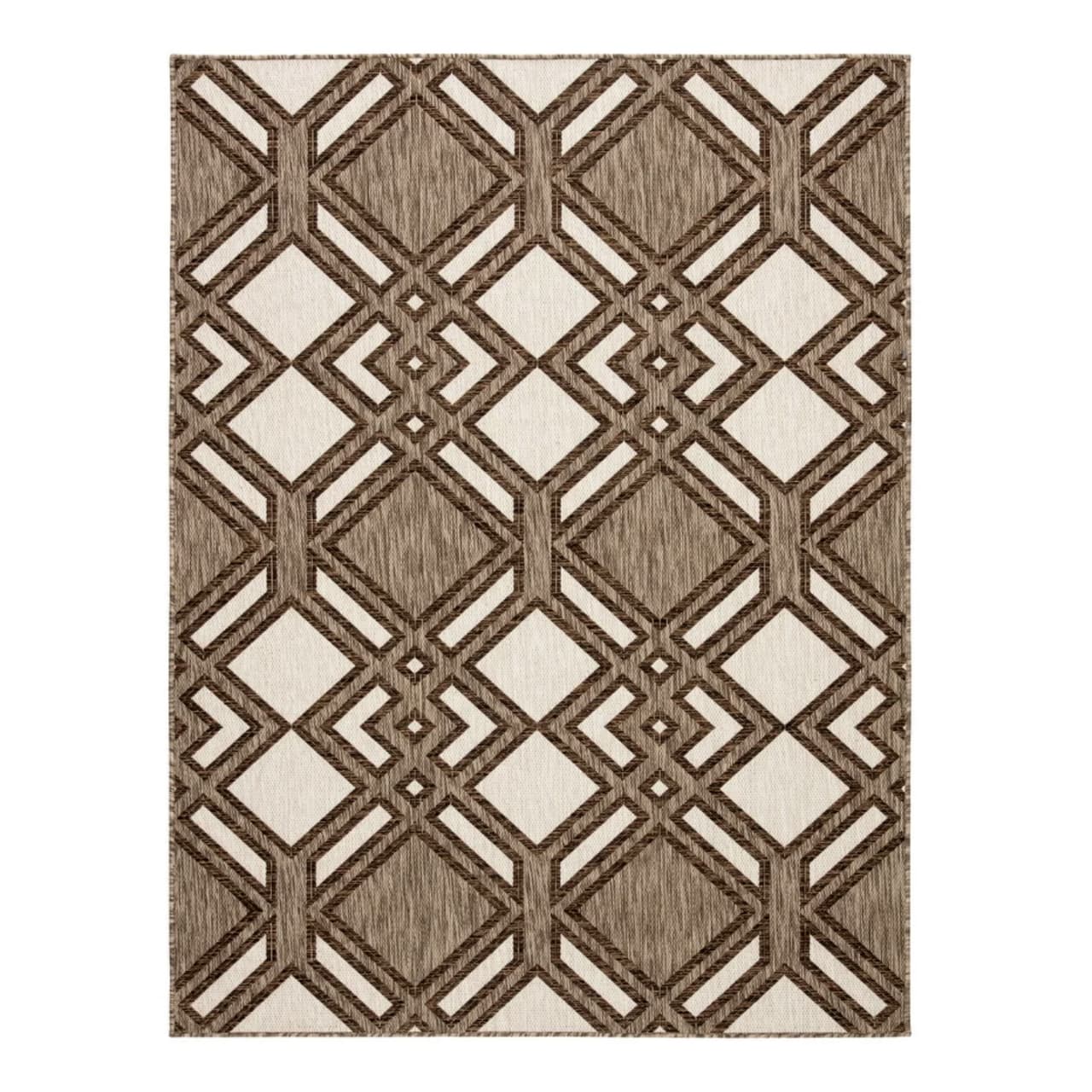 Nikki Chu
Samba Indoor/Outdoor Trellis Area Rug
A lively favorite of Conner's is the Samba from Jaipur Living. "I used this for an uncovered back porch to add a large-scale pattern to activate a simple green and blue color palette," she says. Conner adds that it reminded her of "old time-y Pacific Island patterns."
---
Cool cross hatch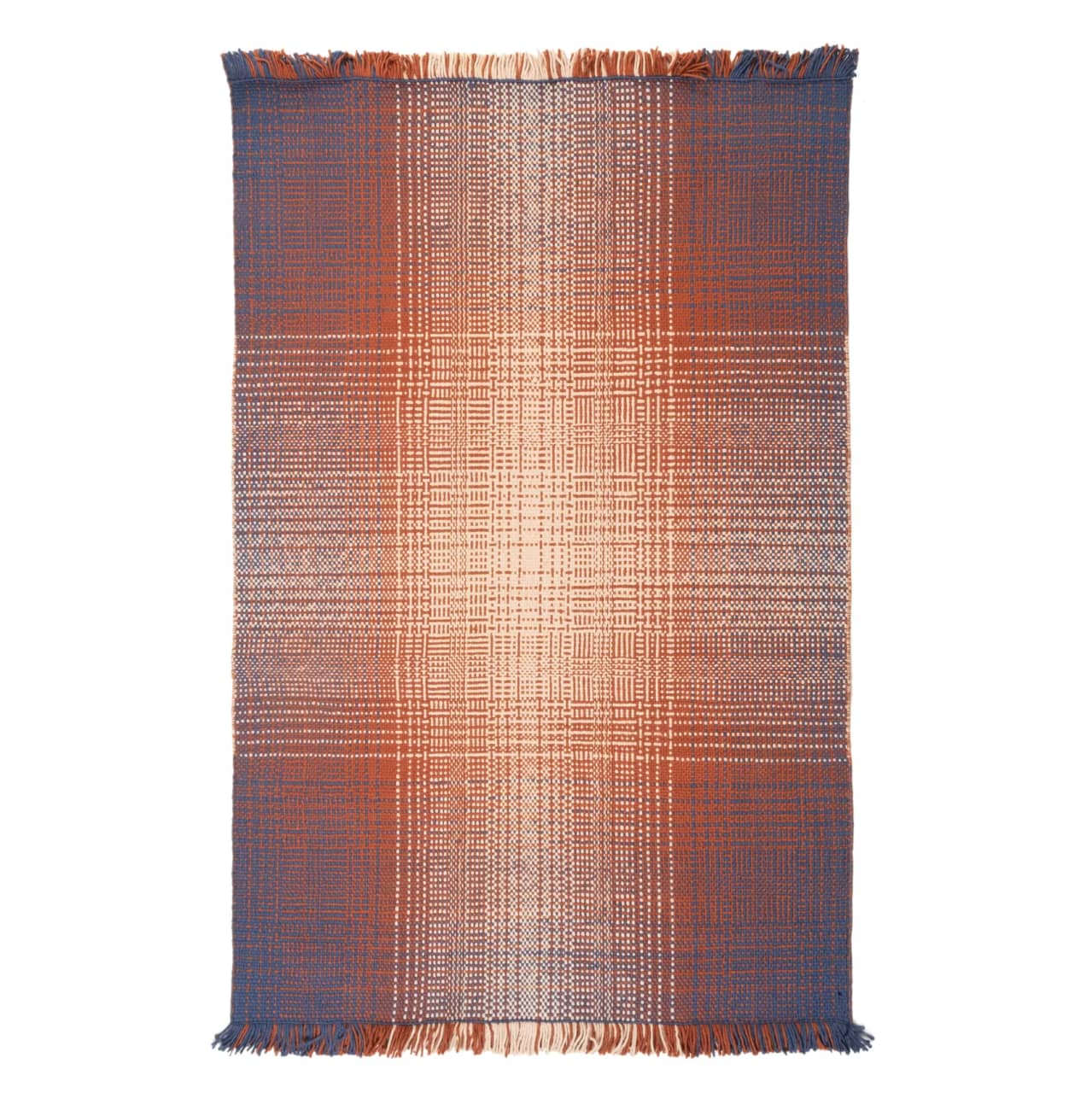 Revival Rugs
Bocce Flatweave Outdoor Rug
Brooklyn, N.Y.-based architect Holly Mumford, founder of Hereabout Home, is unusually enthusiastic about the outdoor rug she purchased from Revival Rugs. "It's got such a nice wool-like feel, which is hard to find in an outdoor rug," she says. Mumford used her rug indoors in a rental property that hosts both dogs and small children. "It's held up through food, mud and wine spills, so I am confident it would endure well outdoors, as well," she says.
---
Sweet and simple stripe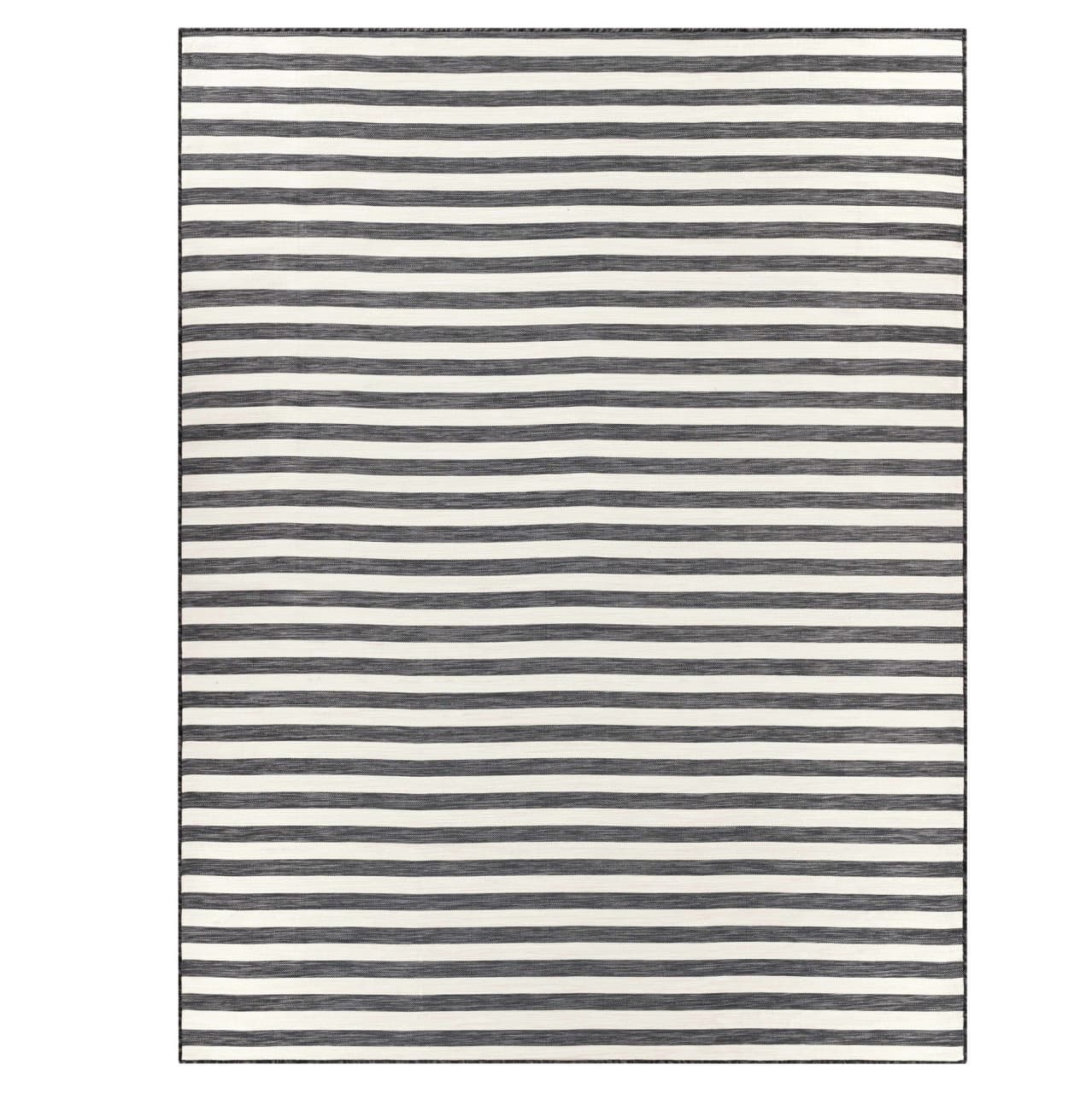 Hauteloom
Bongaree Area Rug
"I love this economical striped rug and have used it personally and for clients," says Katrina Peralta, founder of Livlet Studio, a Brooklyn, N.Y.-based interior design studio. Peralta says that even though it is so reasonably priced, it looks like new after pressure washing "even after a season of pollen, rain, snow and more." 
The advice, recommendations or rankings expressed in this article are those of the Buy Side from WSJ editorial team, and have not been reviewed or endorsed by our commercial partners.