A farmhouse decor shows how simplicity brings warmth and serenity to the room. Along the way, while it becomes more popular, more people are intrigued to have their room adorned by a farmhouse decoration.
From many respondents, this design becomes favorite due to several reasons, which two of them are the colors and the rustiness.
The colors that are often used in this design are mostly neutral, such as white and khaki brown. Those colors are chosen because they are very close to nature.
The key element of a farmhouse decor is to look as natural as possible. That's why the rustiness of the furniture also become the key points here.
For example, the living room. A farmhouse living room will be dominated by furniture which are casual and comfortable.
Commonly, the colors are circling around white and light brown. However, there are other options. Here are they:
1. Monochrome Farmhouse Living Room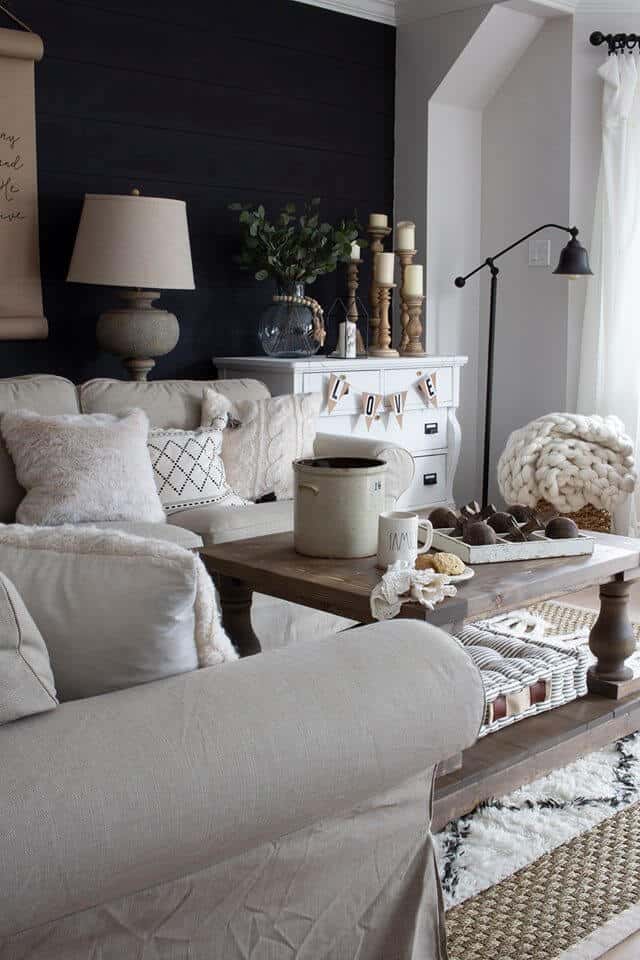 At a glance, this living room looks like an ordinary modern room; however, it hides its rustic farmhouse quality behind the black paint.
It's not a brick wall; it's actually hardwood planks. Another rustic piece is the coffee table. it has a natural rustic appearance. Its surface even seems rough, but you can always varnish it.
In addition, the decorations represent a farmhouse design, such as the barn bucket on the table, the vintage candles and the natural brown colored couches.
2. Large Fireplace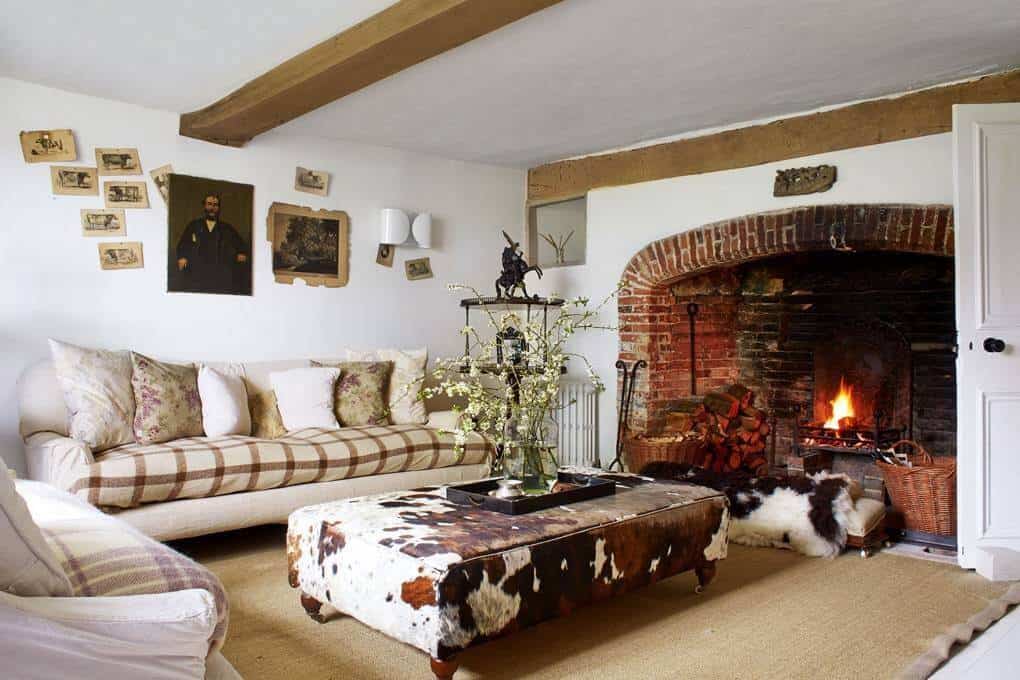 As soon as you enter the room, the large fireplace catches your eyes. Complete the look with faux cow leather rugs.
In addition, the wood beams which decorate the ceiling emphasize the point of nature.
3. Rattan Farmhouse Living Room Furniture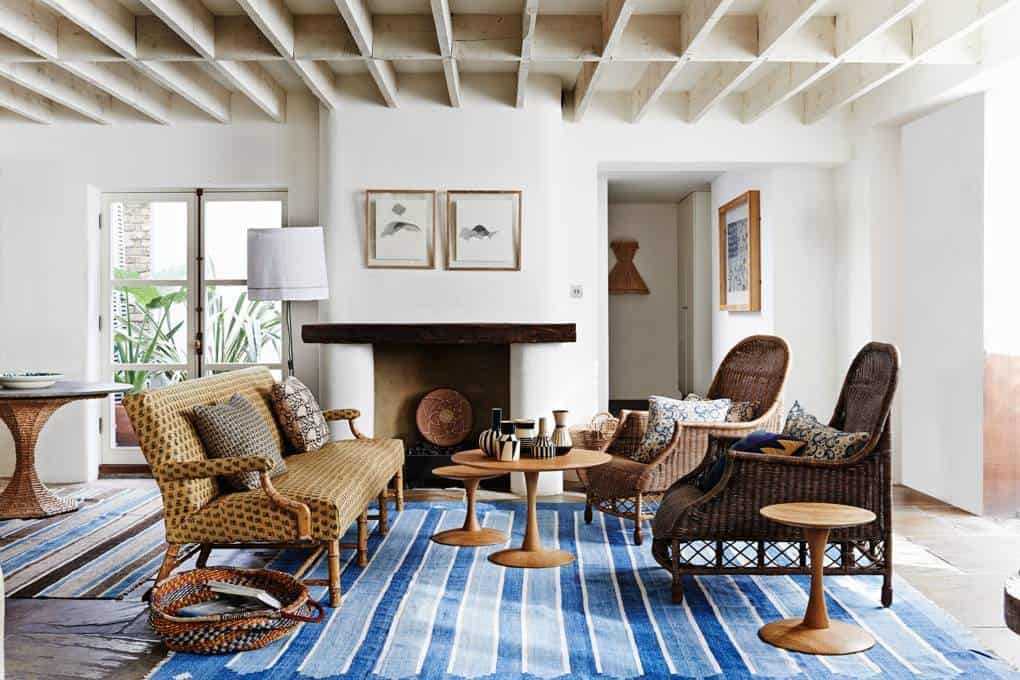 One of the importance key of a farmhouse decor is to be as close as possible with nature. Other than furniture made of recycled barn wood, rattan is also an organic material for this design.
It'll look good during the autumn season, too. The beautiful white will emphasize the farmhouse decor. Add unique pottery as decoration to complement the natural feeling from the rattan.
4. Contemporary Farmhouse Living Room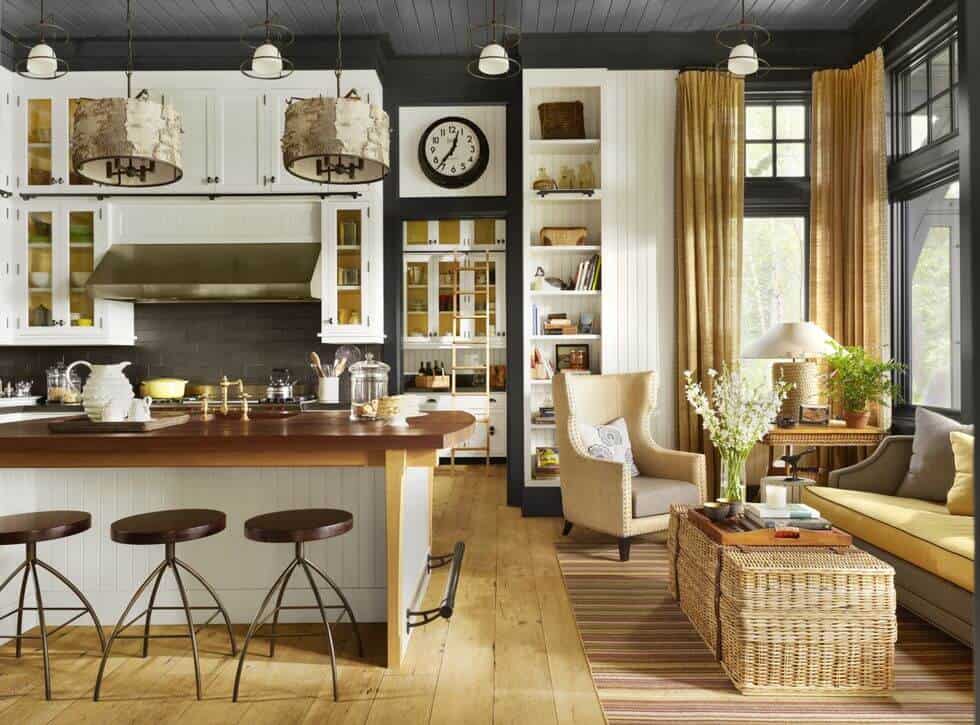 If you live in a city, you can still get that farmhouse look in your living room that's located next to the kitchen area due to a limited space.
Using gold on the curtain, sofa cushion, and inner part of cabinets definitely make your room pop.
The ceiling, wall accent and the island are made of barn wood planks. Plus, the coffee table is made of rattan, which accentuates the rustiness of a farmhouse decor.
5. Traditional Farmhouse Living Room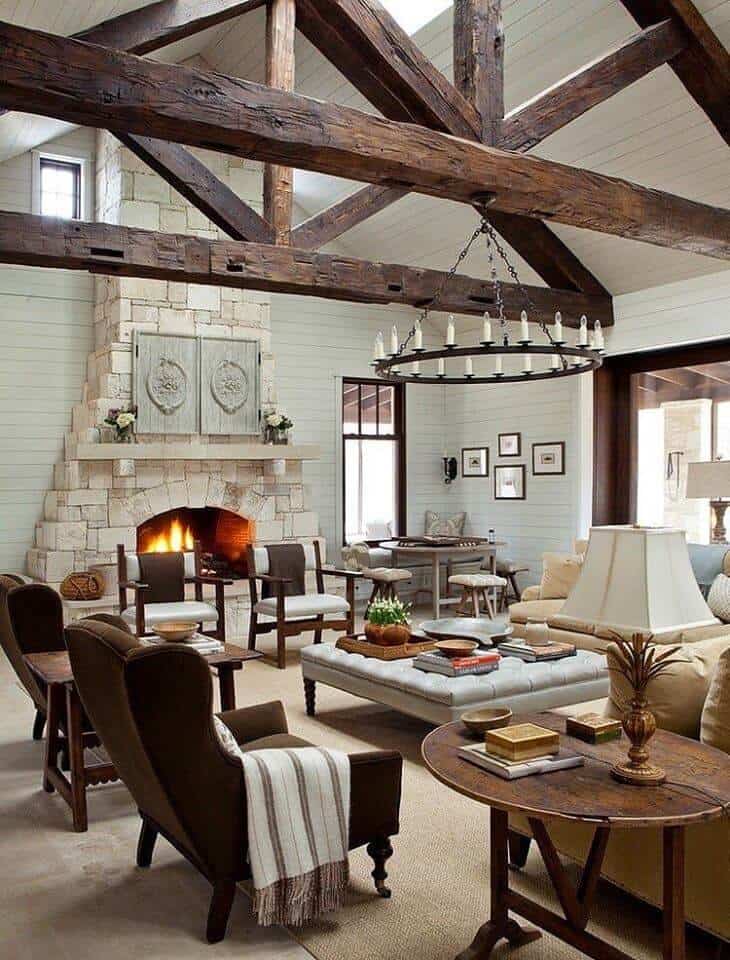 A great way to experience a real farmhouse living is to transform your living room into the closest resemblance of a barn-like farm house. This room has a high ceiling. It's decorated with strong, sturdy beams of varnished barn woods.
The chandelier is composed of candles, which is extremely barn-like. Moreover, the large fireplace goes up to the ceiling.
It's composed of stone bricks. All of these elements are combined, creating a warmth and welcoming atmosphere for a family or friends gathering.
6. Farmhouse Living Room with Exposed Brick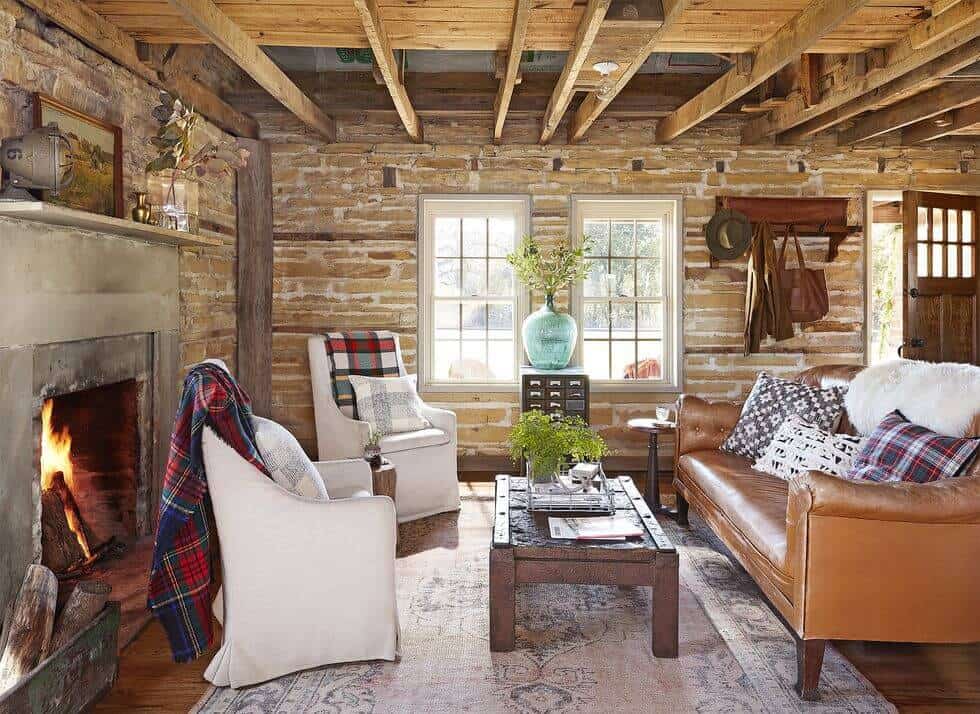 Choosing a farmhouse design means you'll be dealing with a lot of stuff that are commonly seen in a barn.
This farmhouse living room design shows you the exposed bricks which accentuate the traditional value of the space.
Moreover, the beams on the ceiling look rustic, too. With a large sofa and two armchairs, the rough wooden block coffee table definitely make the room look perfect.
7. All-White Farmhouse Living Room Idea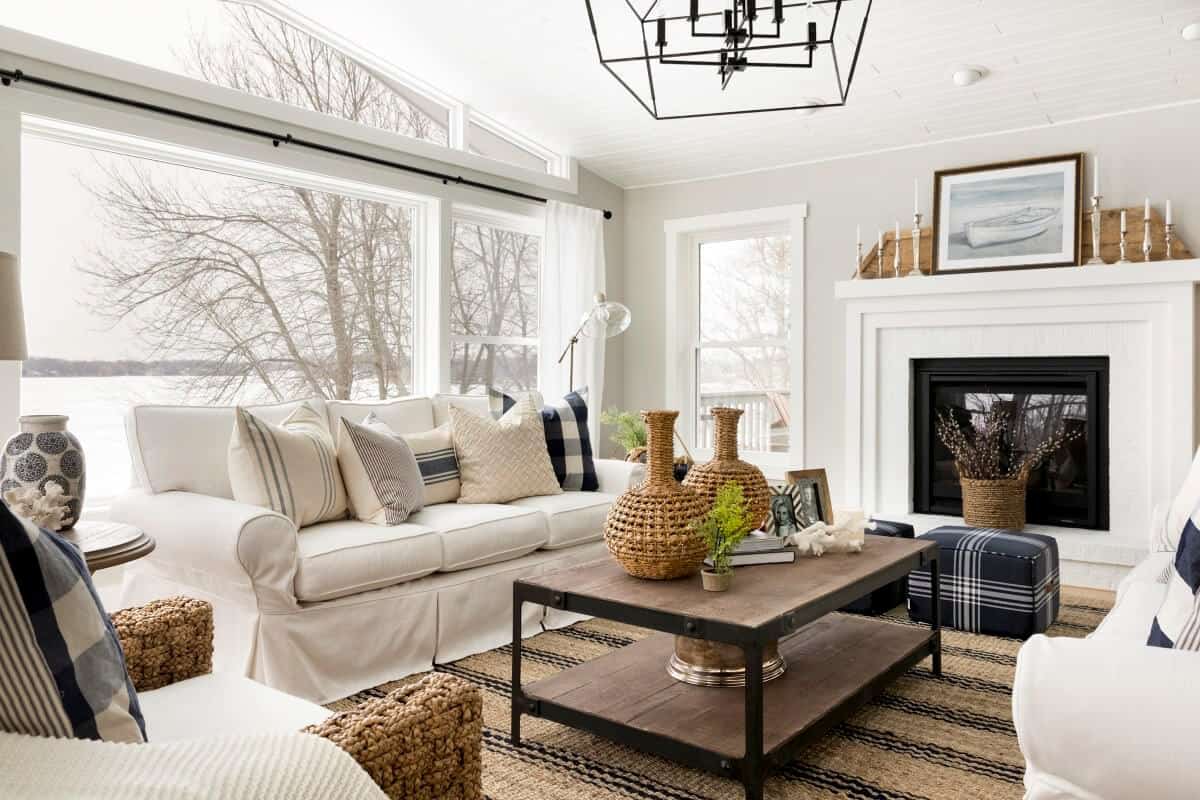 White is often referred to when it comes to a farmhouse decor. It is because white provides a great start for decoration. As seen, this living room has chose to go with an all-white theme.
The rattan furniture; an armchair, coffee table decorations, flower basket, rug and a fireplace top, are popped due to the clear background.
Add some green here and there to balance these neutral colors.
8. Open Plan Farmhouse Living Room Design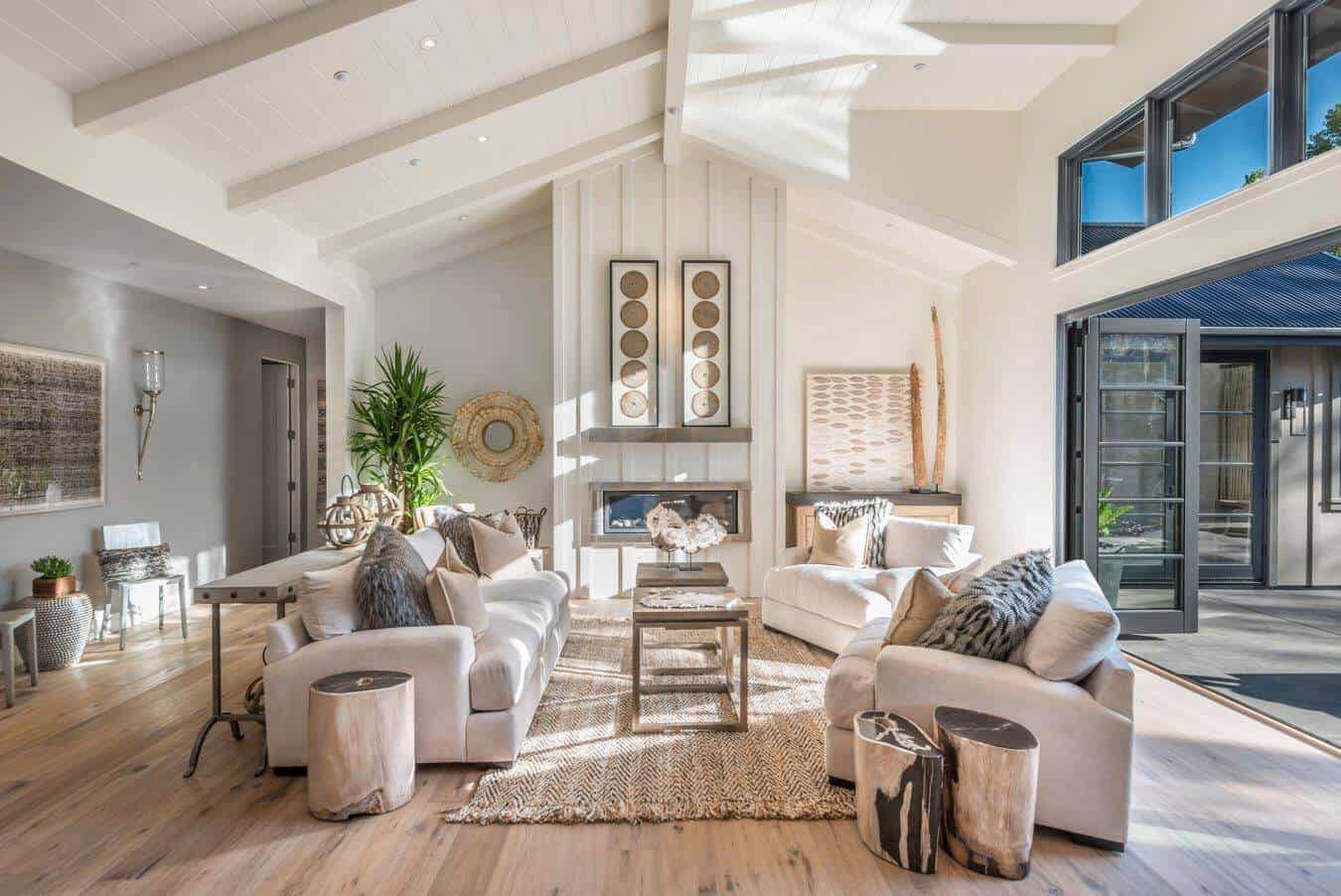 An open space is a very popular concept in most of western houses. It gets rid of barriers that separate several main rooms, such as living room and other areas inside the house.
As seen, the view from the living room is directly the backyard porch, or it could be a swimming pool area.
To maximize the open space, use wood beam blocks on the ceiling, while at the bottom, add rustic wooden furniture, such as those reclaimed barnwood coffee tables and stools made of tree blocks.
9. Chevron Rug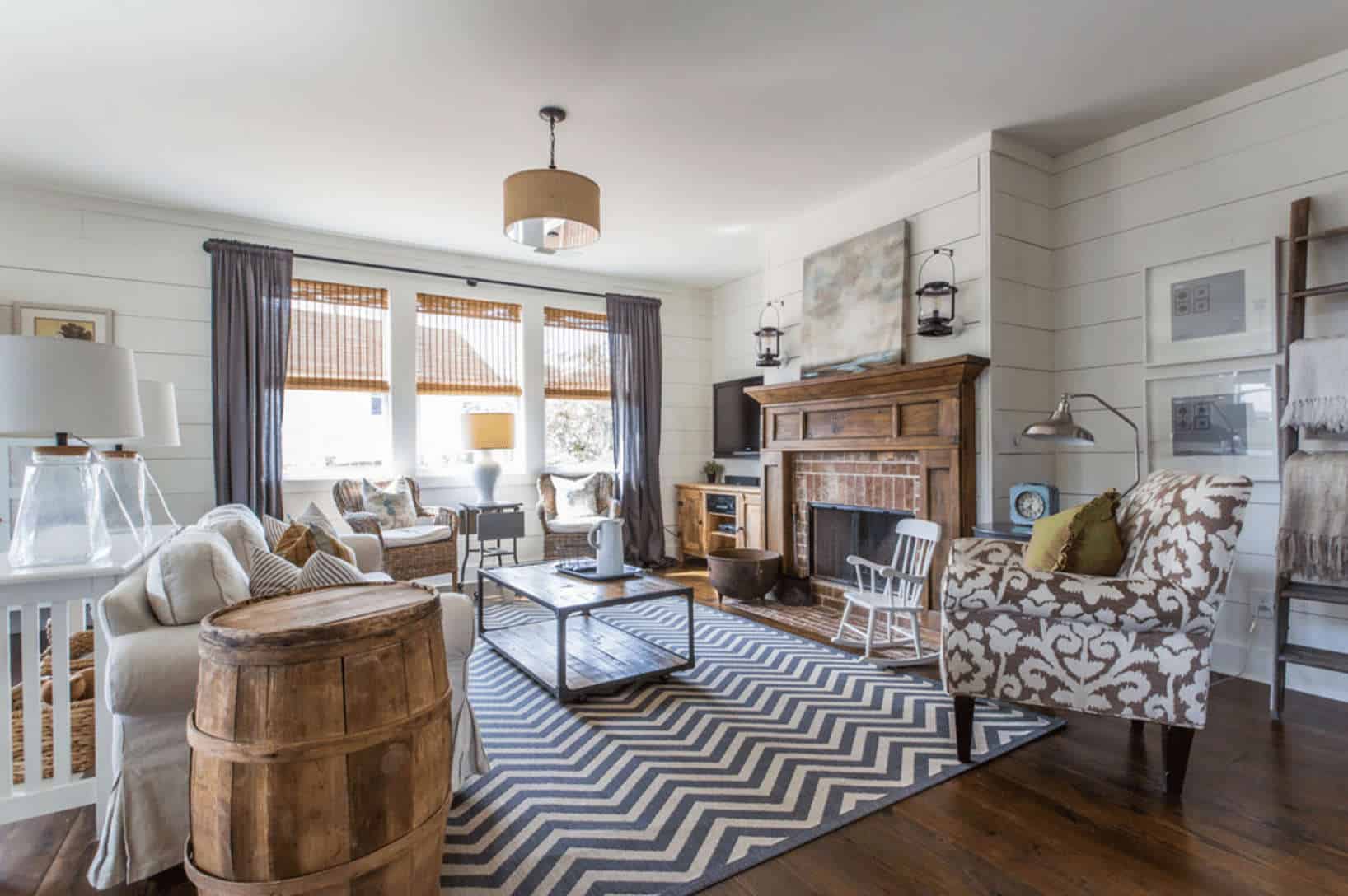 The chevron rug is very eye-catching. Along with the unique armchair pattern, this room represents a mid-century design.
There's a modernity in such a simple concept. However, it's then mixed with rustic, barn atmospheric surrounding by adding recycled beer tong as a table, wooden frame for the fireplace which makes it look antique and the wood planks as wall accent.
Not to mention that the coffee table is also very farmhousy.
10. Reclaimed Wood Wall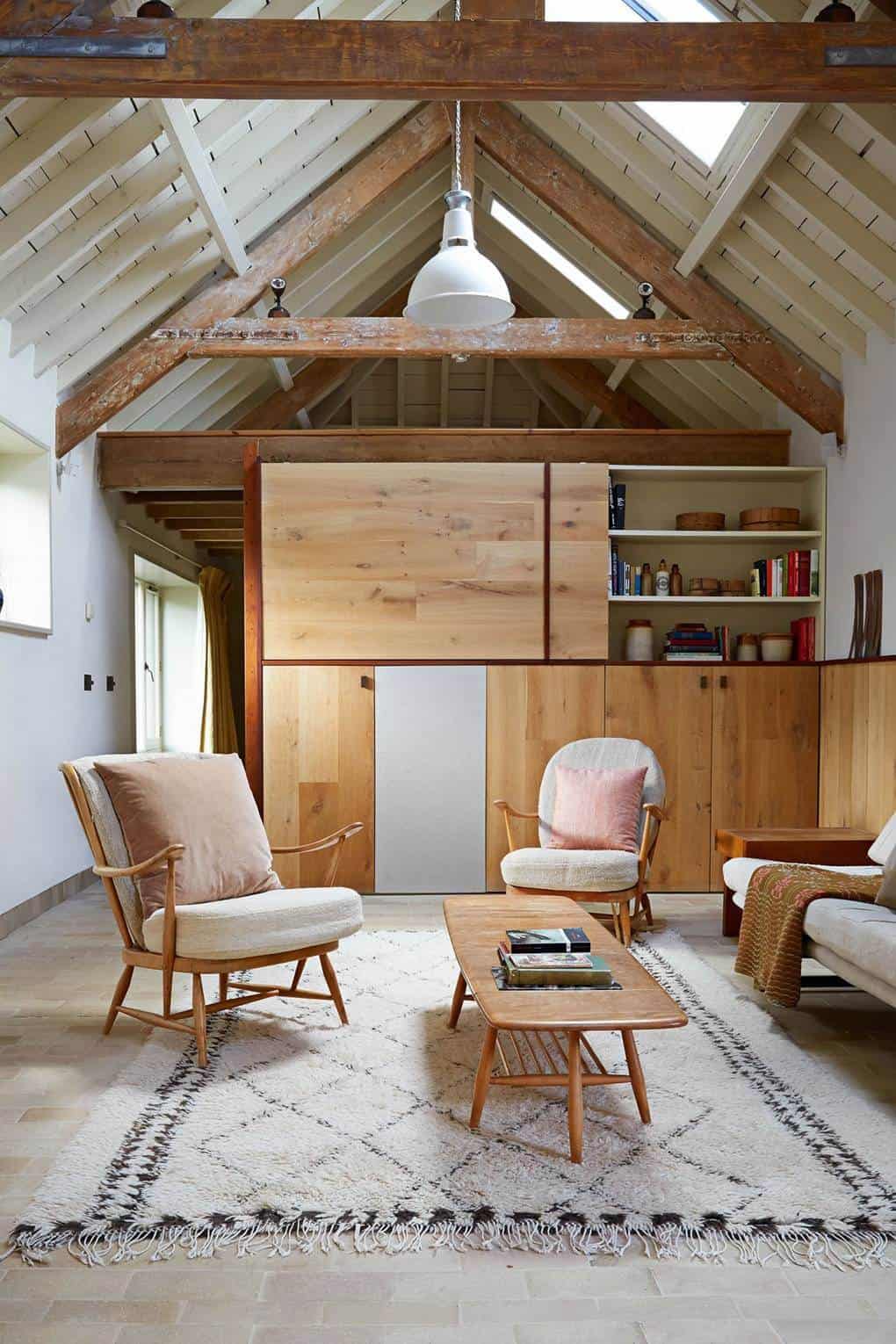 We're going to the simpler range of a farmhouse living room design.
As you see, the strongest farmhouse piece in this room is the strong, sturdy reclaimed wood beams on the ceiling.
They're saved from an old barn and then reused in this space. They look rusty, yet that rustiness is what makes them excellent.
Other than that, the living room is furnished with wood furniture, too, which emphasizes the simplicity. Moreover, the furry white rug is also a great choice for a country house feeling.
11. Minimalist Farmhouse Living Room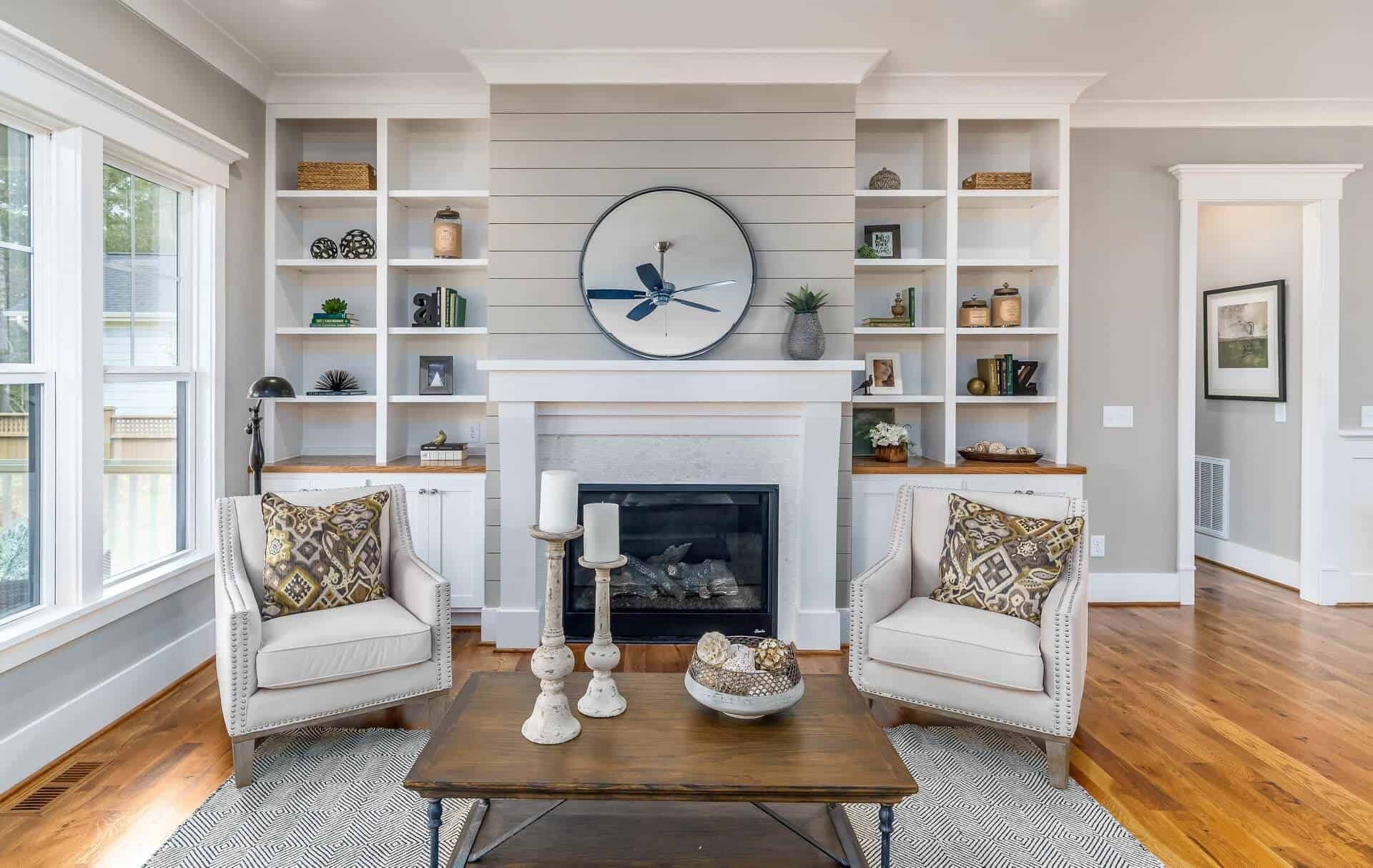 Some designs may be too striking for you, so we go with the simple one. This is a minimalist farmhouse living room that requires a few pieces of furniture and decorations to state its country living atmosphere.
The coffee table has antique feet. Its top is a reclaimed wood which seems to have been refurnished. The wall accent on the fireplace area is catching the attention, too.
12. Rustic Farmhouse Living Room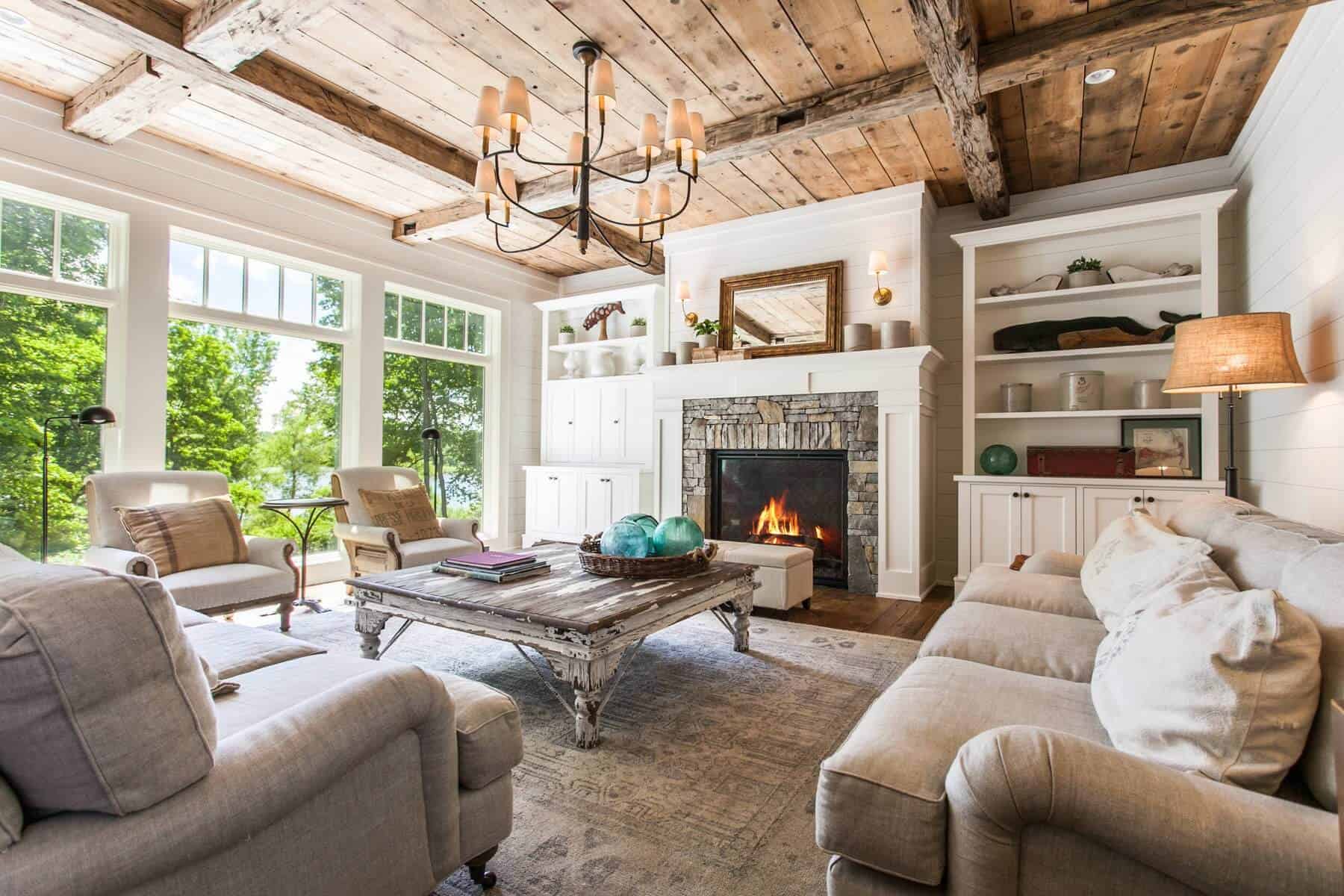 Neutral colors are used perfectly. The wall applies an all-white theme, accompanied by white cupboard with several open racks which function as displays, too.
To balance the white, choose grey on furniture, such as the couch, rug and the rustic barn wood coffee table.
The table's surface looks rough and its painting is peeling, but those accentuate the farmhouse feeling.
13. An All Washed White Farmhouse Living Room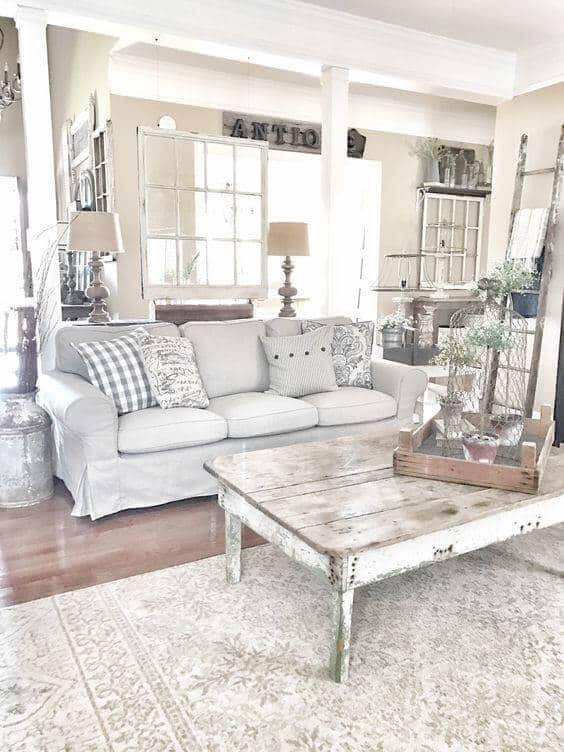 Rustic piece often has a washed white look. Sometimes, it even comes with stains and severe paint-peeling.
Rather than decreasing its value, it becomes a more valuable piece. Add similar washed-white rustic furniture to maximize the theme.
There are many rustic recycled barn wood furniture, such as the rustic ladder, window frames, and the old tray.
14. Wall Accessories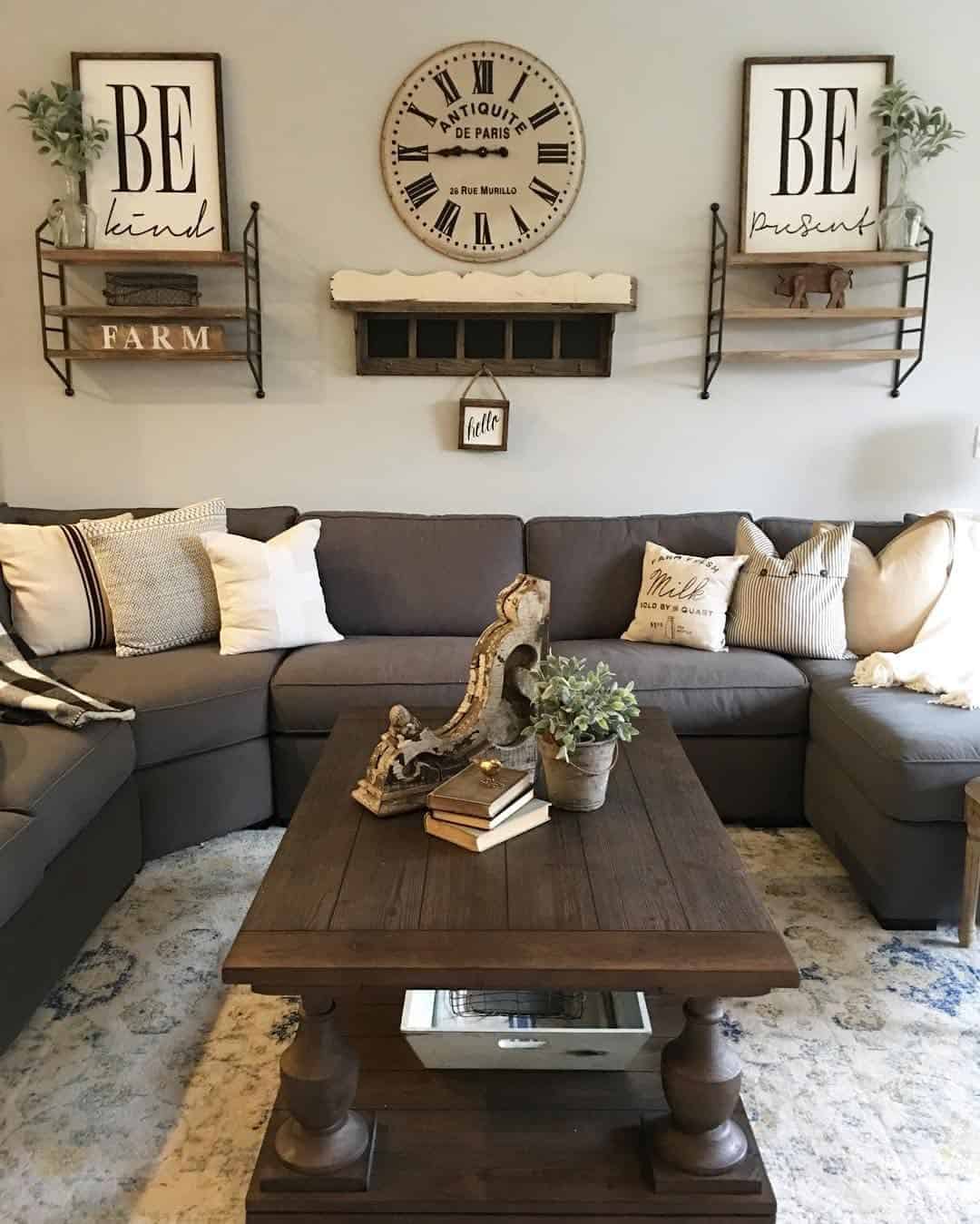 Decorating your living room with a farmhouse design doesn't always mean wooden ceiling beams or peeling paint furniture. This shows that a varnished wooden table can be eccentric, too.
If you don't want to have a strong appearance of a rustiness, add some wall accessories with obvious hints referring to farmhouse, like the open shelves on which there's a "farm" written on a block, or the antique clock.
Read Also: 
15. Grey Farmhouse Living Room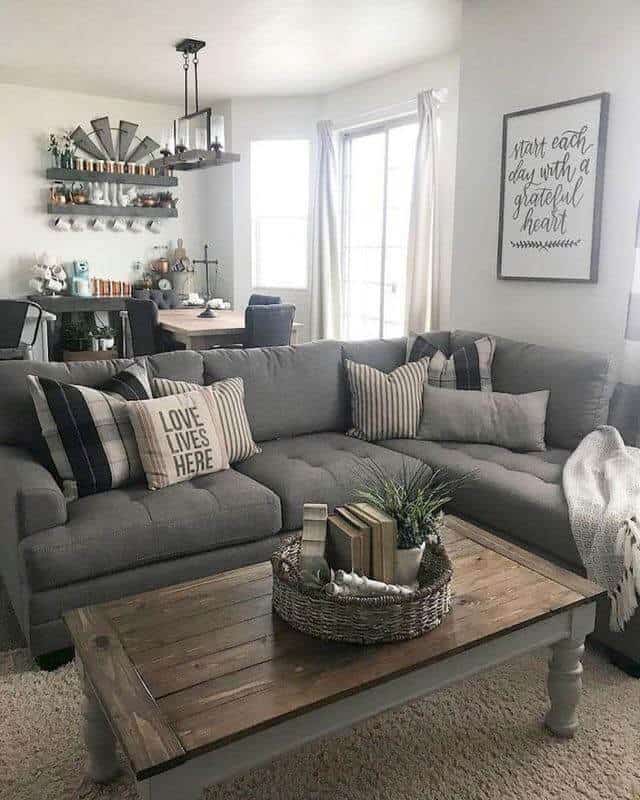 White is always chosen to decorate a farmhouse room due to its clear surface to accentuate the farmhouse pieces.
However, grey color can also works magic to a farmhouse room. As you see, it dominates the entire space. The couch's strong grey matches with the coffee table's freestanding and the coffee racks on the wall.
Reclaimed barn woods are also used as the tables' tops, too. They look antique and vintage; moreover, they have this fading look.
16. Old Farmhouse Living Room Remodel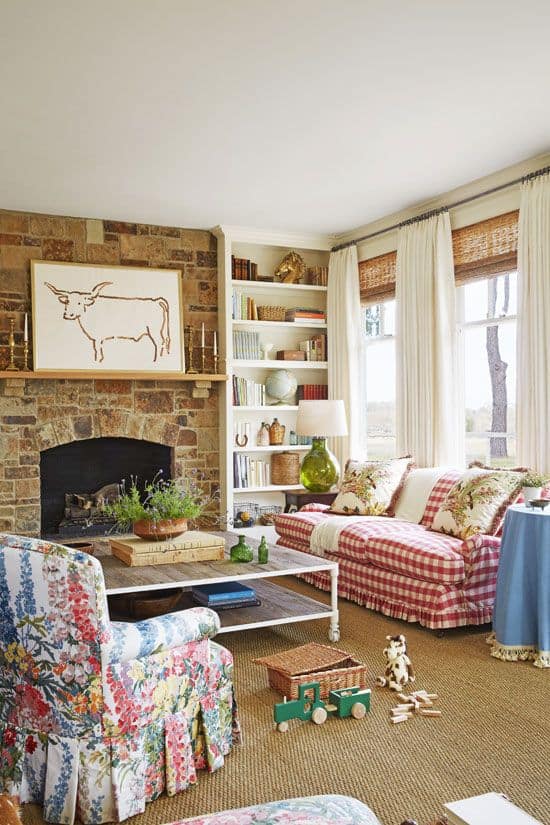 The living room is thick with a farmhouse decor. Its surrounding is filled with natural or at least neutral-colored pieces. Take a look at the rug. It's made of organic and nature-friendly material.
Moreover, the fireplace that becomes the centerpiece is composed of cut-stone brick which strengthen the farmhouse, country feeling.
In addition, add some decoration, such as the huge cow painting over there.
17. Country Feeling with Antique Furniture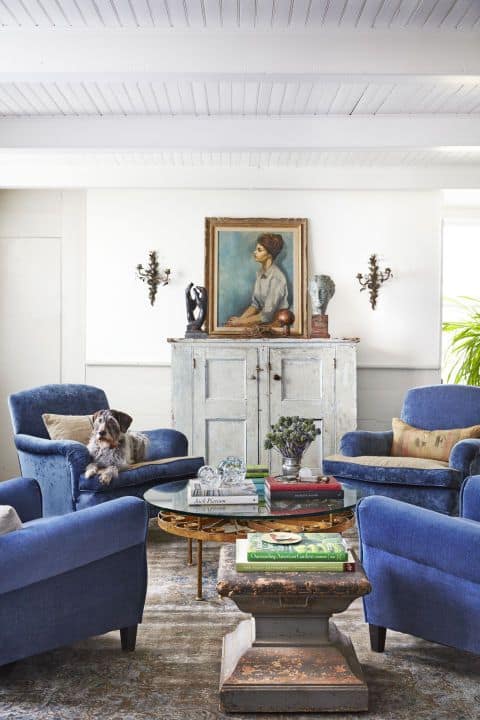 A farmhouse decor and a country style decoration is separated only by thin line. There's only a slight difference which sometimes unnoticed. This example, specifically, is bordering on that thin line.
First of all, the hardwood floor looks extra vintage. It's totally rustic that it looks like it's almost torn apart.
Next, the small table seems like it has been reserved for generations. Moreover, the vanity at the center has a rough surface. Its painting is fading and the white is broken.
Given the fact that the armchairs are made of a satin suede fabric, it emphasize the old-school, vintage feeling.
18. Warm Country Style Farmhouse Living Room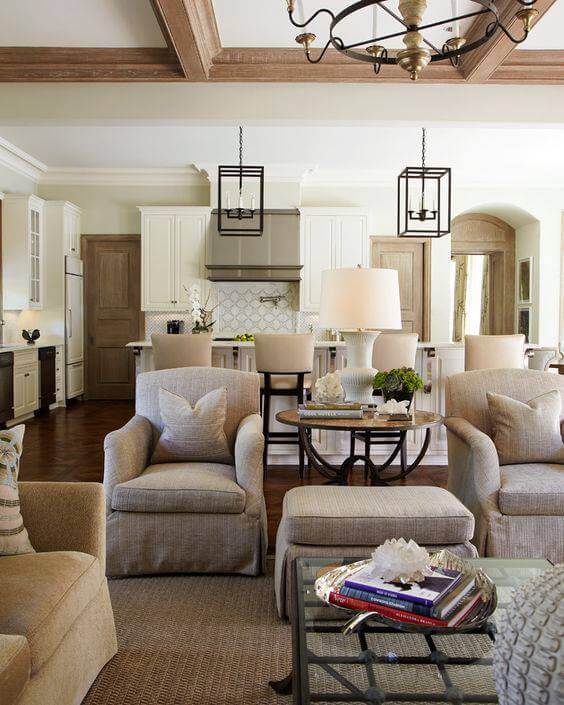 Neutral colors are chosen to bring warmth and welcoming atmosphere to a farmhouse-designed room. Light brown color becomes the main theme here. The armchairs have a rather dark khaki color which matches the rug.
Once you sit on it, you'll feel cozy. Other than its comfy cushion, its color also plays a part.
The other farmhouse details can be seen on the coffee table between the armchairs. Moreover, the doors are using recycled barn door.
Meanwhile, the ceiling is adorned with rustic wooden beams that go really well with the industrial style chandelier.
19. Cozy Traditional Farmhouse Living Room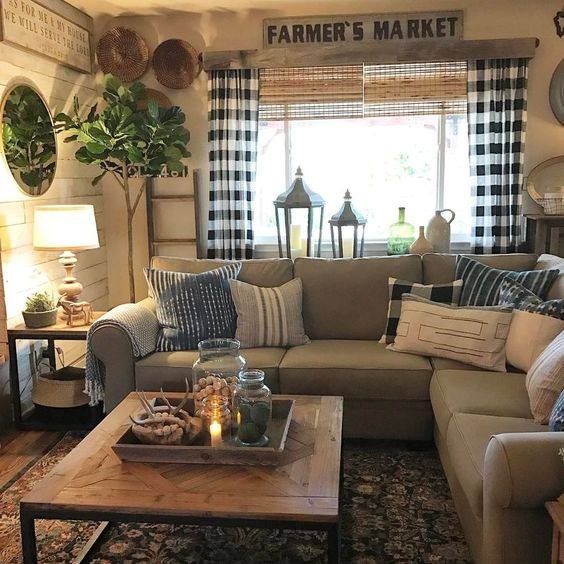 Space isn't the problem in creating a farmhouse-styled room. Even in a tight space, it's still warm and cozy.
The wall accent is supported by rustic, paint-peeling barnwood planks, which is then adorned by barn-like decoration, such as the ladder near the window, the round rattan hanged on the wall, a farmer's market sign, and a lot of antique accessories.
The rug has a vintage flowery pattern which captivates the country feeling aesthetic. To finalize, the coffee table's top that's made of reclaimed barnwood has a crossing pattern which often seen in a lot of farmhouse decor.
20. Barndominium Living Room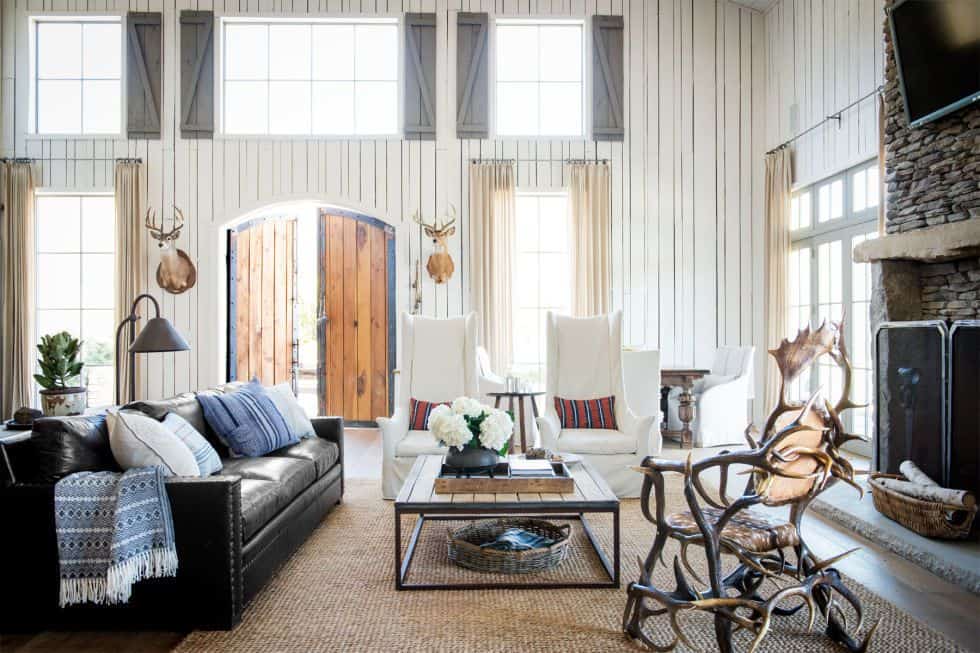 Country home is becoming more and more popular. When it comes to this growing trend, we shouldn't skip the barndominium.
A barndominium is technically "Metal barns converted into living spaces".
Just like a barn, it consists of a giant hall, then you turn it into an affordable and easy-to-maintain open area.
When fixing-upper the barn, you can leave some song characteristics, such as the stone fireplace, wall which are made of wood planks, large windows and repolished barn doors.
21. Shabby Chic Farmhouse Living Room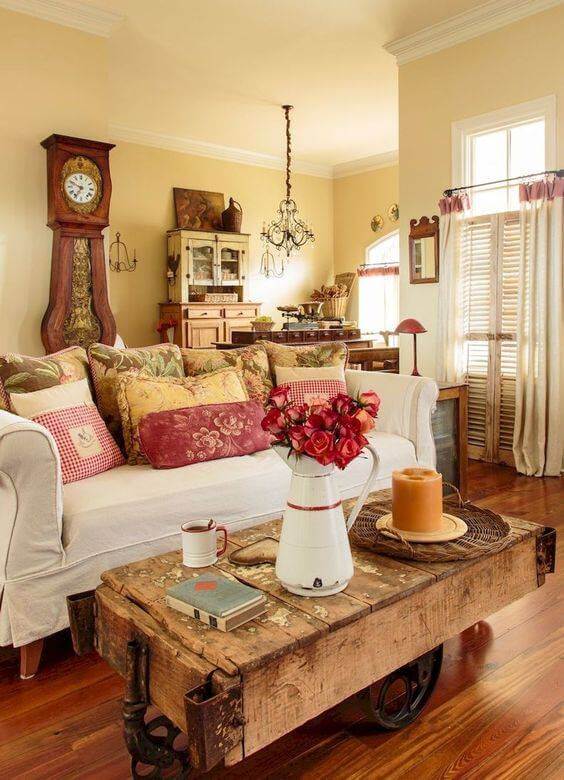 A small living room shouldn't limit your imagination in decorating the space with a farmhouse design. This living room turns into a warm and welcoming shabby-chic space. The coffee table may become the most unique piece here.
It's used to serve a different function and now it works wonderfully as a table. The surface is peeling, which is just perfect.
Then, it's accompanied by vintage flowery pattern pillow cases. Another farmhouse decor is the old, rustic french door.
22. A Farmhouse Cottage Style Living Room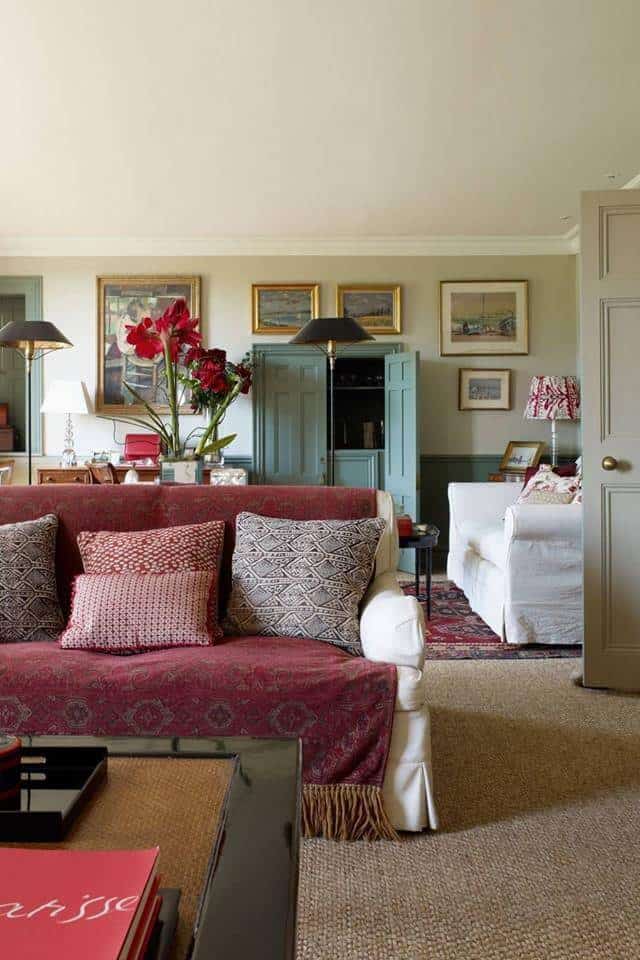 A farmhouse or country style living room isn't always about the rustic table or door. Sometimes, it's about the tapestry as well.
As seen, the couch is covered by it. It looks old-school, vintage and fading, yet it holds certain value that makes it priceless.
23. Sunroom Farmhouse Living Room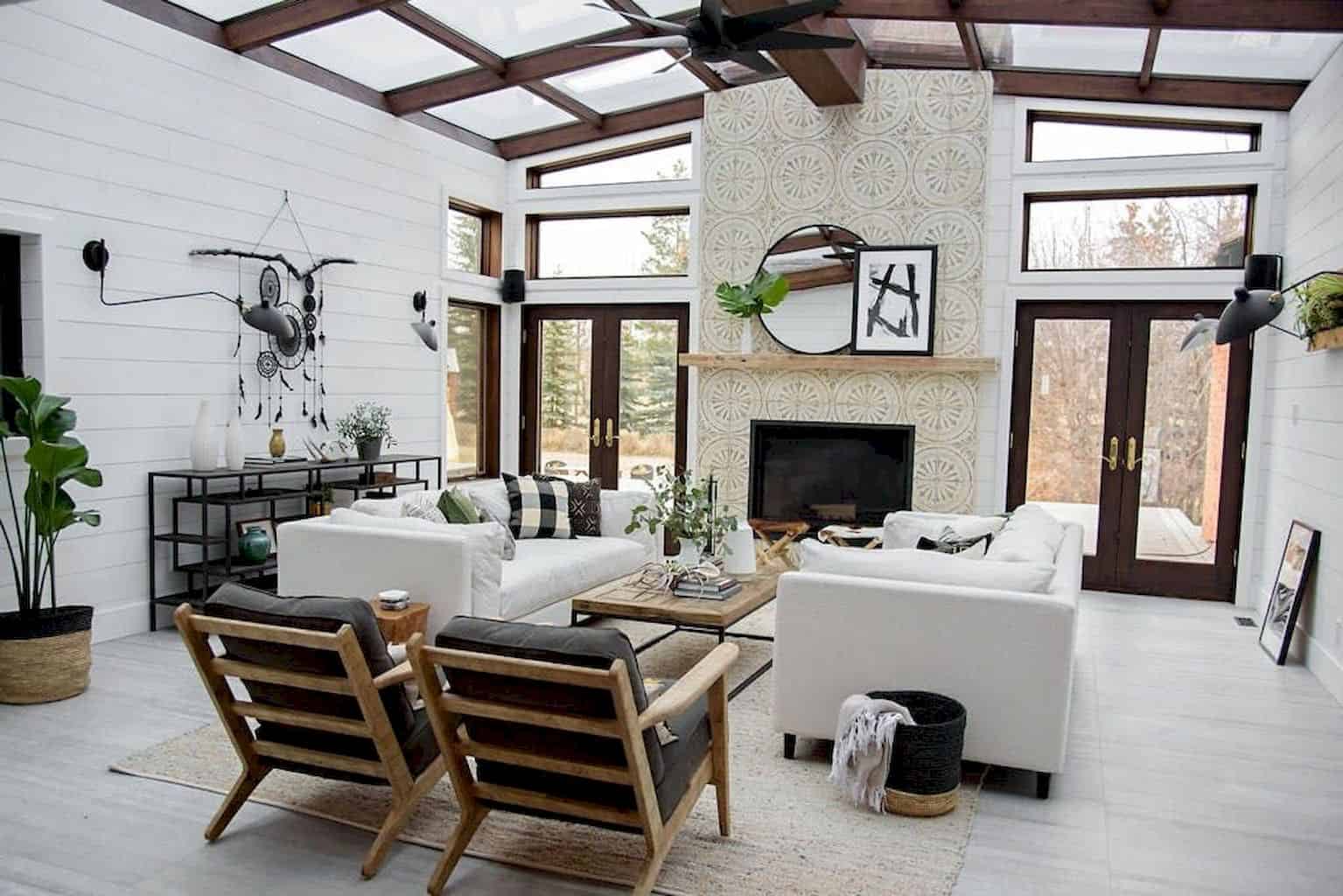 Mix the country feeling with a creative turn. There are many accessories accentuating farmhouse decor, such as the ceramic pattern on the fireplace, the rattan pots and clothes bin, large wood beam on the ceiling, and the rustic coffee table.
Give the room air with a sunroof and a lot of windows. During the day, the space will be naturally bright. Add a touch of nature like plants in different size of pots.