When you are buying a new home or you just want to redecorate and change the decor, you need to make it visual. You need a tool to quickly design and decorate floor plans so you can visualize it before buying furniture, flooring, painting the walls, etc.
So in order to make this job as easy as possible, you need to use a room planner with design features like drag and drop furniture, along with doors, windows, and colored flooring. In this way, you will layout your home and be able to buy the proper things which will fit your space and style.
PlanningWiz turns the unattractive task of remodeling a space into an exciting process through its game-like environment transformation and design features. Easy-to-use floor planner which is fun to use and for which you don't need special technical skills, just an internet connection.
The floor planning projects can be:
shared by email or on social networks;
printed along with an itemized list of products;
saved for future retrieval;
export it in high-resolution images.With PlanningWiz you will find an extensive catalogue you can choose from, with the items you need in order to decorate your home. From the basic furniture to staircases, appliances & fixtures to outdoor furniture and decoration items, you can find all the objects you need in order to create a realistic plan of your home.PlanningWiz is free to use and create up to 5 floor plans, after 5 plans we have 2 plans you can subscribe to depending on your needs.When coming to easily sketch and visualize your plans, home planning begins with PlanningWiz!
Screenshots/Video:




Click here for PlanningWiz
15. SmartDraw Interior Design Software (Paid, but offers free demo)
SmartDraw is a popular software brand with which you can design house plans, kitchens, bathrooms, garages… pretty much any room of a house or the entire house.  I've used SmartDraw software and can tell you it's easy to use.  The only downside is you must download it (instead of using directly on their website).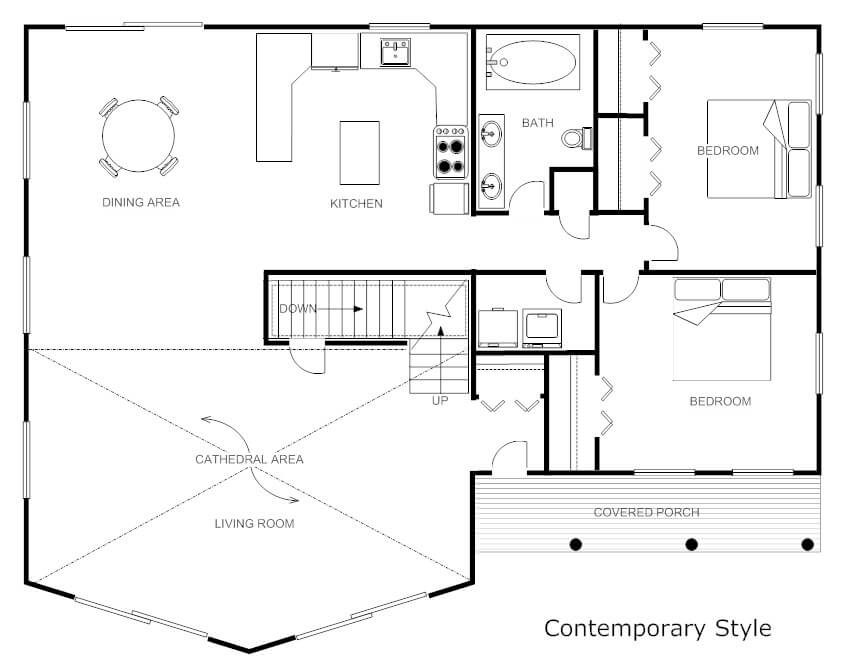 Screenshots/Video:
Watch the SmartDraw Interior Design Software Video
Click here for SmartDraw interior design software.
16.  Home Designer Software by Chief Architect (Paid)
=> Click here for Chief Architect Software.
Chief Architect software offers a wide variety of programs, but their Home Designer Suite is their most popular product.
This software includes templates of all kinds to get started (or design from scratch).  It renders in 2D and 3D.  There's specific kitchen and bathroom modules as well as landscape design options.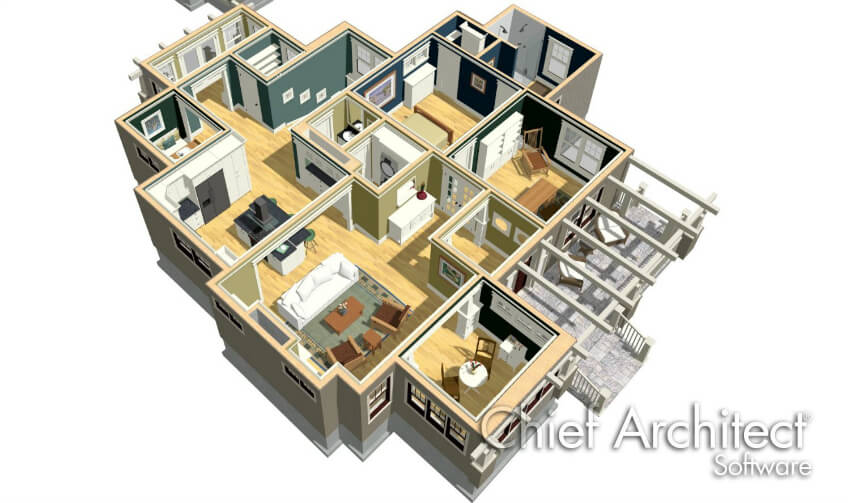 Screenshots/Video:
Watch the Chief Architect Software Video
=> Click here for Chief Architect Software.
Read our Chief Architect Software review
17.  Cylindo (Paid, but offers free demo)
Cylindo is a 3D interior design software that offers a free demo which is fun.  It creates 3D designs but takes it a step further.  Their focus is taking your furniture and turning it into 3D images that you can incorporate into your room designs so that you get an idea as to how your furniture will appear in the design.
Screenshots/Video:
Cylindo Software Video Demo
https://www.youtube.com/watch?v=Gt4BBqrrbpA
Click here to try a free demo of Cylindo.
18.  Decolabs (Free app for iPad)
Decolabs is an app with which you take a photo of your room and then you browse through an e-catalog for products (sofas, tables, shelves, etc.) so you can see how various items will appear in your room.  See the video below for more information.
Screenshots/Video:
Decolabs Video Demo
Click here for Decolabs.
19.  IKEA Home Planning and Room Planner Software Tools (Free)
Obviously Ikea's software platforms are to help you plan your room with Ikea furniture.  That said, if you plan on buying Ikea furniture, it's a good option.  To get the software, click here and choose from the options provided.  Note, you must install this software.  They offer software for all kinds of rooms including kitchens, wardrobes, home offices, bathrooms and more).
Screenshots/Video:
Ikea 3D Room Planner Video Demo
Click here for the IKEA Home Planning Software.
20.  FloorPlanner (Free and Paid)
You can create 1 plan for free.  After that you pay for each additional plan.  There are subscription plans as well.  You can plan your entire home, individual rooms as well as landscaping.  Moreover, you can inject furniture into your designs.
Screenshots/Video:
Watch the FloorPlanner Video Demo

https://www.youtube.com/watch?v=ADqrRZ71o8E
Click here for FloorPlanner.
21. Space Designer 3D (Paid)
Space Designer 3D is a paid online interior design/room designer software.
It's cloud-based so you don't need to download anything at all.
One feature I really like is that you can view the 3D version in real time while creating your design.  You don't need to render it.  This helps speed up the design process.
Example of a Space Designer 3D design:
Screenshot of the drawing tools:
Real-time 3D Visualization (very useful feature):
Screenshots/Video:
Space Designer Demo Video
Click here for Space Designer 3D
22.  HGTV Design Software (Paid)
It's not surprising HGTV rolled out its own interior, home and landscaping design platforms. However, these aren't free. You can choose from a variety of software options – home design, landscape design, kitchen design, floor plans, interior design, home remodeling, garden design, bathroom design and 3D home design.
Their software includes a fleet of how-to videos.
Sample of a design using HGTV Design Software
Screenshots/Video:
HGTV Home Design Software Video Demo
Click here for HGTV Design Software.
23.  Infurnia (Paid)
Infurnia Interiors is a cloud-based interior design software with a lot of unique features. Despite being completely browser-based, Infurnia provides features on par or better than most desktop-based software. Users can create completely custom kitchens and wardrobes from scratch with a lot of customization available in a very easy to use interface. For loose furniture, users can upload their own 3d models or use Infurnia's existing catalogue of furniture by different brands. Infurnia also gives an admin tool for store managers using which companies can very easily manage their designers, catalogues, pricing, etc.
 – INFURNIA, Different by Design
Cloud-based designing  – Access anywhere, anytime; Data backups

Smart Design Technology – Floorplanner; Assisted furniture placement; Collision avoidance

Superior Design Presentation – Photorealistic renders; Panorama renders; VR renders; 3d link sharing

Real Time Pricing
– INFURNIA, Different through Control
Screenshots/Video:


Infurnia Demo Video
Click here for Infurnia
24. Punch Software (Paid)
Saving what is arguably the best interior, kitchen, bathroom and landscape design software for last (for the money).
Punch design software offers a great balance of ease-of-use, cost and design quality.  They offer several software options, depending on your project.
Punch Software is extremely sophisticated; it's used by professional interior designers because it creates designs that appear like photographs… but it costs money.  They offer several software options and packages.  With Punch, you can design your entire home, individual rooms and do landscaping designs.  The degree of detail is unmatched.
Check out what you can create…
Screenshots/Video:
Punch Design Software Video Demo
25. Sketchup Pro (Paid)
If you can stomach spending $695 on interior design software, you can't go wrong with Sketchup Pro.  It's very powerful and is used by many pros such as Joanna Gaines from HGTV Fixer Upper.  Note that in order to get the amazing 3D renders, you must export Sketchup pro designs into something like Lumion or Vray.
Screenshots/Video:
Sketchup Pro Software Video Demo
https://www.youtube.com/watch?v=JA3hZsqK7W4
26. Coohom (Free/Paid versions)
Coohom is a free and intuitive interior design platform that balances your desire for a natural and interactive experience for making interior designs.
It offers a web browser tool as well as an iPad app (download from here) that lets you create 2D/3D floor plans, and visualize the end output in seconds in high-quality renders or VR panoramas.
Pros:
Easy to use, more than 20,000 models, customizable textures and colors, best renderings, VR experience
Coohom Free plan ($0): Floor planner for web/iPad with limited projects, model uploads, HD or 4K quality renderings, 720-degree tour, and unlimited standard quality renderings.
Coohom Pro plan ($30/mo): Floor planner for web/iPad with much more projects, HD or 4K quality renderings, 720-degree tour, and unlimited model uploads plus unlimited standard quality renderings.
Additionally, Coohom has Enterprise plan which is good for design studios.
Screenshots:
27. Cedreo (Paid)
Cedreo is an online 3D home design software to draw 3D floor plans and create 3D renderings in a matter of minutes.
With Cedreo, users can easily draw floor plans, customize home indoors and outdoors in a few clicks with 7,000 surface coverings and 3D objects (the library is updated every two weeks), and then quickly generate 3D floor plans and photorealistic renderings of the house.
Cedreo is equipped with a wide range of time-saving features specifically designed for non-technical users. It does not require training or experience in 3D modeling: one hour is all it takes to draft a complete home project from start to finish. You can either start from scratch, customize a previous project, or upload a blueprint to trace over.
Cedreo offers a 14-day free trial, without any form of engagement. You can then subscribe to one of the plans and enjoy all 3D design features to the fullest.
More Cedreo Examples
Software Quiz
Take our software quiz.
Visual Comparison of 6 Popular Interior Online Design Software Options
Below showcases visual differences among Space Designer 3D, Homestyler, Homebyme, floor planner, Planner 5d and Archilogic.
Digital Workspace
Below is a visualization how these 6 design software options organize the digital workspace.
2D Visualization
Below is a comparison of the 2D visualization among 6 interior design software services.
Rendered Graphics
Below is a comparison of the 3D rendering of the 6 online interior design software products.
See more of the above 6 software options:
Other:
Related Design Software Posts: