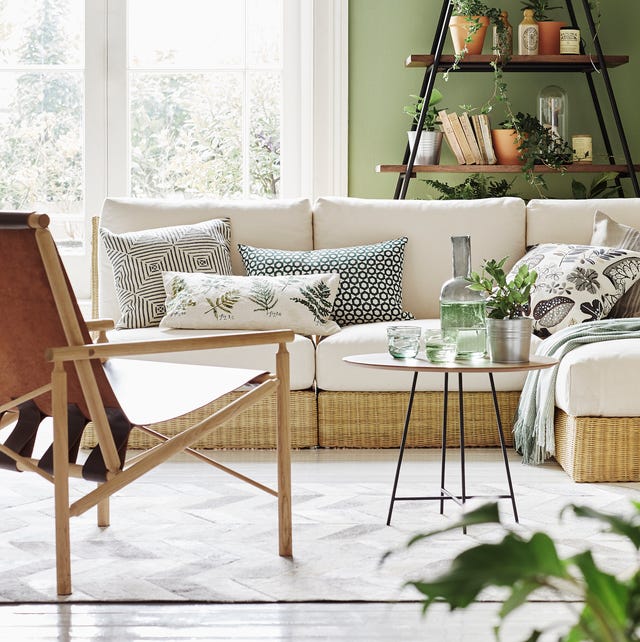 House Beautiful/Mark Scott
Increasing the number of accessible homes in the UK will make a huge difference to the lives of hundreds of thousands of people currently living in properties that present barriers to their everyday living.
In July, the government announced plans that will require all new homes to have entrance level step-free access and other accessibility features as a minimum requirement, to make homes more easily adaptable over time.
'Homes with higher accessibility standards benefit everyone, particularly disabled people and older people, and disadvantage no one,' said Holly Holder, Co-Chair of the Housing Made for Everyone (HoME) coalition.
As well as wellbeing and mental health benefits, the proposed changes would reduce the need for costly retrofitting adaptations into homes later down the line, and enable older and disabled people to live more independently in their own homes.
While these long-awaited building regulations are essential, Vaila Morrison RIBA, inclusive design expert for stairlift and home lift company Stannah, has rounded up her top interior design trends – that are also inclusive – to ensure an accessible home can still be a stylish one.
'We live in a modernised world where home design constantly evolves to suit our needs while remaining stylish,' Vaila says. 'Luckily, as awareness of inclusive design and future-proofing our homes grows, we can easily incorporate inclusive design principles within popular interior trends (sometimes without even noticing!)
'These trends have grown exponentially in popularity in recent years and are set to be centre stage in the interior design sphere through to 2023. They all feature aspects of inclusive design, with benefits to those wanting to future-proof their home or make adaptations to suit their needs. With lots of room for mobility and subtle design alterations, accommodating needs without hassle has never been easier.'
1. Foldaway furniture and dual-purpose rooms
As we continue to prioritise space and storage, expect to see more foldaway furniture from your favourite designers. Not only does foldaway furniture help you move around the home more freely, especially if you're in a wheelchair, but it works as a brilliant space-saver, making it ideal for compact spaces. And, it can help create dual-purpose rooms, for example, a sofa bed can turn a living room into a bedroom or visa versa.
2. Smart technology
Smart home devices, from phones, computers, TVs, and even our furniture, has boosted accessibility features in interior design. With smart home hubs as standard, 'they enable those with limited ability to turn on lights and appliances throughout the house with voice commands – and, thanks to smart doorbells, allow those who might be a little slower in getting to the door, let visitors know they're on their way,' Vaila says.
3. Open plan

Good news: Open plan spaces are here to stay. 'An open plan kitchen/living room provides the practical space needed for accessibility, while the sociable aspect will make you the host everyone envies,' Vaila comments. 'Open plan rooms also allow additional space for more accessible features, such as the installation of a home lift.'
4. Open shelving units

Closed or open shelving, what's your preference? 'From an accessibility point of view, they're a stylish godsend,' declares Vaila. Units on open shelves should be simple to reach and positioned to reduce the need for movement. In the kitchen, utensils and pans can be kept readily available with the addition of hooks, hanging racks and rods.
5. Bringing nature inside

Calling all plant parents: Bringing the outside in with houseplants continues to grow in popularity. Indoor plants contribute to significant health benefits; they improve air quality, which is beneficial to mental and physical wellbeing. 'Houseplants can boost morale and bring the outdoor feeling inside for those with limited mobility (and therefore unable to leave the house so much),' Vaila explains.
6. Downstairs bathrooms

'A bathroom on the ground floor makes the home accessible for the owner and visiting guests,' Vaila says, adding that it's likely to be a key feature under the Government's proposals for accessible homes. 'Homeowners will look to make them stylish to fit the rest of the house – look out for options to customise grab rails and shower seats, and don't forget some houseplants love the humidity of a bathroom, so how about a living wall to brighten up the room?'
Follow House Beautiful on Instagram.