NeoCon 2023 may be over, but the show's most talked about trends are just beginning to make their mark. From half-moon shaped tables designed for Zoom calls to insights from industry insiders about what's next in commercial design, Interior Design editors rounded up eight highlights from this year's NeoCon seen at THE MART in Chicago, including a few HiP Awards winners.
Commercial Design Trends from NeoCon 2023
Quiet Spaces 
Is there a better place to test a privacy pod than NeoCon? We think not! Throughout the action-packed show, brands like BuzziSpace, Hushoffice, and SnapCab (SANDOW Design Group's SURROUND Podcast Network recorded shows on-site in one of the brand's pods) offered attendees moments of respite in privacy pods with elevated features, including height-adjustable desks and wall planters. Acoustic solutions brand Turf even carved out a space in their showroom for R&R, inviting visitors to sink into bean bag chairs beneath acoustic ceiling baffles.
Science-Backed Design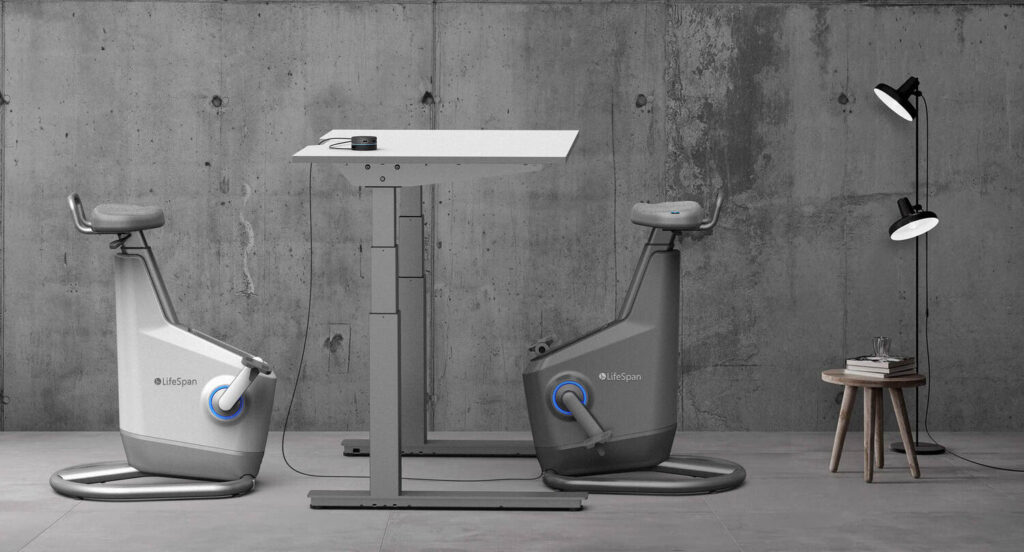 From workplaces to healthcare environments, designers and manufacturers who participated in two NeoCon roundtables hosted by Interior Design stressed the importance of creating more nuanced, inclusive spaces with an eye toward behavioral science. As hospitality, and even residential design, increasingly shape commercial spaces, industry experts agreed taking a scientific approach to understand and address the varying needs of individuals within and around built environments—from fitness perks to local artwork—is essential.
Desks With Privacy Screens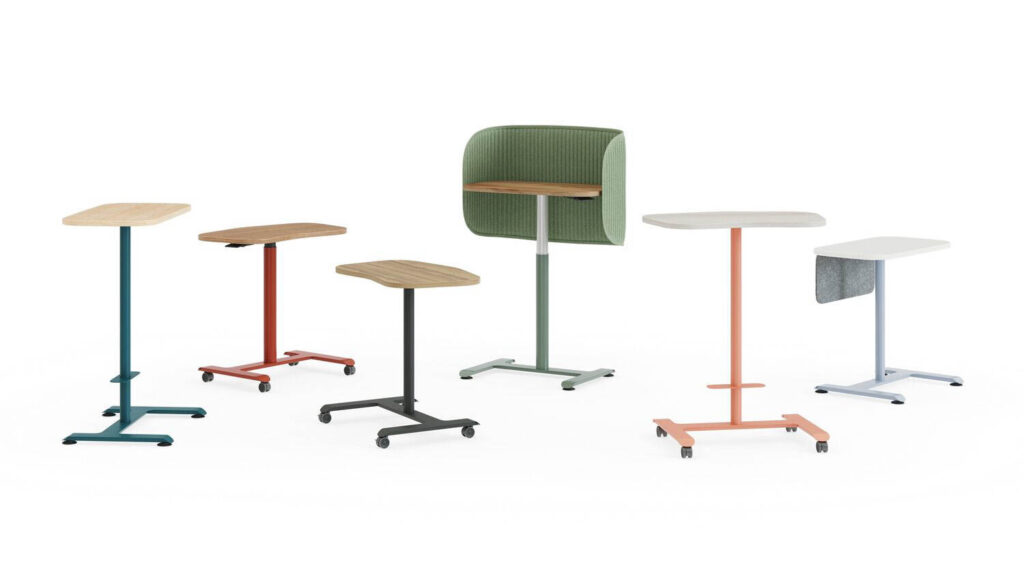 As more employees return to the office, privacy is paramount. During NeoCon, Interior Design editors spotted quite a few desking solutions that featured attached privacy screens, including the Buddyhub desk by Pedrali and Steelcase's Flex Personal Spaces collection, which includes a privacy wrap with knit-to-fit upholstery attached by cross-shaped clips.
Sustainable Design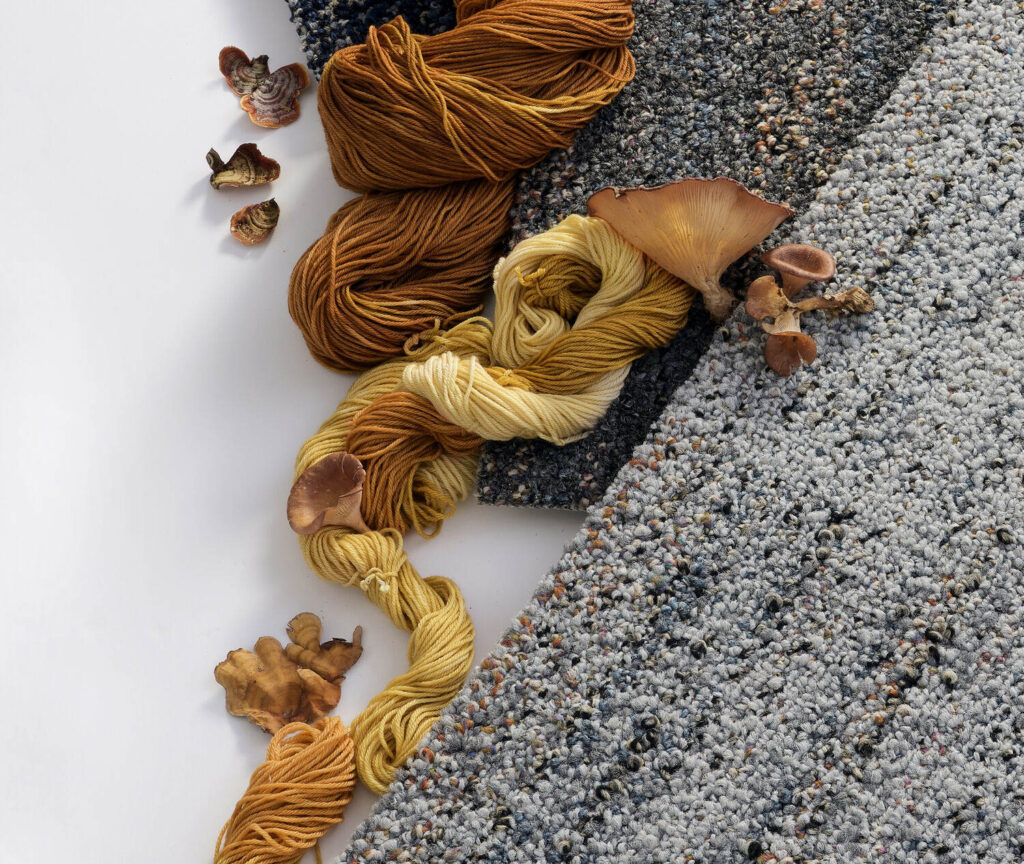 Sustainable design is far from a new concept, but this year at NeoCon nearly every brand touched on how they're doing their part to better the planet. From workplace solutions brand Dauphin, which partners with organizations like EcoBottleRD in the Dominican Republic to repurpose beach glass into office and event décor, to leather brands using more sustainable tanning processes, efforts to reduce environmental impact offered a narrative thread throughout THE MART. Not to mention mycelium, another hot design topic whether used as a material or product inspiration, such as HMTX Industries's new LVT line made from recycled bottles.
Bright Colors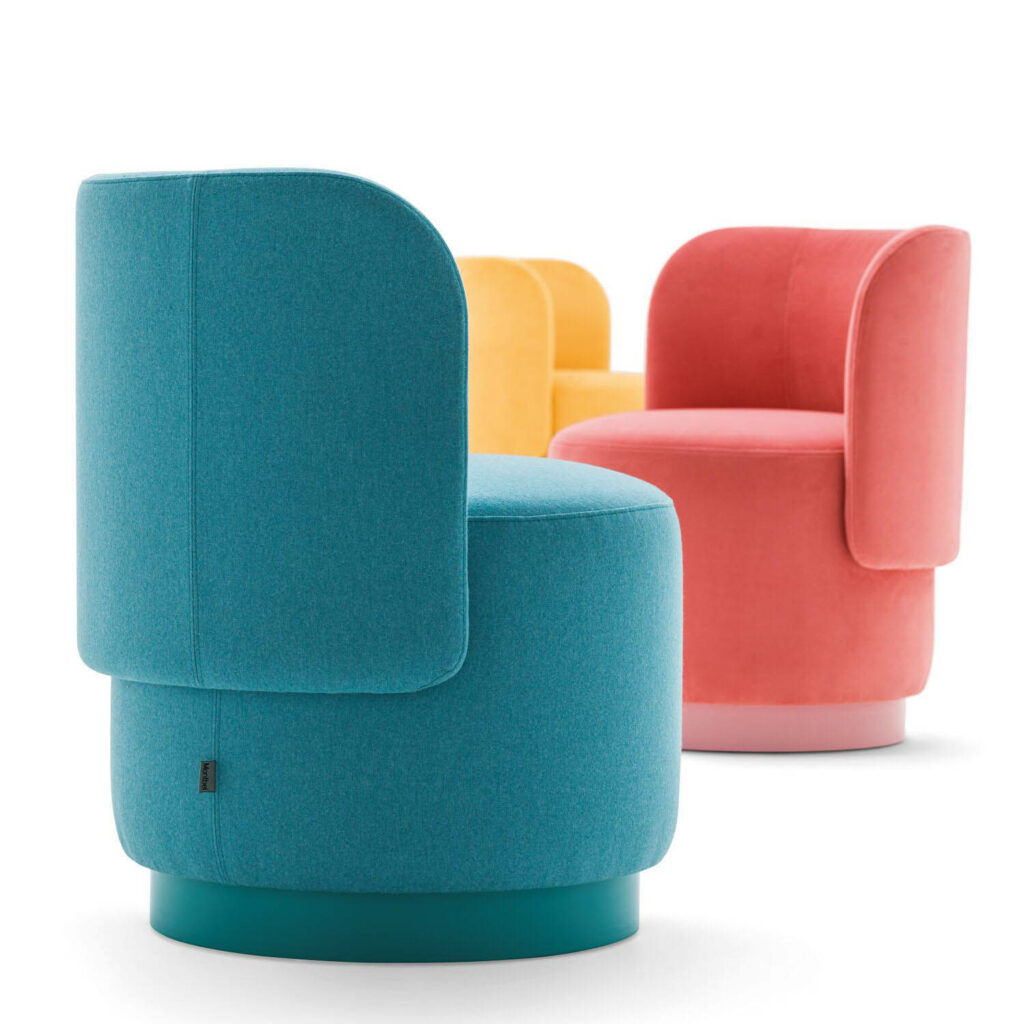 Just in time for summer, vibrant hues created a visual feast at this year's NeoCon, especially when it came to seating and textile brands. Mayer Fabrics's retro collection as well as Arper's bold Ralik seating stood out to our editors, as did Sandler Seating's Tablet seats, which gently engulf whoever sits in them. Interior Design's DesignScene lounge with a custom installation by 3form also offered a burst of color on Floor 11.
Zoom Room Glow Up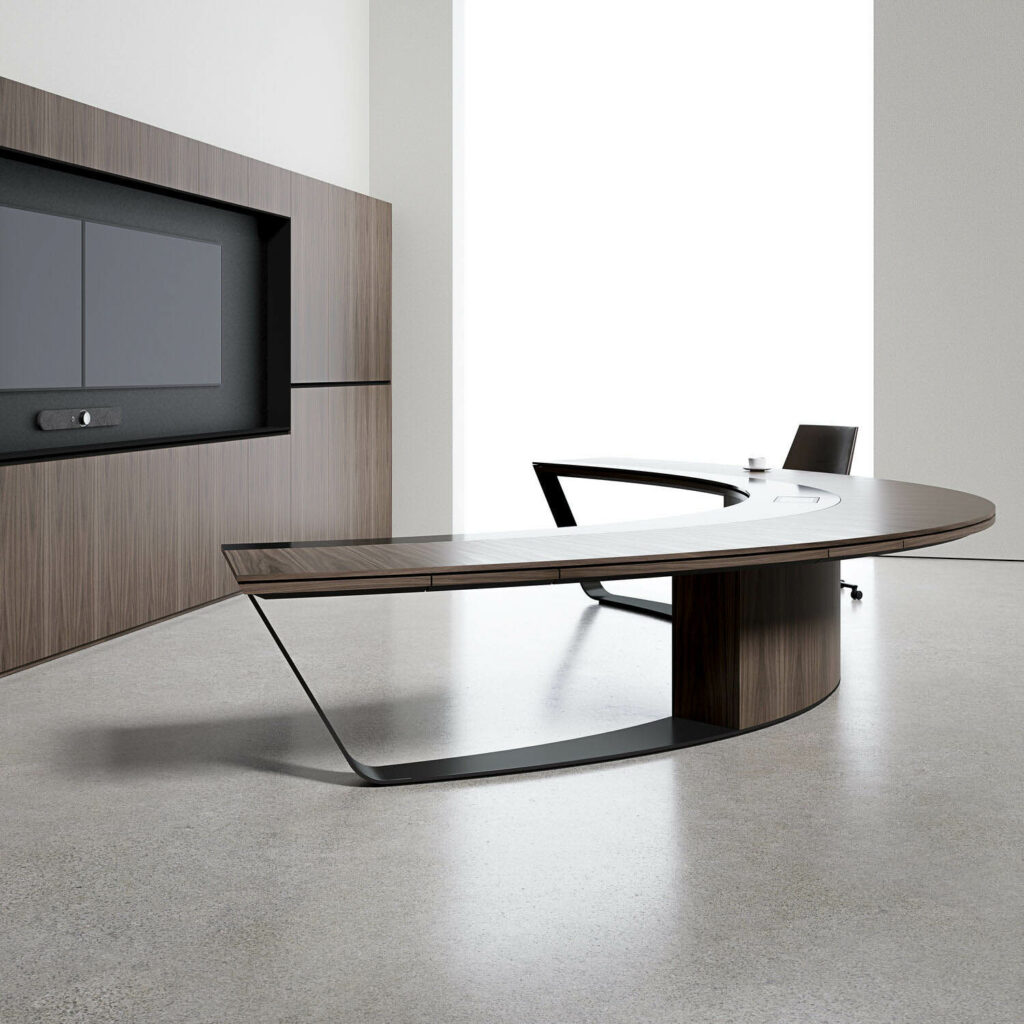 Several showrooms at THE MART featured inventive video conferencing solutions. From Steelcase, which displayed the Pollana ring light chandelier by Moooi that enables multiple ring lights to be directed at various team members, to a U-shaped conference table by HALCON meant to make all team members equally included in video conference calls, solutions for hybrid work environments were on full display.
Aesthetic Utility Solutions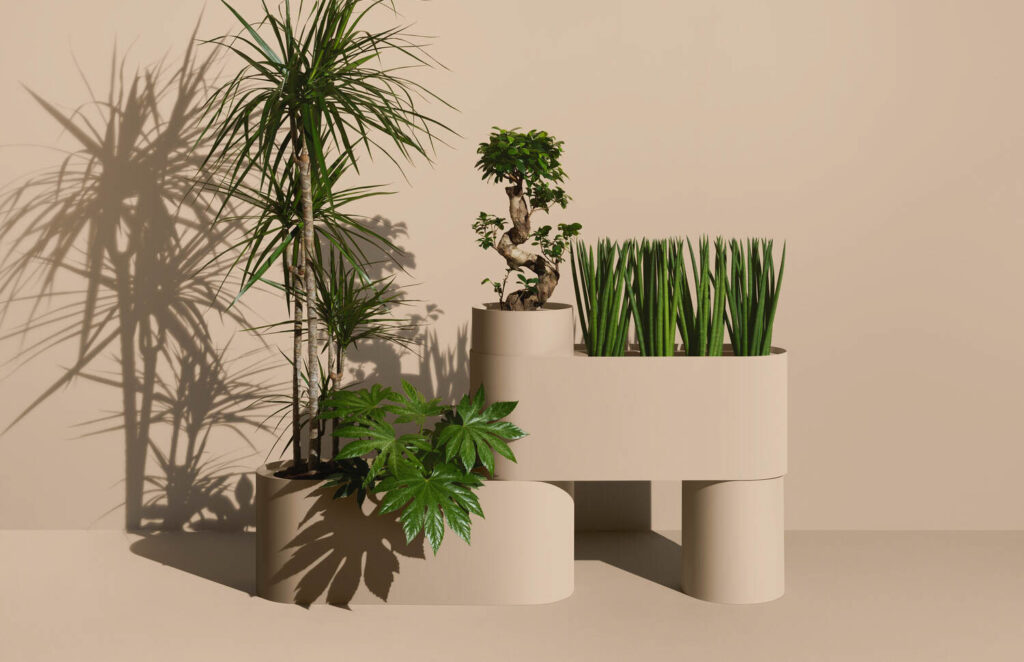 Flexible furnishings and partitions were easy to spot at NeoCon—but with an aesthetic appeal. From storage solutions that offer visual intrigue to meditative planters that double as room dividers, manufacturers proved there's no shortage of ways to transform utility pieces into focal points. Narbutas showcased a sleek, smart locker, for example, while Takeform unveiled a collection with a range of solutions including wallcoverings and partitions, as well as customizable options like hand sanitizer dispensers and acoustic baffling details. 
Curves Still Supreme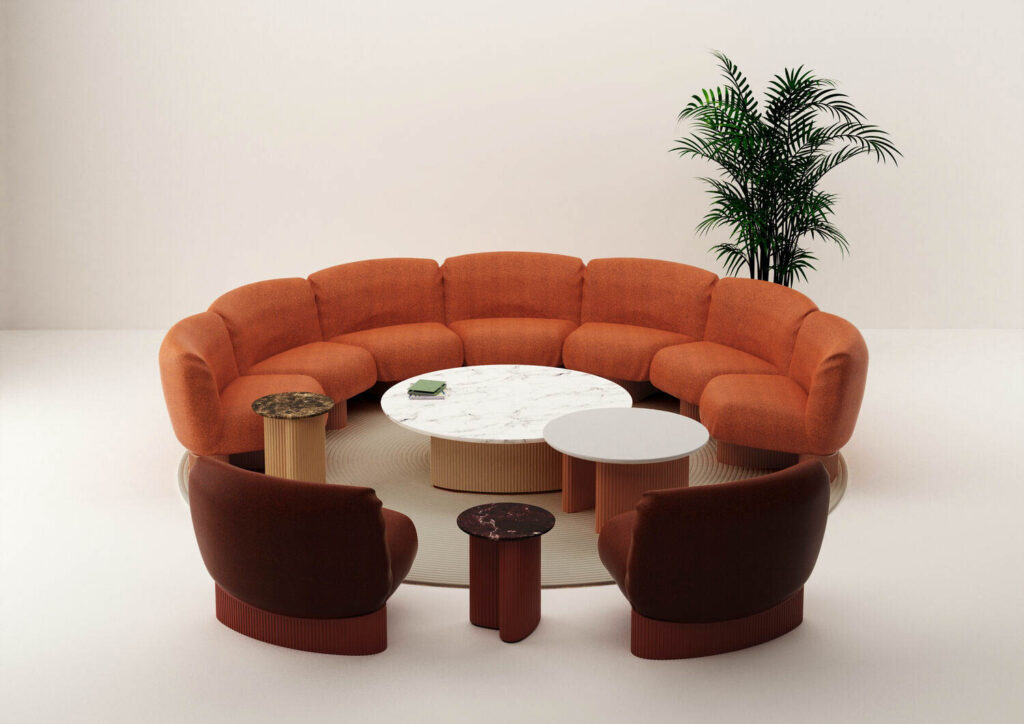 Curvilinear furnishings continue to generate buzz. From Andreu World's Bolete Lounge BIO by Patricia Urquiola, a HiP Awards winner for Environment Impact, Furnishings, to BnF Studio's Mt. Curve stool and chair, which are made from locally sourced Michigan ash stained to match its mohair velvet upholstery, sinuous seating continues to make a lasting impact at NeoCon and beyond.
See more highlights from NeoCon 2023 at THE MART, including each issue of Interior Design's NeoCon ShowDaily.