Vintage has always been about nostalgia–bringing back the warmth and memories of decades past. In 2020, black and white tiles are making a strong comeback. It's not the same old black and white tiles that adorn historic homes. Instead, it's bold, graphic, and more luxurious.  More and more homeowners want a unique twist to the vintage flooring style. This includes smaller tiles with bolder graphic patterns. This perfectly blends vintage with contemporary for the perfect look and feel.
Trend #6. Reclaimed Barn Wood Tiles, Multi-toned & Directional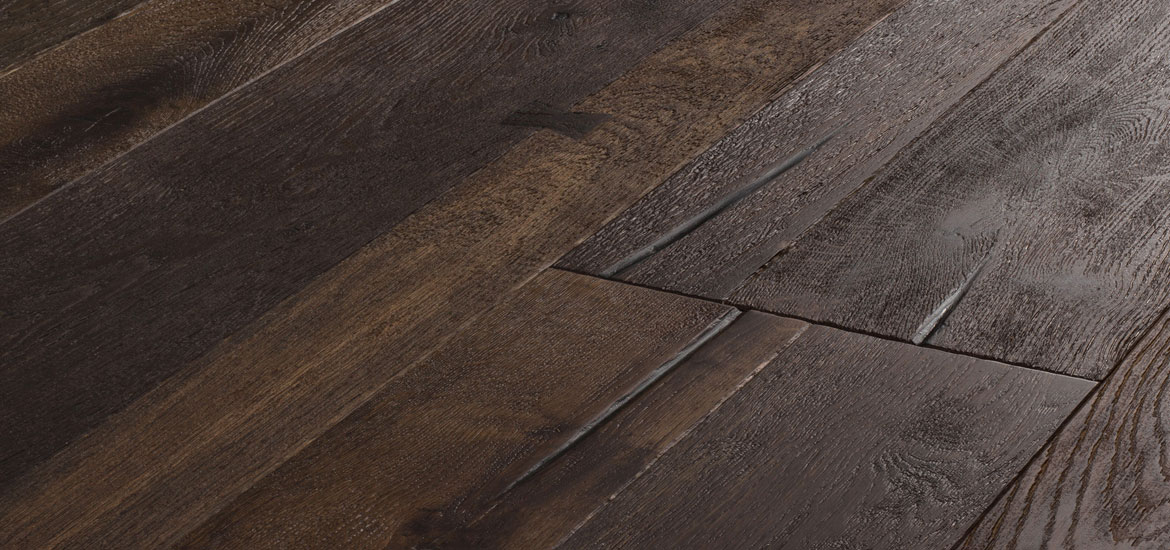 Sebring Design Build
The 2020 reclaimed barn wood flooring trend is an extension of the faux wood tiles flooring trend so popular in 2016. The barn wood look is still a favorite because of its color variation and distressed look. For homeowners who are looking for a warm rustic look, this is something to consider. Technology has become so good that manufacturers can replicate the exact look of real wood onto the tile surfaces. This makes it almost impossible to differentiate the tile from real wood. We might even see multi-toned tiles to give a space more character. For more "wood" authenticity, these tiles will have a directional finish, resembling that of real barn wood.  Tiles that look like wood provide homeowners with much more variety when determining their flooring options. No longer do you have to resort to traditional hardwood to achieve that warm and cozy feel to your home. With faux tiles, you get the design benefits of a hardwood floor while also enjoying the functional advantages of tile flooring.  Thanks to technology, homeowners will have even more options next year and in coming years. Tiles that resemble wood in terms of color, look and even texture will become commonplace.
Trend #7. Graphic Tiles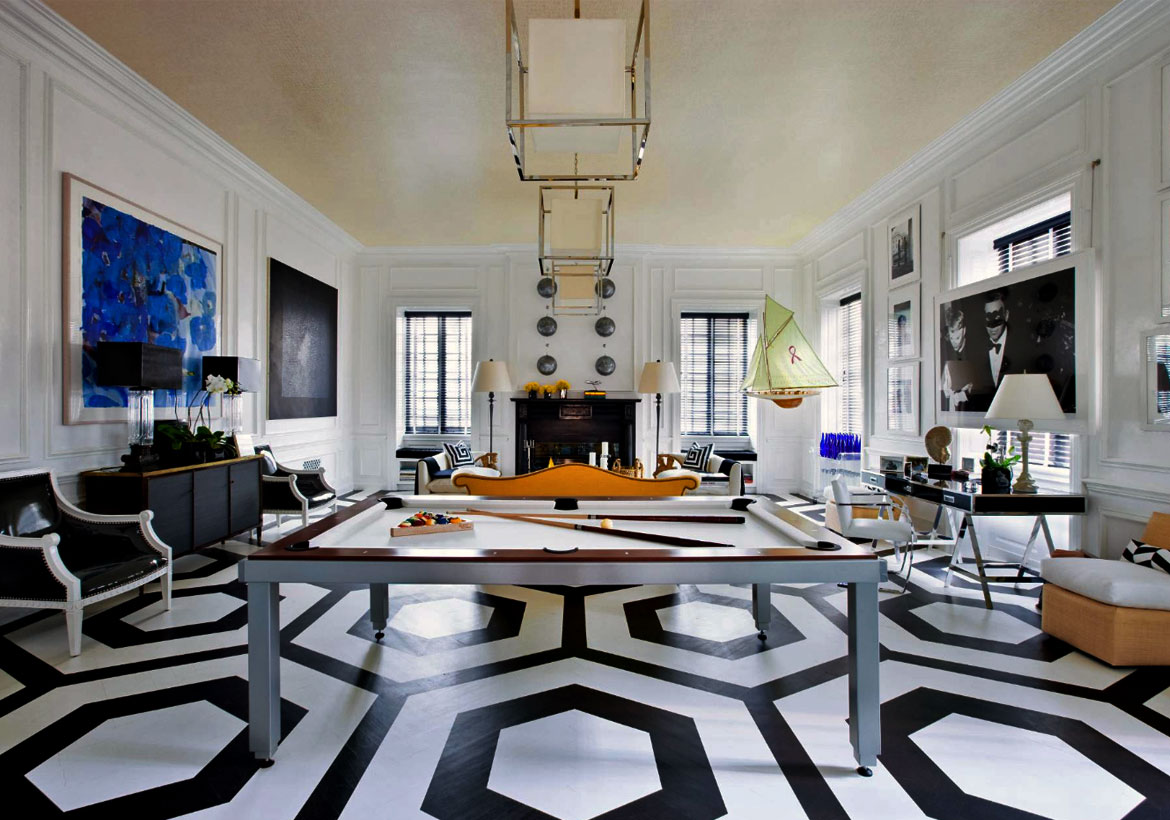 Eric Cohler Design
Not many people are willing to use their flooring as an art canvas. But if you love unique and artful patterns on your tiles, graphic tiles are coming in full force. Using advanced technology, manufacturers are able to replicate an endless variety of images on tiles. You can get tiles with repeating patterns or get tiles that, like a jigsaw puzzle, join together to form one large pattern on your floor.  Graphic tiles come in monochromatic colors but if you are feeling particularly wild, there are others that come in bold multicolored patterns and writings.
Trend #8. Large Porcelain Tiles: Hexagon & Trickling Floor Patterns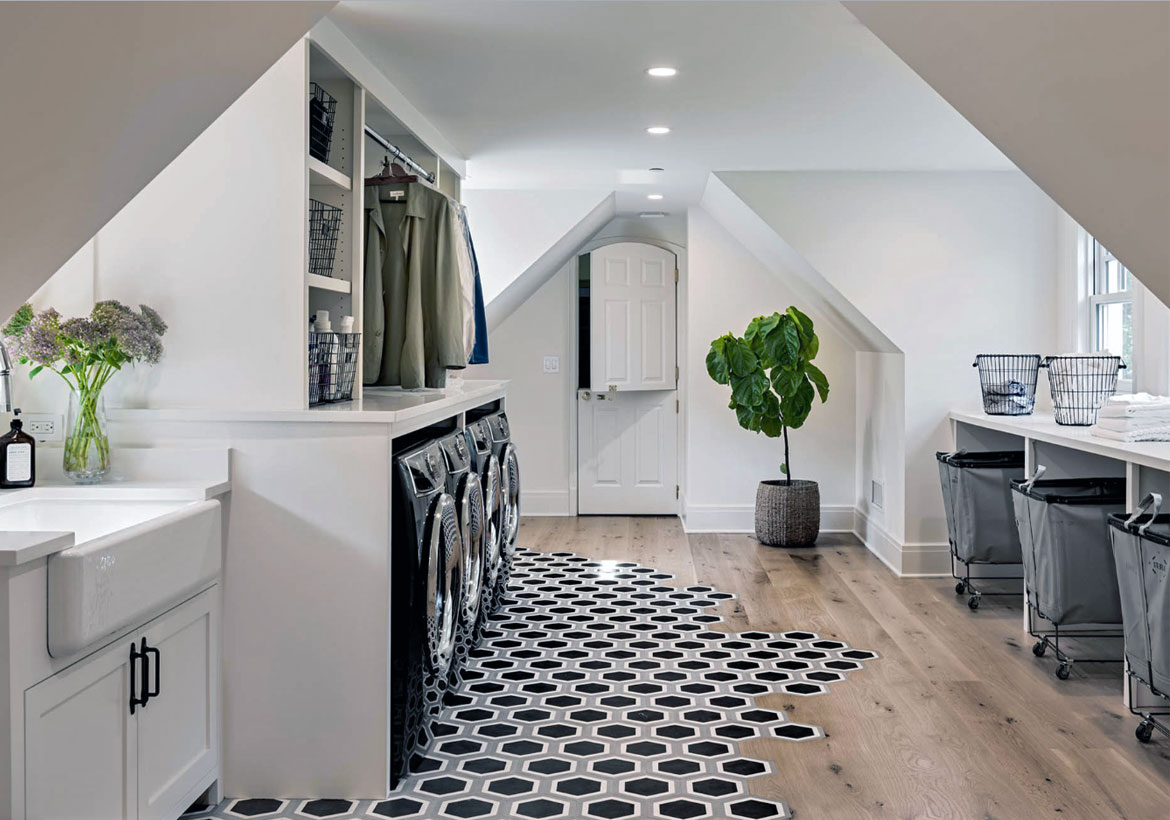 Crisp Architects
We have even MORE pattern trends for this upcoming year! Did you think Chevron and Herringbone were really the only trendy floor patterns that were coming in hot for 2020? Well, think again! With the increase of large porcelain tiles being used by homeowners in their kitchen and bathroom remodeling, we also expect to see an increase in these patterns and shapes.
Hexagon tiles have been in the spotlight for awhile, specifically when used for backsplashes in the kitchen, or accent pieces in the bathroom. Now, expect to see hexagon shaped tiles as well as other various shapes, specifically in large sizes, taking over in the living room, dining hall, and kitchen area. These patterns create beautiful effects in any room! Trickling patterns are also becoming more and more common and will continue to increase in popularity throughout 2020. These can display a variety of different textures, sizes, and colors of flooring that eventually blends together. Check out some of the pictures below for home ideas and inspiration!!
Trend#9. Natural Colors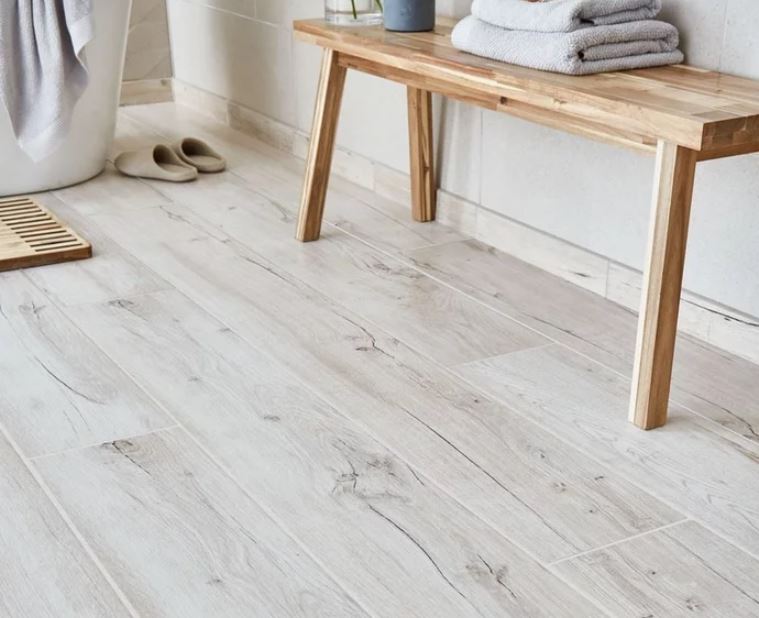 Bringing everything back to the basics and keeping it natural and simple will be a fundamental aspect of the next decade. With an increasing focus on sustainability and ways to incorporate the outdoors into the interiors, the trend of natural colors will stay for some time. The simplicity and coziness of the natural woods will create the soothing luxury most people look for.
Related: Your Guide to Radiant Floor Heating: The Pros and Cons
Conclusion
The general feeling going into 2020 is that no one is satisfied anymore with traditional materials. Homeowners want flooring materials that have been given special treatment to make them unique in design and texture. Whether it is fumed wood, blanched flooring, textured tile or wood looking tiles; buyers are looking for new and exciting options. Fortunately, 2020 delivers on quality, variety, style and so much more. It will not disappoint.
Check Out Our Other Great Articles:
Image Sources: