The retro look keeps nudging–we have another upcoming style for you. Vintage Edison-style bulbs add to the 2020 retro lighting trend with homeowners loving the nostalgic design of these fixtures. The rounded cone shape makes the bulbs especially homey and perfect for areas like the living area and kitchen.  Even better, you can get Edison-style bulbs in modern LED lighting. Get the LED variations if you want a fixture that will last longer and consume less power. But if you want the authentic retro experience, there are incandescent Edison bulbs still available in the market. The advantage of the incandescent variations is that they are cheap. You can get a single bulb for less than $3.
How to use it: Vintage Edison bulbs are best used in enhancing a retro/industrial style. They can help add some warmth and soft beauty to industrial elements. For maximum effect, get a system of lights rather than single bulbs. For instance, a chandelier made with Edison-style bulbs or a row of connected Edison lights above your kitchen work area.  These lights are a great place to start if you are looking for a soft introduction to the retro style. They are not extreme industrial, have a certain comfy feel to them and you can find plenty of updated designs in the market.  Take a look at our design portfolio for other styles to consider for your remodeling project.
Trend #4. Mid-century Modern and Art Deco are Making a Comeback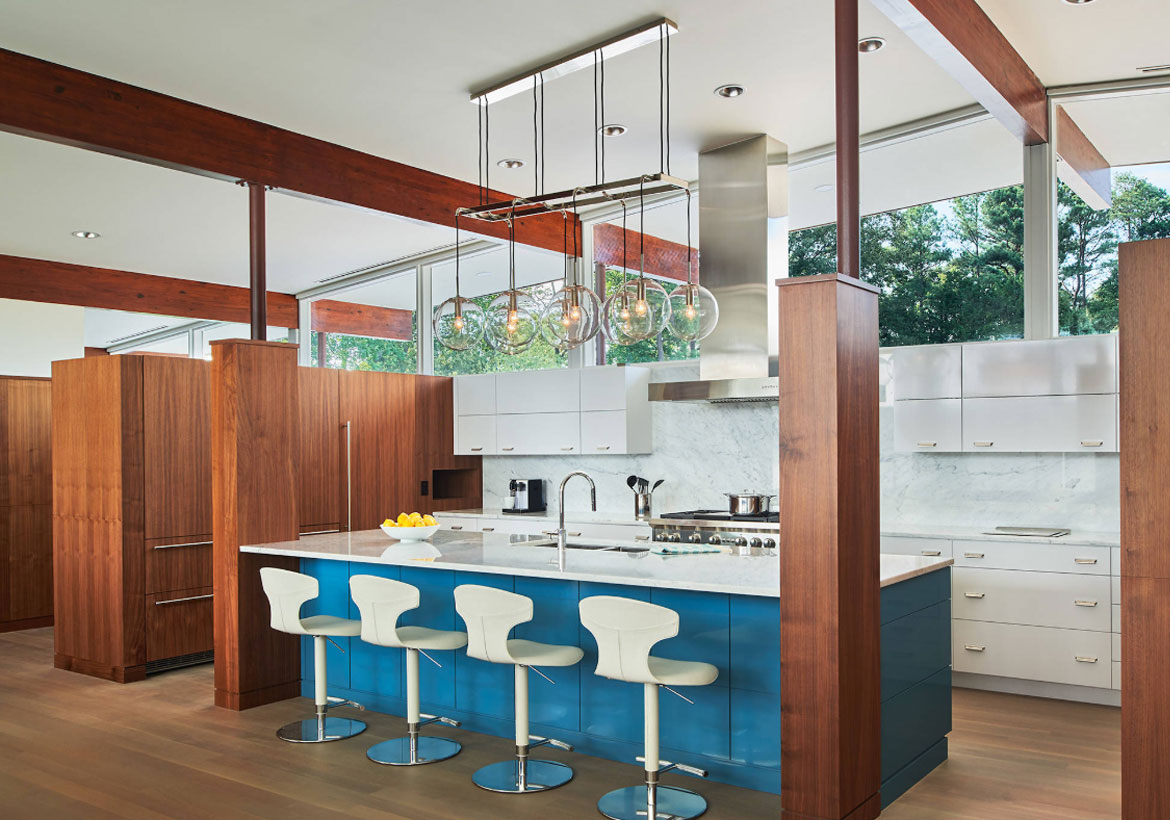 Wiedemann Architects LLC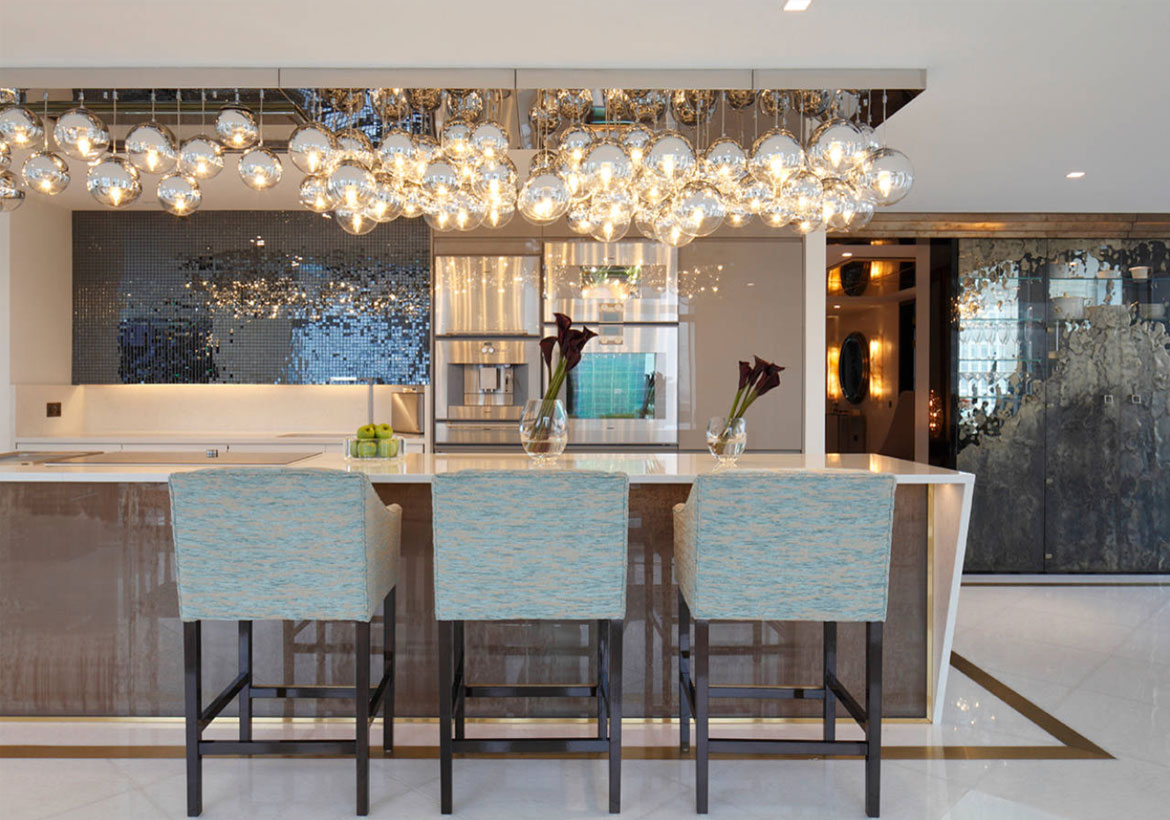 Rocco Borghese
For years, Art Deco and Mid-century Modern styles have been go-to favorites for interior design. But for some reason, lighting has not followed the same trends. It has been hard to come across fixtures set in these nostalgic early century styles. But that is changing with more and more Mid-century and Art Deco designs filling the market. The popular sputnik chandelier comes to mind when talking about Mid-century modern with its clean lines and pared down form.  Art Deco and Mid-century Modern form a continuous line from the 1920s to 1970s. They both emphasize clean lines, unique designs and a balance of form and art. Art Deco lighting focuses on sharp lines and attractive geometric designs. With Mid-century modern lighting, you will notice a love for natural shapes that combine functional form and aesthetics.
How to use them: Art Deco is an artful lighting style. Overhead Art Deco fixtures are especially good at adding strong geometric designs to a space. The 2020 Mid-century lighting trend falls more towards fun and laid back. Use it to add an informal slightly artful feel to a space.  Unlike years ago, it is not as hard to find Art Deco and Mid-century modern fixtures today. Check your local store or online shops for a variety of the best pieces.
Trend #5. Less Clutter, Cleaner Lines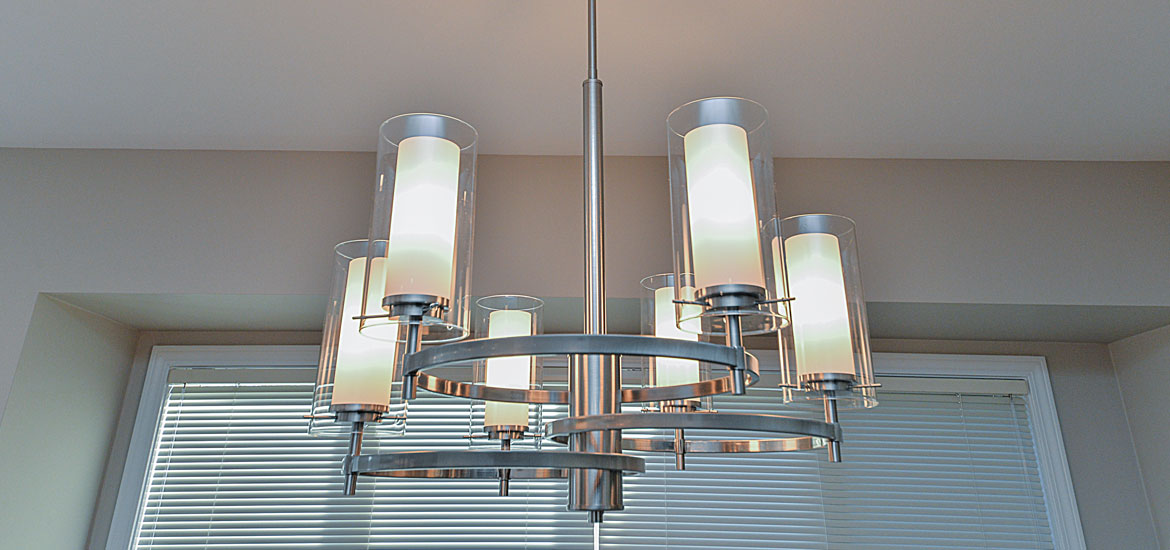 Sebring Design Build
Modern décor is based mostly on clean forms. Whether it is a modern couch, a modern kitchen or modern lighting, excessive ornamentation is losing favor. Older lighting fixtures often feature ornate metalwork. But in a modern home, the complex designs may not blend so well in a clean styled space. So today, homeowners are opting for simpler and cleaner lighting designs that fit in perfectly among modern decors.  The minimalism trend will become even more popular in 2020 as more low-profile fixtures enter the market. These fixtures focus on simple geometric designs, neutral soft colors and a prominence of form over extravagant aesthetics.
How to use it: You can work modern clean lighting into any space in your home whether it is the living area, kitchen or bedroom. It works best as a statement piece, especially when used overhead, creating a simple yet bold look.  Let the lighting fixture stand on its own without being crowded by other fixtures. It really pops when used as a reading lamp, overhead light or accent piece.
Trend #6. LED's are Getting Cheaper
Sebring Design Build
Incandescent bulbs are very wasteful. Most of the power is wasted in the form of heat. This is why there has been a big push to change over to other more efficient and environmentally friendly forms of lighting.  More and more homeowners are changing over to LED lighting for it's money and power saving properties, which is far more efficient and lasts for much longer than incandescent bulbs. Another advantage of LED lighting is the variety of styles available. You can get LED lamps in multiple colors, brightness, shapes and so on. They are a great choice when you need a unique design for your home.
Currently, the major downside to LED lighting is cost. While they will save you some money in the long run, the purchase cost is quite high compared to other lighting options. Most homeowners can only afford to replace one lighting fixture at a time.  The cost of LEDs should become lower in  2020 and beyond as the technology gets better and adoption of LED lighting goes up. Soon, homeowners might just be able to change over to LED all at once.
Trend #7. Bigger is Better
Sebring Design Build
For certain areas of the house, homeowners are falling in love with bigger fixtures. The aim is to create a "Wow" factor and attract instant attention. More than lighting, these fixtures act as centerpieces. Some come with ornate designs that focus all the attention in a space on the fixture.  Large pendant lighting fixtures can be used over the kitchen island, over the dining table, at the foyer and along exterior footpaths among other areas.
How to use larger fixtures: Using larger fixtures requires a lot of care. For best results, use it in a central area where it can create the maximum effect. You can balance it with smaller fixtures around the room to create a nice overall look.
Trend #8. Timeless Statements
You don't have to be trendy to make a statement in your newly designed space. Lighting companies are releasing many fixtures that are bringing back the look of the 1940's. Linen shades are becoming quite the hit, especially on chandeliers and wall sconces. This timeless look creates an ambience that is inviting and offers a sophisticated feel. The designs have definitely changed in the last few decades, having more simplicity and offering less curves, creating a modern touch to your space.
How to Use Them: These shades can be overwhelming, so don't use them in every room. A shaded chandelier looks great over a kitchen or dining room table. It compliments well with simple glass pendants over an island. Shaded wall sconces are a fun accent to use in a powder bath.
Trend #9. Smart Technology
Sebring Design Build
Of course smart technology is entering into other areas of life, but did you know it is now a top request for residential interior lighting? Caseta by Lutron allows you to control your home lighting in a new way. Even when you are not home, you can set up your interior lights to come on at a specific time to make it look like someone is there. This system can be easily installed and can connect to Alexa, Google Assistant, or Siri for voice activation. The look of the covers are sleek and modern, more appealing than a typical switch. This technology also has the ability to connect with your GPS location, so when you arrive near your home, the lights will automatically turn on. One pro of this technology is that you don't need to purchase smart bulbs for them to work, making it more affordable to change out the lights in your home. Another pro is that Lutron works on its own hub. This means it doesn't work on your wi-fi, so the lights will still work even if the wi-fi is disabled.
Where to use them: While it may not be feasible for some people to set this up in their entire home, it is best to place the Caseta by Lutron in the main areas of the home, such as the foyer, living room, and kitchen. This will allow you to use the features in the most visited spaces.
Go With Your Style
Do not feel any pressure to choose a specific style. The best lighting design is one that you will love and which will work best in your home. The above trends are meant to give you an idea of what you can do with your home lighting in the coming year whether you are renovating or building a new home.
Check Out Our Other Great Articles: