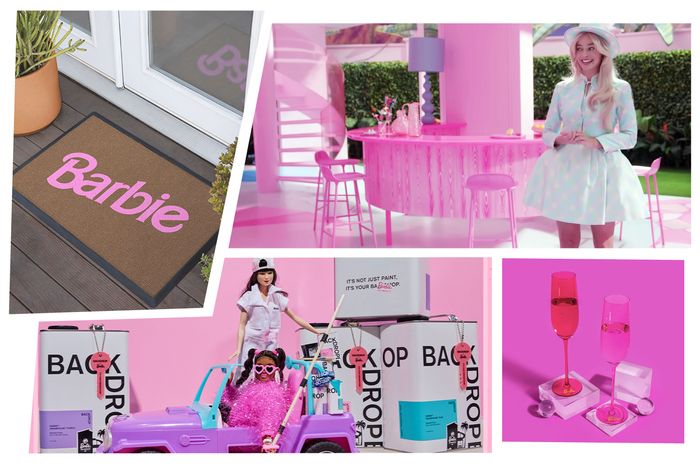 Photo-Illustration: Curbed. Photos: Ruggable; Architectural Digest; Dragon Glassware; Backdrop
As you know by now, Barbie is everything. And for well over a year, she has been everywhere, painting the world Pantone 219 C. This aesthetic has a name: Barbiecore. It's unabashedly femme, bubblegum pink, cloyingly but unironically sweet. It's a subset of maximalism, akin to Y2K-inspired trends— think Simple Life-era Paris Hilton or Clueless — a natural progression of post-pandemic "dopamine dressing." And if the flood of PR emails, trend stories, and brand collaborations are to be believed, the forthcoming release of Greta Gerwig's meta-homage Barbie has everyone seeing hot pink. According to data shared with the New York Times, Pinterest saw a 1,135 percent increase in searches for "Barbie aesthetic bedroom" between May 2022 and May 2023. Architectural Digest ran a tour of the to-scale Barbie set (and its sister site Clever told readers last summer that Barbiecore would, in fact, "never go out of style"). Better Homes & Gardens has Barbiecore colors that aren't pink for the doll curious with more subdued palettes. Barbiecore is happening, if not in actual homes then at least at the sparkly pink crossroads of interior design and sponsored content.
It has never been easier to have your own Barbie dream house. There are Ruggable x Barbie area rugs and Dragon Glassware x Barbie kitchen décor for those looking to dip their arched toes in Barbiecore. When you're ready to commit to your bright and sparkly fate, there are BACKDROP x Barbie paints to drench every wall in pink. ("From the iconic Barbie™ pink to perfect purple and turquoise, the colors that everyone knows and loves are finally available for your walls," per the ad copy.) Instagram interior design influencers are interspersing pink content into their feeds both subtly and overtly. There are Barbiecore stories in most every design-adjacent publication, not only giving readers ideas on how to incorporate more Barbie in their everyday lives but also giving them permission to do so. "Pink is not just for eight-year-old girls anymore," one interior designer told Forbes. House Beautiful called Barbiecore "glamorous and unafraid," and Harper's Bazaar said the trend is about "embracing fun." The implication being that Barbiecore is popular, sure, but it's also brave! It's an act of defiant childlike wonder and unabashed joy. The omnipresence of Barbie's marketing seems to fall somewhere between cultlike and conspiracy. Is the Barbiecore hype a reflection of popular demand or a trend that exists purely in the minds of publicists? Do people even want this much Barbie?
Complicating things further, it's hard to say where Barbie promo ends and everything else begins. A house painted pink at the beginning of the pandemic, years before any movie marketing? Retroactive Barbiecore. Valentino's "Pink PP" collection during Paris Fashion week in March 2022? Prescient Barbiecore. The Barbie brand is synonymous with pink, a color that was already seeing a rise in popularity in recent years. It was all over the red carpet at the 2019 Oscars and 2022 Grammys. Pantone named Viva Magenta their 2023 color of the year. Millennial Pink was emblematic of the Girl Boss Era, and who is more Girl Boss than Barbie with her perpetual youth and 200+ careers? When you are able to create recognizable promotion with just a color and a font, the world is your #sponcon oyster. If it's pink, it's Barbie. 
Though Mattel, Barbie's parent company, saw a 22 percent drop in sales during the 2022 holiday season, they have maintained that Barbie, the doll, has staying power. Fair enough: Despite taking over 14 years to come to fruition, Barbie has all the makings of a hit movie: a built in fan-base, an A-list cast, a critically acclaimed director-screenwriter, Ryan Gosling screaming. Still, Barbie's marketing campaign feels singular. It's achieved every PR firm's wet dream of going viral, creating a meme format so appealing that even other brands have used it. It has the sort of ubiquity usually reserved for established movie franchises, reboots, superheroes, or Star Wars. An interior design tie-in is perhaps inevitable with a brand built on fashion, homemaking, and aesthetics. Oppenheimer never had a dream house.