Can interior design affect your perception and enjoyment of a glass of wine? A new study commissioned by Campo Viejo has revealed the answer to the question on every good host's lips.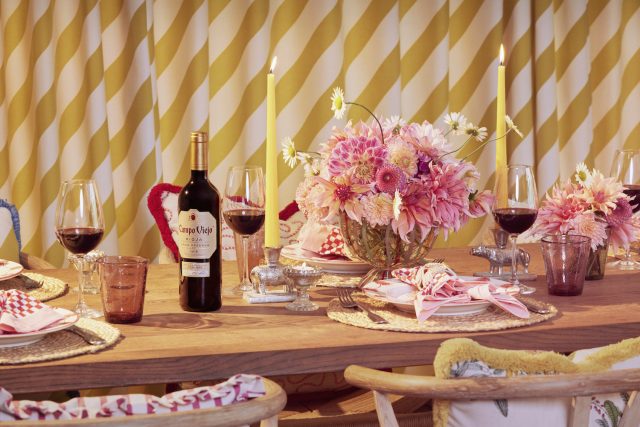 A new study commissioned by Rioja wine brand Campo Viejo has finally answered the age-old question: can sitting in a nicely designed room actually make your wine taste better?
Led by psychologist and wellbeing consultant Lee Chambers, a controlled study tested participants' perceptions of the same wine across three interior environments — one filled with colour, shapes and patterns (energetic), a calming space with natural elements (relaxed) and a bland space deliberately lacking in interior elements or fittings (neutral).
A total of 42 participants (21 males, 21 females) aged between 25 and 55 were recruited for the experiment, all of whom were required to have a moderate level of wine consumption experience.
"Limited research has explored the impact of environmental context on the perception of wine, a complex sensory experience that combines taste, aroma, and visual cues. This experiment seeks to fill this gap by investigating how different environments affect participants' perception and enjoyment of wine," the study said.
To control for any lingering taste effects, participants gargled with tap water between each room change. Assessments were then conducted to evaluate participants' perceptions of taste, aroma, and overall enjoyment.
The results of the study found that environmental context can have a "significant effect" on wine perception and enjoyment, suggesting that "sensory experiences are intertwined with the surroundings in which they occur".
Measuring the results highlighted significant differences in taste, desire to serve to a friend, and overall enjoyment scores across the three rooms.
Participants associated the 'energetic' environment with higher taste (22%) and enjoyment (32%) scores, while the 'relaxed' room achieved a higher score for participants' desire to serve a friend (29%) and how the wine looked (14%).
The neutral setting received the lowest scores for taste, aroma, and overall enjoyment compared to the other two rooms.
Additional findings from the experiment found that perception of wine balance was the same across all three rooms (61.5%) and the strength of the wine was also uniform across all three rooms.
The study concluded: "While there are a range of mechanisms involved in the interconnection of our senses, this experiment implies that a colourful and vibrant interior is likely to heighten our mood and how we perceive things we consume."
Lee Chambers commented on the findings: "We've seen in previous published studies how environmental cues, such as music and colour, have influenced sensory experiences. It's no surprise that interior environments, with their ability to infuse colour, textures and different lighting — could amplify our senses and enhance what we consume."
In other news, viewing different flowers while drinking wine can change the perceived taste of what's in your glass, a study revealed. Read more about that research here.