A perennial favorite in home decor, sage green is a lovely blend of green, blue, gray and even yellow. While a distinct color in its own right, sage somehow passes as a friendly neutral. Sage can be much more interesting than a plain gray and works great in all areas of the home.
I like a nice sage green living room or bedroom. For the bedroom, a blue sage can be tranquil and sleep encouraging. For the living room, a yellow sage is friendly and bright and a dark sage is rich and inviting. But with so many sages, how do you choose? Here's a few of our favorites, including a variety of accent colors to match.
Here are the colors I tested:
Castle Walls: Light Blue Sage
Let's start with a light neutral that has a hint of blue: Benjamin Moore Castle Walls. Paired up with a light blue, the overall feeling is relaxed and calm. Accent pillows, artwork and a matching lamp shade pop against the mellow wall.
Rushing River: Blue Sage
Slightly more saturated than Castle Walls is Benjamin Moore Rushing River. This bolder shade is a great background for rich purple accents including pillows, artwork and lamp shade.
Mistletoe: Yellow Tinted Sage
Sage is sort of a slippery shade of green – it's hard to put your finger on it. I still consider this color sage; Benjamin Moore Mistletoe; but it's a warm sage filled with yellow. Try it with oranges and browns for a classic welcoming look. And don't forget the artwork and lamp shade.
Rainy Afternoon: Deep Sage
Benjamin Moore Rainy Afternoon is a deep sage and basically a teal. As you take sage darker and richer, you can brighten your accessories. I love the pop of this bright yellow/green-it feels fresh and modern. Check out the artwork and lamp shade too.
So now the question remains, what's your favorite shade of sage?
Check out these similar posts:
Mochi Home will rock your walls!
Get access to our printable artwork sizing templates. Be the first to learn about new wall art designs.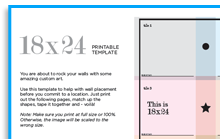 We hate spam just as much as you