Continuously targeting the home networking market, Compal Broadband responds swiftly to customer needs with one-stop service
The global market has seen unprecedented changes in recent years, including trade tension between US-China, which started in 2018 and spurred a supply chain reshuffle that changed what the industry was used to; and the COVID-19 outbreak in 2020, which forced businesses to rethink their operations. However, it's not all bad news. Good things are happening. For example, US, China and Korea kicked off 5G commercial operation in 2019 with more countries following suit in 2020. 5G communication is expected to connect the last mile to smart systems and open the door to new-generation IT applications. These three major changes will reshape wireless communication technologies, said Alex Wang, Compal Broadband CEO & BOD.
Founded in 2009, Compal Broadband Networks is a member of the Compal Corporate Group with a focus on home broadband communication products. For cable networks, Compal Broadband Networks provides Data Over Cable Service Interface Specification (DOCSIS) compliant products encompassing DOCSIS 3.0 all the way to DOCSIS 4.0 devices that are developed in close collaboration with communication chip suppliers. Compal Broadband's wireless communication product portfolio includes two major groups – sub 6GHz and mmWave solutions, which are the results of the company's strengthened efforts toward the 5G market, and Wi-Fi products, particularly those that support the new-generation Wi-Fi 6 and Wi-Fi 6E under development. These products are being marketed around the globe.
Compal Broadband Networks started out as an electronics manufacturing service (EMS) provider and later established its own brand CBN. With market footprints throughout Europe as well as Central America, Compal Broadband Networks mainly sells products to European markets, serving almost every cable TV operator in the region. CBN enjoys a 40% share of the home broadband communication market.
One-stop service creates unparalleled advantages
Compal Broadband Networks has been able to deliver such outstanding performance in just 11 years. Aside from expressing gratitude for customers' support, Wang attributes the company's success to two elements – the advantages enabled by the Compal Corporate Group's resources and Compal Broadband??s ability to provide customization services accumulated through the years. As a member of the Compal Corporate Group, which is the world's largest computer manufacturer, Compal Broadband Networks not only has a robust engineering workforce of its own but can also tap into the corporation's consolidated R&D resources. On top of that, with centralized procurement, it has absolute advantages in price negotiations with suppliers. Its long-term partnerships with leading international chip makers also enable Compal Broadband Networks to market competitive products with compelling cost-performance ratios and higher levels of technological integration. As a member of the Taiwan 5G Alliance, Compal Broadband Networks can leverage the Compal Corporate Group's advantages in 5G modules while gaining first-hand information on network communication customers' needs so it can quickly combine 5G and network communication resources and thereby introduce products with shorter time-to-market compared to its competitors. Moreover, Compal Broadband's products can work in connection with other repeaters to help businesses and consumers address the challenges they face.
Apart from access to corporate resources, Compal Broadband Network's customization ability is also what allows the company to win customer support. Wang speaks candidly that the network communication industry has developed mature technologies and is experienced enough to quickly catch up with new standards that are constantly being released. Under such circumstances, services become the key to success. Wang gives an example in which Compal Broadband Networks was asked by Europe??s top three cable TV operators to incorporate some required functions into its home networking equipment. The Compal Broadband Networks team was able to swiftly modify the product design and add the required functions.
The example fully demonstrates Compal Broadband Network's capability in product R&D and manufacturing. Most network communication device suppliers do not engage in in-house design and production but instead only design the product independently and outsource the production to OEM. To brand vendors, this business model allows them to lower operation costs but makes it difficult for them to control delivery schedule. In contrast, Compal Broadband Networks provides one-stop service including product design, manufacturing and marketing so it can more promptly respond to customer needs. According to Wang, under Compal Broadband Network's system of operation, after sales specialists understand a customer's needs, they forward the information to the engineering team to begin design work and at the same time, the manufacturing team allocates production capacity based on the customer's order. This ensures the products are delivered on schedule and on par with the required quality. Close collaborations across different Compal Broadband Networks teams have generated a wealth of success stories and are the main reason why Compal Broadband Networks is able to remain a frontrunner in the competitive home networking market.
Close teamwork to meet market requirements
Wang notes that Compal Broadband will maintain its market strategy going forward. He adds that 5G competition is what sparked the US-China trade war. American and European industries and governments are making every effort to grab 5G opportunities. The governments offer all types of subsidies to spur industry growth and have begun spectrum auctions over the recent two years. The industries are eyeing enormous Industry 4.0 business opportunities. In addition to telecom operators that are aggressively rolling out 5G services, market newcomers are joining the game while engaging in a diversity of cross-sector partnerships. The most iconic would be the partnerships between mobile service providers and cable network operators.
Mobile service providers and cable network operators have been targeting separate market segments. It was once thought that they are to engage in competitions after 5G communication gives rise to burgeoning smart systems which have diverse communication requirements. Wang has a different opinion. In consideration of the small coverage and high density of 5G base stations, widespread cable networks become the best choice to offload 5G traffic from the backhaul network as a way to save costs. This breaks the barrier between mobile and fixed networks and spikes the demand for communication devices for such purposes. Compal Broadband already includes 5G Fixed Wireless Access (FWA) equipment in its product portfolio and plans to offer customization service tailored to customer needs going forward.
As to broadband network, governments around the world are strongly pushing their broadband network build-up. American and European telecom operators and cable network operators are struggling to meet rapidly growing consumer needs for network bandwidth. Compal Broadband has established market presence in North America, Latin America and Asia for many years and has gained first-hand insight into the market trend, based on which it launched a series of home networking devices for use in different surroundings. Taking smart gateways for example, Wang points out a growing number of suppliers are forming an ecosystem to strengthen the software functionalities of smart gateways. Compal Broadband Networks has taken a step ahead and developed for customers hardware and software integrated products with customization available to suit different regions.
In view of the global trend, Wang thinks broadband communication has become crucial demand in today's world so the market will only grow larger and larger. He also makes it clear that technology and service are the two keys to securing market share. Customized design service is especially what suppliers can rely on to build and maintain a competitive edge. Going forward, Compal Broadband will continue to strengthen its technology research and design capabilities and provide customers a diverse range of premium quality services.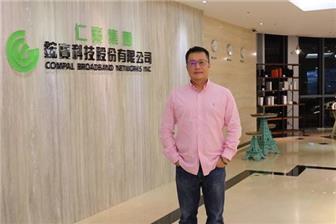 Alex Wang, Compal Broadband Networks CEO & BOD
Photo: DIGITIMES
DIGITIMES' editorial team was not involved in the creation or production of this content. Companies looking to contribute commercial news or press releases are welcome to contact us.