This autumn brings a fantastic variety of UK events celebrating and showcasing the creative industries. As well as London Design Festival in September, there's also the British Ceramics Biennial in Stoke-on-Trent. October brings the Design Council's annual festival Design For Planet and the British Textile Biennial. Make sure you support your local craft scene!
---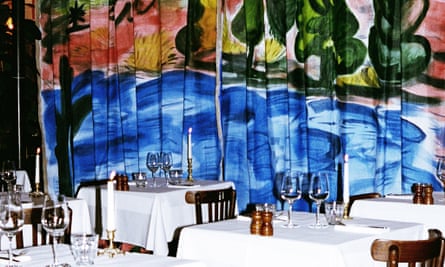 Sessions Arts Club is a restaurant and performance space run by creative director Jonny Gent housed in what was once a judges' dining room in Sessions House. This former court in east London has become an unofficial HQ for Clerkenwell's creative community since it opened in 2021. And what does every club need but a uniform? Now designer Faye Toogood has created one for Sessions. Toogood works in interior design, homewares, fine art and fashion. For this project she hand painted abstracts inspired by the landscape around Boath House, Gent's Scottish Highlands hotel. As well as decorating a dress and shirt – classics from Toogood's clothing range – for staff members, Toogood's design covers a decorative curtain in the dining room and features on the menu.
"There's nothing prescribed about what Jonny does," says Toogood. "Sessions is one of the most creative places in London. Once you're through the red front door and up the winding staircase, you escape into an otherworldly space. The word uniform feels a little stodgy for Jonny's gang. I wanted to make them clothes to add to their own dressing-up-box. I'm inviting each individual to express something about who they are."
Spirit of Eden by Toogood is at Sessions Arts Club from this month. Shirts and dresses will be available to buy
---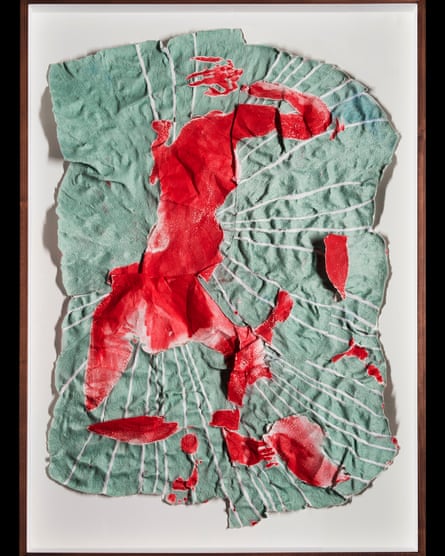 African creativity is finally getting the international recognition it deserves with major exhibitions of photography, art and fashion held at major galleries on most continents. The spotlight has particularly found creatives from Ghana, and a new book – Voices – Ghana's Artists In Their Own Words – documents the art scene that has fostered these talents. It's the first art book from Manju Journal, an arts and culture platform based in Accra which is focused on emerging African talent.
"Instead of another outsider viewpoint of African art, our book has been created as a first-person document of the current scene told by those within the community," says Manju Journal's creative director Richmond Orlando Mensah.
Voices contains more than 80 interviews with artists, gallerists and curators from Ghana and the diaspora, including everyone from new graduates to established artists. Featured creatives include painter Zohra Opoku, photographer James Barnor and textile artist Anya Paintsil to name but a few. There's also a foreword by Ekow Eshun, curator of the 2022 show In the Black Fantastic.
While the book has fascinating insights for anyone eager to learn more about the art scene and cultural milieu of Ghana, Mensah feels the book has an important purpose too.
"We are so happy to celebrate these talents who contribute to the country's huge artistic output: it's really important to me to foster a conversation between the continent and the diaspora. This should create space for us to learn from each other without being filtered by an external gaze."
Voices – Ghana's Artists In Their Own Words is published in September by twentyfourthirtysix publishing
---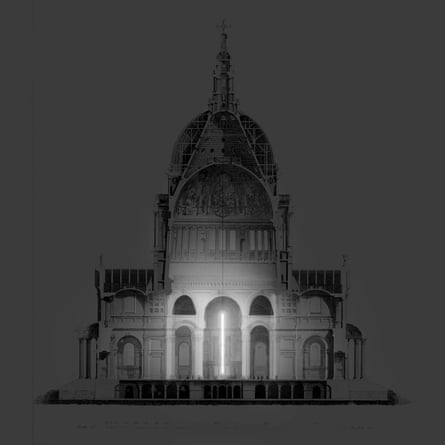 The 2023 London Design Festival introduces a new showcase this September, for designers who typically find it harder to take part in the UK's annual celebration of the creative industries. The Launch Pad initiative is for recent graduates, charities, not-for-profit organisations and small businesses who can apply for significantly discounted partnership package enabling them to take part at greatly reduced cost. This year also bring four more design districts: Dalston to Stokey, Battersea, Chelsea and Fitzrovia.
Ben Evans, director of LDF, says: "The festival has cemented London's reputation as a global creative capital while supporting designers at every level of their careers. We are incredibly proud of the vital role LDF plays in helping designers and creative businesses to reach new audiences and championing design's significance in shaping our world."
The creative industries are a powerhouse of the UK economy, growing 1.5 times faster than the wider economy over the past decade and with employment in this sector growing five times faster than the rest of the economy since 2011.
This year's LDF also celebrates the 300th anniversary of Sir Christopher Wren's death with the landmark project Wren 300. There will also be exhibitions and installations by artists including Simone Brewster, Andu Masebo and Morag Myerscough.
London Design Festival runs 16-24 September at various venues. Check website for details
---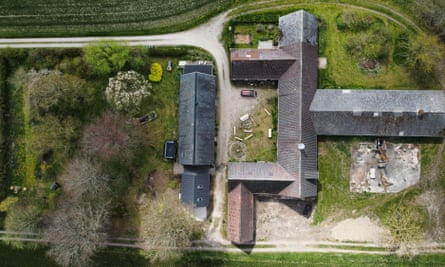 A new Danish festival celebrating art and science launches this month at art institute Kunstrum Fyn. The theme of Tårup Dark Sky festival is The Universe and includes concerts, workshops, star walks, lectures and seminars over 10 days on the island of Funen. Kunstrum Fyn is an unusual institute, created to unite artists and scientists to consider sustainability, it's the brainchild of curator Helga-Marie Nordby and artist Crispin Gurholt, who moved to Tårup from Berlin in 2020. They hope to make Tårup a creative hub for Denmark.
The village has a large artistic community who actively pursue an eco-friendly way of life. Tårup has no street lighting and residents are seeking to have it named as the region's second Dark Sky area. This festival will celebrate this lack of light pollution. Scientists on the bill include radio presenter and astronomer Ivalu Barlach Christensen from Greenland, who specialises in the chemistry of the star forming region Cygnus X and "stardust hunter" Jon Larsen who identified the world's first urban micrometeorites – tiny mineral fragments from space the size of grains of sand. In 2016, a study showed that a third of humanity can no longer see the Milky Way, and that as much as 60% of all Europeans live under a "light-polluted" sky. Maybe it's time to rediscover the joy of a dark sky.
Tårup Dark Sky festival runs 31 August – 3 September
---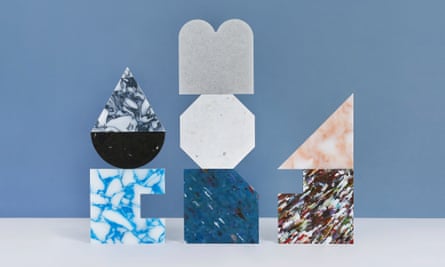 In the world of waste stream recycling, Smile Plastics is a bit of a veteran. Founded over 20 years ago, the business was taken over in 2014 by Adam Fairweather and Rosalie McMillan. The company now makes panels and furniture from food packaging, bank notes, waste from the car industry and anything else that can be used to make a sturdy but decorative design. Smile Plastics is based in Wales, and the company is setting up a new factory. For this year's LDF the company is collaborating with Jordan Cluroe and Russell Whitehead, founders of 2LG studio based in South London on an installation called You Can Sit With Us, a 14-seat dining table which showcases work by different designers, including Smile Plastics. They will also create the registration desk for Material Matters, one of the newest initiatives at LDF. In October they will also take part in the Design Council's annual festival Design For Planet 2023 in October.
"It's so exciting for Smile Plastics to be taking part in such a broad range of events," says Fairweather. "In what has already been a major year for us in terms of growth, we're thrilled to have so many opportunities to spread the word about plastic's role in the circular economy and the aesthetic and functional possibilities of recycled plastic as a design material."
Join workshops and panels at the Design For Planet 23 festival this October online for free. Register here