This month's design news features builders with big ideas. There's artist Devon Turnbull who creates state-of-the-art hi-fi equipment and author Will Jones who realised his dream of building a cabin in the wilderness. We've also celebrate the reusers and the rebuilders, too, with a focus on architects who've renovated buildings at the World Architecture Festival.
---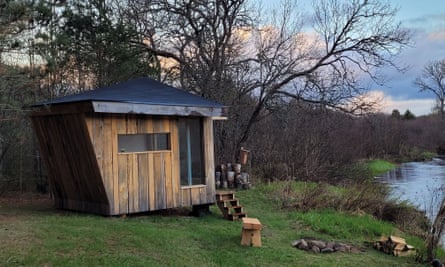 When British journalist Will Jones upped sticks for Canada in 2009, one of the main reasons he moved was "a pull or yearning to be connected with nature". To find further peace, he built himself a cabin, somewhere he describes as "a place where I can simply be and allow myself to be enveloped by the wilderness". He's written about the emotional pull of solitude and cabin dwellings in a great book which is part history, part manual to make your own retreat. There's an international history of cabins from the American Plains to the hyttes in Norway and the Scottish bothy, but alongside are practical details on cabin building. Jones already had basic carpentry skills before he started his project, but his simple diagrams and clear insights into orientation, checking water high points and even how to lay floor joists, make this seem like a feasible plan for anyone with enough determination. And, even if you've never build your own hideaway, this beautifully illustrated book will leave you with great insight into the appeal of a cabin and a new-found respect for the people who live in them.
Cabin: How to Build a Retreat in the Wilderness and Learn to Live With Nature (Thames & Hudson) is out 17 August
---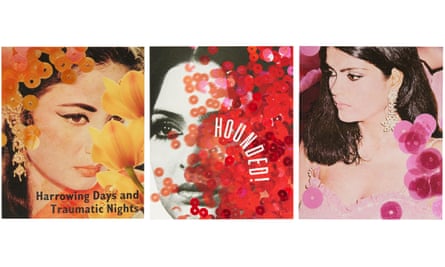 A new edition of prints for arts charity Studio Voltaire celebrate three icons of Indian cinema. British artist Linder Sterling has worked with Indian fashion designer Ashish Gupta on a triptych of images which combine Linder's collage with Ashish's signature use of sequins and bright colour. The works – titled Three Goddesses of the Silver Screen – feature film stars Meena Kumari, Zeenat Aman and Parveen Babi. The three were huge during the 60s, 70s and 80s: Kumari is often named as one of the greatest stars ever of Indian cinema; Aman has been referred to as the first sex symbol of Bollywood; Babi was one of the first major Indian stars to be featured on Time magazine. All three have experienced difficult personal lives, but these works showcase their power, rather than their tragedy. The project was particularly personal for Ashish: "Growing up in India in the 80s and 90s, there weren't a lot of icons for the queer community," he says, "but perhaps we instinctively recognised a little of ourselves in these defiant, glamorous women who fought for recognition and happiness, despite the odds."
The Three Goddesses of the Silver Screen editions support Studio Voltaire's artistic and community programmes. They're available online and in store from 27 July 2023 at Studio Voltaire and houseofvoltaire.org
---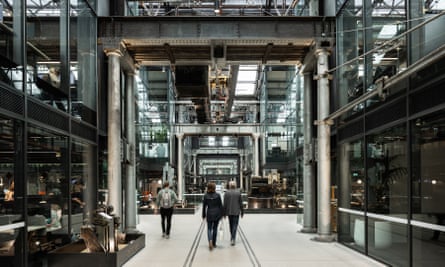 The shortlists for this year's World Architecture Festival (WAF) awards have been announced, and the growth of reusing, renovating and retrofitting buildings is a strong theme in this year's projects. There are beautiful reworkings of old factory sites – such as a locomotive factory reimagined as a technology park in Sydney, Australia, and a Mercedes-Benz factory in Barcelona to make a new neighbourhood. But while reimagining heavy industrial areas has become commonplace, different buildings are now being reimagined. A university building in Nagano, Japan, has been turned into a cafe, bookshop and community hub. In Sydney, Australia, former Treasury buildings are now part of an InterContinental Hotel, and in Hong Kong, a 360-year-old village, Mui Tsz Lam, has been restored as a centre to conserve heritage and also explore future rural living.
Paul Finch, director of the WAF, says: "Thinking about better futures is part and parcel of the World Architecture Festival programme. We are delighted with the quality of projects which are looking at the biggest problems facing the world, and which are addressing them in a truly constructive way."
---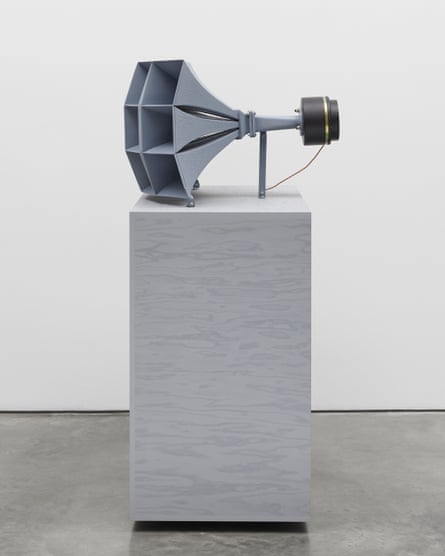 Devon Turnbull has made a remarkable name for himself as an artist and sound guru in the US, and now his sonic sculptures are in London for the first time. Turnbull was born in New York and studied Audio Engineering in Seattle. The name Ojas – sanskrit for vital energy – started as his graffiti tag when he moved back to NY after college, but it's now the name of the custom home-audio systems that Turnbull makes. He started a successful career in streetwear, with the label Nom de Guerre, but audiophile culture was his real love. Though he sells handmade systems – Virgil Abloh was a great supporter of his work – his brutalist speakers and audio equipment are now on show at the Lisson Gallery. The aim of Turnbull's show HiFi Listening Room Dream No. 1 is to create a shrine to music. Turnbull's family were very involved in the transcendental meditation scene when he was growing up and, although he's no longer affiliated with that community, he is interested in how mindfulness can alter experience. With his art he offers a chance for visitors to surrender to the act of listening,
"Music is the most powerful art form," he explains. "Music venues are really cool ways of experiencing music – but a lot of the time the recorded music becomes the masterpiece.'"
Devon Turnbull: HiFi Listening Room Dream No. 1 and other works is at Lisson Gallery until 26 August
---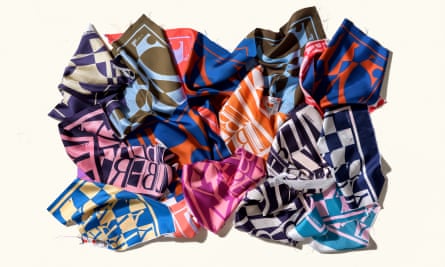 Liberty London, the legendary British department store, has teamed up with graphic designer Harry Pearce of Pentagram on a new capsule collection.
Design agency Pentagram, whose clients have included everyone from Pink Floyd to Harley-Davidson, Alexander McQueen to Citibank, recently updated the identity of the 148-year-old brand, creating a new typeface from the lettering in the original sign above Liberty's mock-Tudor Great Marlborough Street shop in Soho.
That identity is now also available to wear. The new Liberty Letters collection includes bags and scarves, plus a range of fabrics. Though Liberty is associated with florals and paisley prints, type is at the heart of this collection, with Pearce and his team creating dozens of typographical experiments from his bespoke Lasenby Sans font. This forms part of the retailer's ongoing plan to revitalise the Liberty brand.
The Liberty Letters collection is available in store and online