Discover the highlights of the upcoming London Design Biennale and a celebration marking 30 years of the Pleats Please clothes line. We also celebrate the joys of living on the waves in this month's design news. For more stories on architecture, sustainable living and the creative industries, sign up for the monthly Design Review newsletter here.
---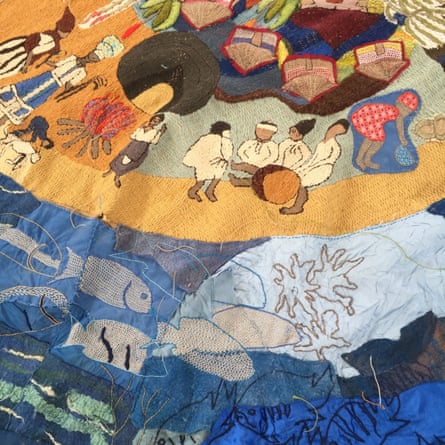 Back for a fourth time, the London Design Biennale at Somerset House will include exhibitions from five continents in 40 pavilions. This year's theme is The Global Game: Remapping Collaborations and the event looks at the design industry's efforts to overcome global challenges around resources and climate crisis. It also showcases how communities benefit from working together.
Under the guidance of artistic director Aric Chen a new initiative called Eureka has also been introduced this year. This highlights projects from the UK's leading research centres and universities. So as well as being able to try traditional weaving as practised by Bedouin women in the United Arab Emirates and listen to music played on the cajón (an Afro-Peruvian percussion instrument) at the international pavilions, visitors will also be able to investigate academic research projects. There's a history of British amusement arcades by Canterbury Christ Church University and work by the National Innovation Centre Ageing which helps you rethink how you age. Undercurrents is a project from Glasgow School of Art which brings together community arts projects from around the world depicting people's relationship with the ocean.
London Design Biennale will take place from 1-25 June at Somerset House
---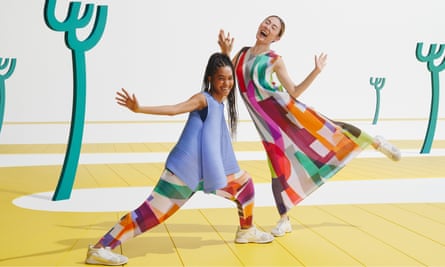 In the fast world of fashion, it's unusual for clothes to make it through a season without seeming stale, let alone enduring for three decades. But this May brings the 30th anniversary of Pleats Please Issey Miyake, a line that has stayed true to Japanese fashion designer Issey Miyake's vision from 1993 and become a uniform for the creative industries.
Miyake was inspired by the Paris demonstrations of 1968 to start thinking about fashion for the masses. He was living in France during the protest, having moved from Japan to study at the L'Ecole de la Chambre Syndicale de la Couture Parisienne and then to apprentice with Givenchy. The idea was still in his mind 20 years later. It was in 1988, 18 years after he'd founded the Miyake Design Studio, that his head of textiles folded and pleated a piece of polyester and realised how sculptural the fabric could become. The fabric was also wrinkle-resistant and easy to care for. The seeds of Pleats Please were planted.
Miyake developed a process known as garment pleating for the line, with clothes made three times as big as their intended size and then folded, pressed and sewn into their desired shape. The ingenious designs caught the eye of architects, gallerists and other creatives as they were incredibly comfortable but refused to crumple, making them a good choice to wear to meetings, studio visits or on long-haul flights. Collaborations in the Guest Artist Series, with names such as photographer Araki and Chinese artist Cai Guo-Qiang also kept the line fresh.
The collection to mark the 30th anniversary includes designs featuring an abstract print of the words Pleats Please and another in the colours of the original brand logo. Expect to see them on an architect or graphic designer some time soon.
---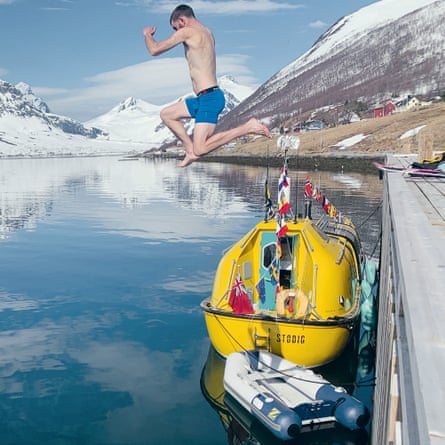 Living on water has always held a sense of magic, and a new book by stylist Portland Mitchell captures that sense of a special way of life. Making Waves combines amazing photography of unique houses with practical guides on how to make a home that floats on the waves or dips its feet into the water a comfortable and practical space.
Meet Max who sold his cottage to live in a shipping container by the canal in east London, or Pieter who lives as part of an energy-neutral houseboat community called Schoonschip north of Amsterdam. Martin Rodrigo Martins has a house anchored on the Jaguariúna reservoir in the foothills of the Mantiqueira mountain range, north of São Paulo in Brazil.
Though these situations seem fantastical, all the tips to living off grid and how to store your stuff makes living on water seem like a genuine possible alternative. As Mitchell writes in her introduction: "Making Waves celebrates those who have managed to… discover how to live in the modern world and yet hold present-day paraphernalia at bay. Their homes are water-borne, magnificent and stylish and they have my envy and admiration."
It's impossible to look at this book and not find something that floats your boat.
Making Waves: Floating Homes and Life on the Water by Portland Mitchell (Thames & Hudson) is out now
---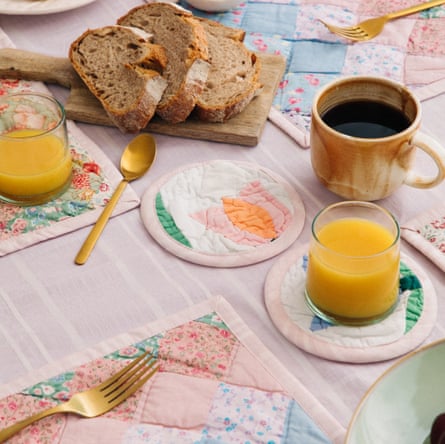 Designer Freya Simonne has made her first homeware collection for Trouva, the online platform for independent designers and shops. Simmone made her name with her eponymous womenswear range of romantic dresses and patchwork jackets created from deadstock and vintage fabric. This month she brings the same aesthetic to a Trouva Exclusive range of table linen. The Florentina collection features handcrafted patchwork placemats, coasters and tablecloths.
"It was inspired by my love of Italy, Italian food and summers spent bathing in the sunshine," says Simonne. "I wanted to create something that echoes the beautiful colours of the Italian lakes."
Trouva Exclusive collections have run since 2021. The idea is to make a small batch of handmade items, in partnership with a maker, that are designed to be loved for life. It's an idea that works well with Simonne's ethos. "I rework pieces that were often passed down through generations. I feel like I'm giving them new life by respectfully reworking them into modern heirlooms that can be loved for years to come."
Trouva x Freya Simonne is available now. Sign up here for more information on this collaboration. The pieces are made to order and have limited availability. Prices start from £35
---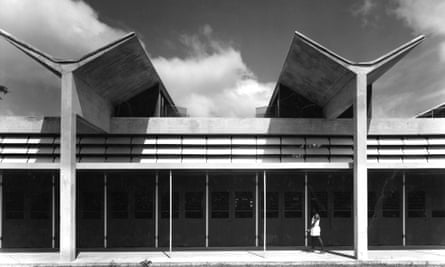 "Africa is the laboratory of the future," declared Lesley Lokko, director of this year's La Biennale di Venezia in her curatorial statement. It's an idea that's examined in depth at the V&A exhibition for the architecture biennale, Tropical Modernism: Architecture and Power in West Africa.
The show looks at the colonial history of tropical modernism through films and research into 14 iconic building projects.
In the late 1940s, British architects Maxwell Fry and Jane Drew developed this style of building for British West Africa, adapting modernism for the hot, humid climate. Their ideas were taught at the Architectural Association's department of Tropical Studies in London, training a new generation of post-colonial European architects to make their mark on Africa.
A ridiculous number of commissions were awarded to these architects for schools, universities and libraries, funded by the Colonial Welfare and Development Act's £200m programme to modernise the colonies. But as African countries won their independence during the 1950s and beyond, the architecture of free Africa became more representative of what the nations and their new leaders really wanted – including a reappraisal of traditional building to create a new style for the newly free continent.
The Venice show analyses the labours of the department of Tropical Studies and how its work was adapted to represent an independent African future. It paves the way for a big V&A show on Tropical Modernism in the UK next year.
Nana Biamah-Ofosu, co-curator of the show says: "We are interested in the story of politics, power, resistance and freedom that this architecture came to represent in the post-independence Pan-African dream. This exhibition presents an important moment in centring African architecture, architects, and historians, and addressing the omissions and erasure evident in the archives."
Tropical Modernism: Architecture and Power in West Africa is at the Sale d'Armi, Arsenale, Venice until 26 November
---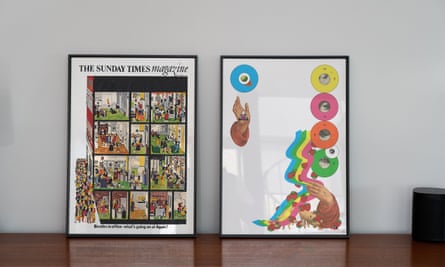 Sixty years after the release of the Beatles' debut album, online gallery RoomFifty releases a limited edition collection of prints, T-shirts and posters celebrating the Fab Four. The range is called A Soap Impression – from the lyrics of Happiness is a Warm Gun– and is curated by RoomFifty's co-founder Leon Edler. Featured artists include Stan Chow, Nicole Rifkin and a fine art print of Colin King's famous 1970 Sunday Times magazine cover of Apple HQ.
'They are as popular as ever," says Edler. "And it's not just their music; people are obsessed with them, their lives, their history and their image. They are such a good subject for art – you think about album covers by Klaus Voorman, Peter Blake, Richard Hamilton, Heinz Edelman – The Beatles are as inspiring to artists as they are to musicians."
A Soap Impression is available now at RoomFifty