Reinvention and renovation is as important as innovation in design as this month's news stories show. Vintage fashion giant Beyond Retro has moved into making new clothes with the Beyond Remade range and we also have a great story about recycling waste from the Japanese shellfish industry as hard hats. Get ready for the Shellmet…
---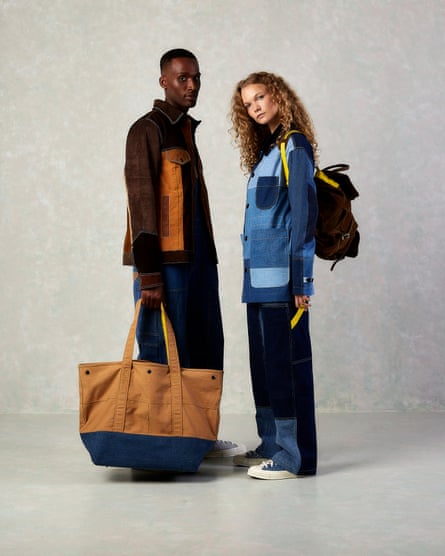 Beyond Retro is not just the best place to pick up second-hand flannel shirts and band T-shirts. The best-known vintage seller in the UK is also part of an international network of businesses under the control of BVH; one of the largest traders in used goods in North America and operator of the largest commercial re-manufacturing facility in the world in India.
Though the company is enormous, founder Steve Bethell still knows just what real vintage fans want – an instinct which led him to found Beyond Retro in the basement of his London home back in the 1990s. His new launch is Beyond Remade. It's a clothing collection of new designs made from recycled fabrics. Crafted from reclaimed denims and suede from clothes otherwise destined for landfill. This first collection is full of clothes inspired by British and Swedish fashion. The patchwork jackets, bags and dungarees have the timeless feel of wardrobe classics. The suede jacket is part Swedish military, part 70s trucker, but each comes with a unique silk scarf lining. The Denim Worker Dungarees are a nod to vintage 1960s design.
The Beyond Remade range lets Beyond Retro upcycle as well as recycle. It's a move toward a circular market, and the company sees it as a solution to deal with the overwhelming amount of "stuff" that we all consume.
The collection is available now at beyondremade.com
---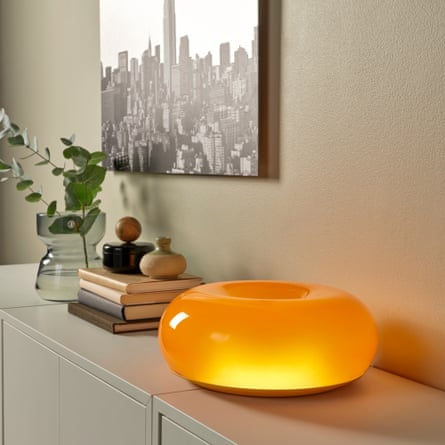 New Zealand designer Sabine Marcelis may be more used to having her award-winning sculptural glass design and lights shown in galleries and pavilions, but this month they're going to be available to buy alongside BILLY shelves. Marcelis is the latest creative to collaborate with Swedish homeware company Ikea to bring designer furniture to the mainstream. Marcelis has created VARMBLIXT, a 19-product collection of lights, rugs, glassware and ornaments.
"I wanted to take an unexpected approach to how lighting functions within the home," says Marcelis. "I wanted to inspire people to consider new shapes and elements which highlight different types of interior spaces in bold and artistic ways".
The collection features one of Marcelis's signature motifs: the infinite doughnut. Before your stomach starts to rumble, be aware that Marcelis's doughnuts are light fixtures. For Ikea, she's designed an LED table/wall lamp in rounded orange glass.
"When the light passes through the glass, it makes the soft doughnut-like shape shine with a warm glow," she says. "It's a magical sight that catches the eye."
The limited edition VARMBLIXT collection will be available in store and online from February 2023
---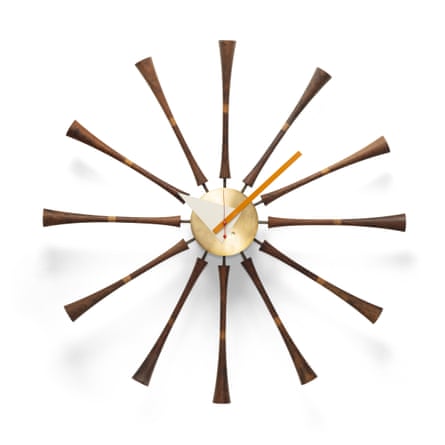 The only good thing about the fact that women artists and designers have been largely absent from the history of the creative arts until recently is that we now get to enjoy a bumper crop of exhibitions and books celebrating the previously unsung. This month brings Parall(elles): A History of Women in Design – the first exhibition to trace the story of American and Canadian women designers at the Montreal Museum of Fine Arts.
The exhibition examines the reasons why women are underrepresented in design history and considers the definition of design itself. The show brings together works from the mid-19th century onwards and covers industrial design and consumer products, as well as ceramics, textiles and fashion.
A prototype for the Fancy Free Corvette, designed for General Motors in 1958 by Ruth Glennie – one of the car industry's Damsels of Design, employed to make cars to appeal to women drivers will be on show. Another 50s classic, the Spindle wall clock by industrial designer Lucia DeRespinis designed for George Nelson Associates. DeRespinis is probably most famous for the original Dunkin' Donuts logo. Other female artists included in the show are Faith Ringgold, Cindy Sherman and Judy Chicago.
"This exhibition reveals that the vital role these North American women creators have played in the history of design has been perpetually minimised or excluded from the narrative," says Jennifer Laurent, curator of Parall(elles). "By shining a light on the gendered nature of design practice, we can draw parallels between certain prejudices and the course of design history."
Parall(elles): A History of Women in Design, The Montreal Museum of Fine Arts, Canada, February 18–June 4
---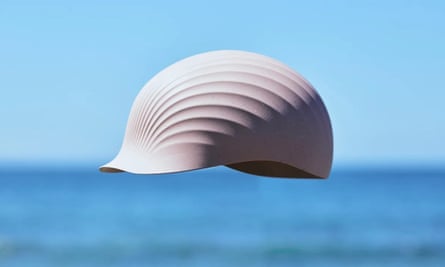 Hard hats are rarely described as pretty, but it's hard to think of another word for the Shellmet. This elegant but sturdy protective helmet is designed in homage to the recycled scallop shells used to make it, and comes in a range of pastel colours. As a new use for shells headed for landfill, it's a beautiful idea as well as a beautiful product.
Shellmet is the work of Japanese design agency TBWA\Hakuhodo, a solution to the waste from the seafood industry on the Japanese island Hokkaido. About 40,000 tonnes of discarded scallop shells are generated there every year. TBWA\Hakuhodo collaborated with Koushi Chemical Industry to make a new material called Shellstic, which is 50% scallop shell mixed with an environmentally friendly plastic. The biomorphic design is not just a cute touch, the hat's shell-like ribs make it up to 30% stronger than if the helmet had a smooth surface.
The Shellmet launches at the end of March (priced around £30) by which time it should be certified as a safety helmet.
"Shells that have protected themselves from external enemies are now reborn to protect human lives," says Masatoshi Usami, creative director of TBWA\Hakuhodo.
---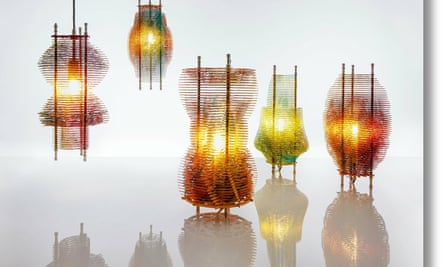 Taschen is best-known as the publisher of hefty, high-end art books. Its roster covers photography, fashion, film, art, architecture and erotica, as well as its "Sumo" line of folio-sized collector's editions, which make a robust argument for books-as-objects-to-display rather than, say, read.
Perhaps inspired by its archive of talking-point creativity, "the home of beautiful books" has recently expanded into what it calls "non-books" – ie: cool-looking furniture. Its latest offering is a set of five lamps by Jorge Pardo, the Cuban-American artist and sculptor. The colourful Brussels Lamps are made from dozens of stacked laser-cut, hand-painted discs and take their cue from lights previously made by Pardo for Taschen's shop in Brussels.
Limited to a run of 100 they are undoubtedly things of wonder. Though with a price tag of £22,500 a set, most of us may be more comfortable sticking with Taschen's excellent journey through 20th-century lighting design, 1000 Lights – just £20 in softback, and without the hassle of having to find somewhere to display it.
Brussels Lamps by Jorge Pardo are available from February