Does this brutally long winter we have struggled through have you dreaming of warmer days where you can enjoy grilling or just relaxing outside? Does your summer plan include building a new exterior deck? If so, the following commonly asked questions we receive may help you in the design and construction of your new deck.
Q: How do you connect the deck ledger board to a Trus Joist® floor system?
A: The connection of the deck ledger to the supporting structure is a critical connection that requires special attention and detailing. Detail LA on page 8 of our Specifier Guide TJ-4000highlights typical connections and detailing for the deck ledger board to a TJI® floor system. The deck ledger to Trus Joist or TimberStrand® LSL rim board fastener capacities shown in the table below can be used to determine appropriate fastener spacing for both lag and through bolts. These ledger fastener capacities are based on testing in accordance with ASTM D7672 (this is the standard specification for evaluating structural capacities of rim board). A step by step demonstration showing the installation of detail LA in the field can be found here.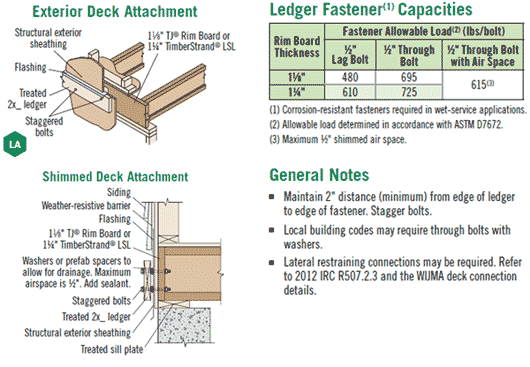 Q: How do I properly connect my deck to a TJI joist floor system to meet the new deck lateral load connection requirements in section R502.2.2.3 of the 2009 IRC or section 507.2.3 of the 2012 IRC?
A: In addition to the connection of the ledger board to the structure to support the vertical loads from a deck, the code requires that an exterior deck must be laterally connected to the main structure in at least 2 locations with a tie down or other similar device that has a minimum of 1500 lb resistance. The Wood I-Joist Manufactures Association (WIJMA) has published an industry wide detail on how this system is recommended to be connected to an I-joist floor system. Details for installing tie down devices are shown for both parallel and perpendicular floor framing to cover most framing conditions and can be found on the WIJMA website (PDF).
Q: Why would I want to use a Parallam® Plus PSL beam for my deck instead of treated dimensional lumber?
A: Parallam® Plus PSL comes in long lengths and larger sections, which allows you to design your deck with fewer columns and footings than with traditional treated lumber, keeping a clear and open appearance under your deck. In addition, Parallam Plus PSL is backed by two, 30 year limited warranties to provide long term peace of mind.
Q: What size of Parallam Plus PSL beam/column do I need to support my deck?
A: Our Parallam Plus PSL Specifier's Guide provides load/span tables for both beams and columns used in typical exterior deck applications. The tables are based on an in-service moisture content of 28% or less. In addition, Forte – our single member sizing software, allows the design of Parallam Plus PSL products used in varying in-service moisture contents. Check with local code requirements for proper service level requirements.

For those out in the field, we have also introduced a deck beam sizer smartphone app so you can quickly determine what size beam is needed right from your phone.

For more information on Parallam Plus PSL, you can read the "What's So Special About Parallam Plus PSL" blog post, or you can contact your local technical support team at 1-888-453-8358.
Q: Can I wrap Parallam Plus PSL beams/columns in a decorative cladding?
A: Yes the product can be wrapped. However, just like all treated wood products, the cladding used should not trap moisture. Furring strips and vented cladding are recommended to allow for proper drainage of water.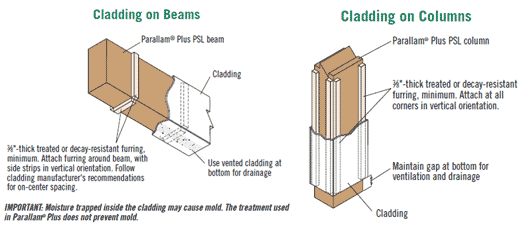 Q: How can I use Parallam Plus PSL to frame a balcony?
A: One idea is to cantilever Parallam Plus PSL out from the structure and frame between beams with treated joists (see below). This concept will reduce the number of penetrations into the structure that typically comes with conventionally framing balconies with cantilevered floor joists. As with any penetration in the building envelope, it is important to ensure proper detailing at these locations to manage moisture.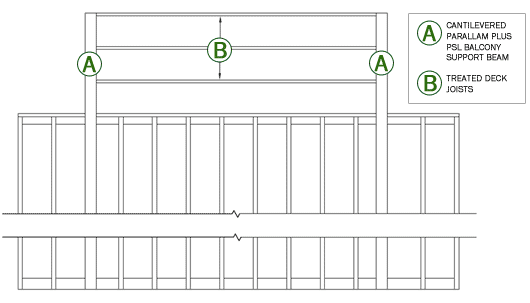 Whether you need help sizing the appropriate Parallam Plus PSL beam or column for your deck, or have a question on any of the Trus Joist product line, you can reach our technical support team at 1.888.453.8358 or you can email your question to [email protected] and we will be happy to assist you.