Hailey and Justin Bieber know exactly how to create a trend – spanning the fashion, beauty, and interior industries. It is the latter category in which their most recent (and unexpected trend) falls – and it comes in the shape of their 'invisible' living room storage. 
Despite its futuristic connotations, the couple's storage system isn't entirely 'invisible' as it would be in a sci-fi (sorry), but it is indisputably discreet – blending seamlessly into the room's white-hued walls. It's easy to overlook these sleek cabinets when glancing at the space – unlike conventional living room storage that often offers open shelving to showcase our possessions. 
And while there is certainly nothing wrong with exhibiting some of the contents of our shelves, Justin and Hailey's pared-back solution introduces us to a distinctly more minimalist solution – and, like us, designers can't get enough. 
'The utilization of discreet, almost 'invisible' cabinets is akin to the magic of a well-tailored suit. It fits impeccably without drawing attention to its own construction,' says New York-based designer Artem Kropovinsky. 'This approach allows the home's architecture and the homeowner's personality to take center stage, resulting in an elegant, uncluttered aesthetic.'
Based in New York, Artem Kropovinsky, founder of Arsight, has a decade of global design experience. Prioritizing minimalism, sustainability, and authenticity, Artem, alongside his team of professionals, works on projects in the US and worldwide.
While this storage has a place in any style of home, Artem says that it is particularly attractive in urban dwellings, like this Manhattan apartment, where space is more of a premium. 'In cities, 'invisible' cabinets offer a clever way to store items without consuming visual real estate. This gives the illusion of more open, airy space, enhancing the overall room dimensions,' he explains.
As mentioned, choosing discreet cabinets offer less opportunity to dress your shelves with decorative accessories; however, that doesn't mean we need to hide them away.
'When you minimize the presence of storage solutions, you offer an opportunity for your cherished objects and art pieces to truly shine,' Artem comments. 'It's about mastering the art of showcasing, not overshadowing.'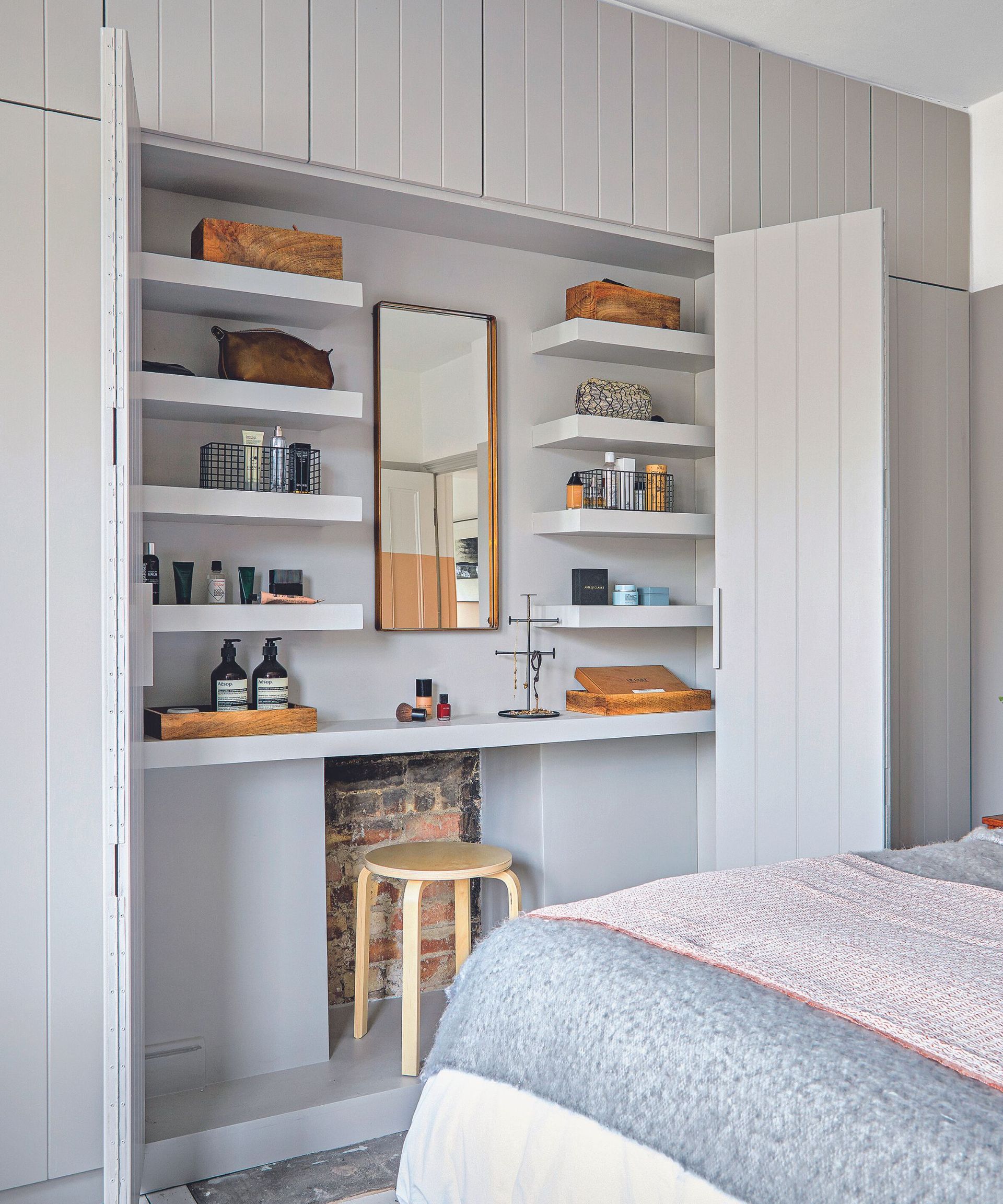 Aesthetics aside, Artem adds that invisible storage may also benefit our well-being – promoting a serene space where beautiful storage doesn't feel like a priority (even if it is). 
'We often underestimate the effect our surroundings have on our psyche. An interior with a clean, sleek look achieved through the use of discreet cabinetry can subconsciously foster a sense of calm and order,' he says. 'It's about curating an environment that, at its core, is a sanctuary, a space where you can unwind, free from visual noise.' 
Something tells us that invisible storage will have a place among future design trends – and what can we say, but we welcome any room that looks as seamless as Justin and Hailey Bieber's.