The Aesthetic Movement is alive today and is always a part of my design scope. The movement itself began in Britain in the 1860s out of reaction to the drab and poor-quality goods being produced during the industrial revolution. 
The movement was more of a lifestyle in many ways and ran through all areas of the arts: poetry, design, fine art and performance, with Oscar Wilde as the most famous participant! The mantra of this stylistic phenomena was "art for art's sake" and it was said in defense of the idea that one cannot remove making from the design process. 
Although this style was born in the 19th century, I very much live by the same motto in the present. In all my interior design projects, I bring beauty and craft together for the sake of artisanship, however this doesn't mean you have to sacrifice modernized functionality.
I work together with artisans and makers to have a hand in everything that is layered into a project, exterior or interior. The breakthroughs that were made in Britain at the beginning of the Aesthetic Movement created breathtakingly sensuous, maximalist environments that were romantic, often Japanese influenced and contained expressive deep dynamic color palettes. 
These interiors embraced the idea that every component of a living space could be art or made with a focus on aesthetic beauty in some way. I take this as a guiding light in my own design approach; I think aesthetic-forward detail generates a living space with more vitality and soul. Combining this approach with modern functionality in a space like a kitchen or entryway is simple.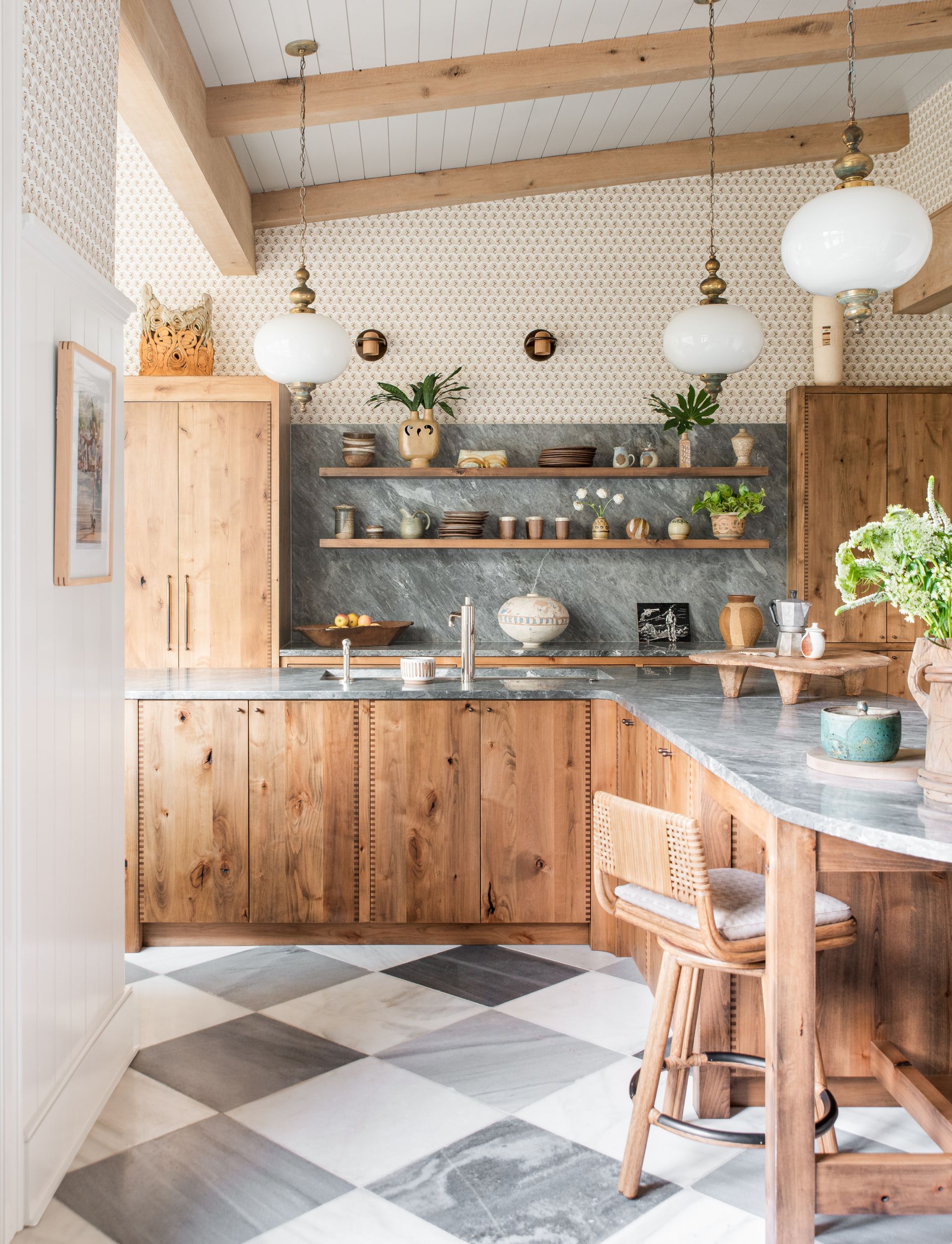 In my own kitchen (above), I wanted a very compact cabinet installation, something that was functionally modern at heart and allowed me to store everything seamlessly. 
However, I wanted my kitchen and cabinets to be visually beautiful and detail rich, so I found a custom woodwork artisan to create something unique and one of a kind. I prioritized collaboration with Eric Brooks, a Sullivans Island based craftsperson who I knew could generate something beauty-forward and visually compelling. 
Eric works by hand and has a deep knowledge of the way to elevate woodwork to an artform. Out of our collaboration he added a two-tone geometric trim inlay to all my cabinetry. I was able to merge my love of the aesthetic with the practicality of the functional in a harmonious way to make for a warm and visually compelling result. 
There truly is no part of a dwelling that can't be made 'aesthetic'. The act of exaggerating the expressivity of detail work can instantly transform a room into an aesthetically artful and romantic encounter.
I utilize this same technique with furnishing and patterns. In the last album collection I created, I wanted to show off the ways modern silhouettes can combine with the aesthetic style in wallpapers, animal print and deep earthen color palettes (below). 
I found this incredible Belgian rock crystal wallpaper by Romo, it had crushed crystal dust applied to it and sparkled in the light to the tone of a mossy green, it was glamorous, romantic and sensual, I placed two modern archival Gio Ponti chairs in the room and the streamlined shapes against the visually rich backdrop created magic. 
A modernist, sharper shape when combined with pattern, metallic and aesthetically maximal palettes make for balance while also creating the visual dynamism the Aesthetic Movement was known for. 
Utilizing this stylistic sense can be as easy as bringing in a floral wallpaper to a sleek space or layering in more visually complex accessories, rugs or antiques or flowers to complete a room. Seek out craftspeople and artisans locally wherever you are and let art be brought into all of the parts of your living space, if you do this your day-to-day life will be elevated and others will notice too. The aesthetic movement is here to stay, and I find that when you prioritize artisanship in any form you can't go wrong.
What is the Aesthetic Movement?
The Aesthetic Movement (1860 to 1900) was a British-born movement to turn away from the brutal ugliness of the Industrial Revolution and towards the aim of creating beautiful 'Art for Art's sake'. 
What started the Aesthetic Movement?
Like all movements, there was no single event, but artists, such as William Morris, whose work is still alive in the designs of Morris & Co (above), established the ideals of the Aesthetic Movement in the mid-1800s, which inspired an entire generation.