The living room is typically an entertainment space as well as the room where the family gathers at the end of a long day and so much more. Is it any wonder a room that's supposed to serve all members of the family accumulates a lot of stuff? 
There are many living room organizing and decluttering tips and tricks to keep things in order, even when this space is serving so many purposes day-to-day.
Perhaps you use your living room primarily as a family room or only really go in there when you're entertaining. Whatever the use, below includes a range of ways to keep your space organized.
 How to organize a living room 
There are two fundamental living room organizing mistakes we tend to make; not having a clear vision of the layout before buying furniture, and keeping things that are no longer in use. 
Shantae Duckworth of Shantaeize Your Space suggests that it's all about organizing the room to ensure the layout works for you and all the people who will be using it: 'Make sure that you have designated areas in the living room such as an area for the kids, toys in the area for the kids, backpacks and coats as well as a nice comfortable sanctuary for your family to really be able to relax in their home.
From clever storage to original organizational ideas, below we've compiled a list of tips that should help you organize your living room and keep it that way. 
Shantae founded Shantaeize Your Space, a home-organizing business all about helping others find the beauty of their home behind the chaos. Her approach is simple: only keep the items that make you feel full and bring light and use what you already have!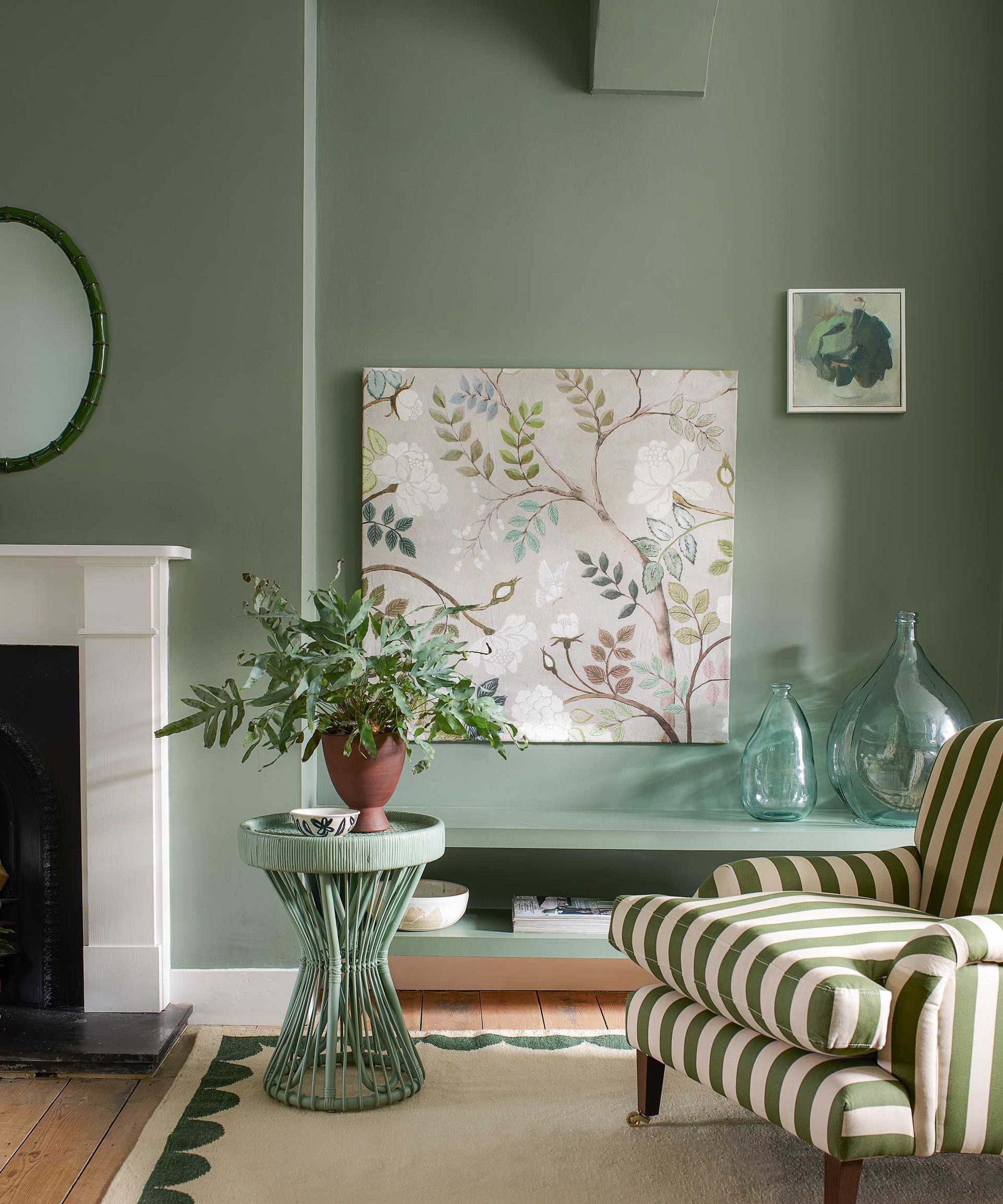 1. Start by decluttering
Typically, most organization projects begin with decluttering, but that doesn't prevent it from being incredibly difficult. Organizing pros Briana and Erica Spruille, professional organizers and founders of Just BE, agree that the multifunctionality of the space is often the cause for there being so many things in the living room and highlight the importance of decluttering: 'Common living areas can get cluttered quickly, especially if you also use them for work, school, and mealtime.
'However, clutter makes it hard to relax and convene there.'
2. Edit your book collection
One of the things most people find particularly hard is deciding what to keep and what to throw away, and in the living room, books are often the main culprit. 
Carrie Kauffman, professional organizer and owner of Carrie's Essential Services, points out that books tend to be kept long after they've been read, and encourages us to do some book decluttering in our own spaces: 'Almost every living room I've had has a bookshelf or built-ins filled with books.
'Books are just placed on a shelf with no real order. Books that never get dusted. Books that look like a messy pile of clutter.'
This doesn't mean you shouldn't keep any books or that they should be thrown away. Kauffman suggests some ways to sort through the books and what to do with the books you choose not to keep: 'If you've read a book and never read it again, it's time to think about letting it go. 
'Donate! Local libraries are happy to take them for library sales, little libraries in local communities or even book drives for schools. Only keep what you truly treasure and want to read again.'
3. Consider new storage options
The storage in a living room is often overlooked in favor of good-looking comfortable furniture, but that doesn't have to be the case.
Though living rooms aren't routinely thought of as storage spaces, all the things that are used in the living room need to be stored somewhere. Here are a few things to bear in mind when it comes to your living room.
Multifunctional furniture
Vertical storage
Designated spaces
If the room itself is multifunctional, then why doesn't the same hold true for the furniture? Shantae Duckworth suggests investing in furniture that can also house your belongings: 'Multipurpose storage furniture and containers are going to be your best friends, anything that you can sit on as well as be able to put items underneath is the name of the game.'
Briana and Erica Spruille agree: 'Be creative with storage by placing decorative baskets or storage ottomans in the space to hold blankets, pillows, or other pertinent items.'
4. Find a home for toys
One of the key things to store away when they're not in use are toys. The living room often doubles up as a playroom so toys get scattered everywhere, when in fact they need a designated place to live.  
Organizing toys means that the kids also learn to tidy up and know where the toys belong. Carrie Kauffman explains: 'Keep it under control by only giving them a few toys at a time.
'Kids get overwhelmed by too many toys just as much as we do so keep it manageable. It makes the clean-up easier while keeping the littles occupied. 
'Keep a small donation box for when new toys come in whether they're from happy meals, grandparents, friends, or family members, and abide by the one in, one out rule –  toss an older, out-of-circulation toy into the donation bin.'
5. Use organizational helpers
Though multipurpose storage has been mentioned, it can be difficult to find something that's beautiful and marries with your aesthetic, while also serving multiple functions.
An ottoman that holds storage is a quick solution like this footrest ottoman at Wayfair, or perhaps you'd rather have one that makes more of a statement like this ottoman bench from Wayfair. Both of these come in a range of colors so can be purchased to match your living room.
Alternatively, you might be struggling with floor space and looking for more vertical storage. If you'd rather have nothing on the floor at all, these corner shelves from Amazon might be perfect for you. Corners can often be overlooked, particularly when we're talking about vertical storage. However, if you would like something more traditional, this standing shelf from Amazon may be exactly what you need. 
FAQs
How do I make my clutter look nice?
Clear the surfaces. In most rooms in the house, the worktops and tables are often the places that end up with stuff on them.
Ensure that your surfaces are clear, and take time to decide what really needs to stay and if it does, where it actually belongs.
How do I organize my living room without becoming overwhelmed?
Break it down and have a plan. The living room is one of the most important places in the house, especially if it's shared with a number of other people, which can make organizing it seem incredibly overwhelming.
The key thing is to have a plan. Tackle the room bit by bit and do it systematically so that if you leave or take a break, you know where to pick up again. Giving yourself grace and time so that you don't put pressure on yourself to get it all done in an unrealistic time frame will help you stay calm and get it done.
---
The main thing to remember when it comes to the living room is that it's multifunctional and expected to serve multiple people. 
If you can use your furniture as storage, have designated areas of the room and have clever vertical space, you can't go wrong.