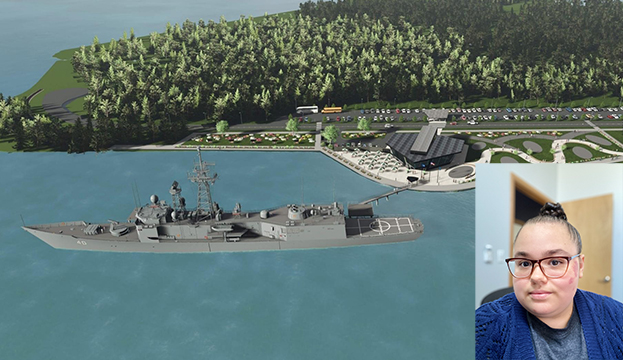 Abby Torres of Erie originally thought she would write her ticket to success, instead she is drawing her way there.
A junior Interior Architecture & Design major at Mercyhurst University, Torres vacillated between amazement and being overwhelmed with pride when her renderings for an assignment she fulfilled as an intern at JW Architecture & Design appeared on local TV news last week.
The news story covered an announcement by the Oliver Hazard Perry Shipyard of what the potential sight of the USS Halyburton would look like in the east basin of Presque Isle Bay. Plans are underway to locate the U.S. Navy frigate in Erie as a museum ship, which supporters say would enhance Erie's already strong maritime history.
Working on a concept envisioned by company owner Jason Wieczorek and the design team of Miguel Rosario and Jay Myers, Torres put her touches on their framework to achieve the advanced renderings unveiled for the first time on television.
"I was ecstatic," she said. "Watching the news with my mom and dad, I could feel they were proud of me. Here I was, not even out of school, and I'm already published."
Torres gives the credit to Wieczorek, who she said put her to work immediately upon starting her summer internship in May.
"I had friends elsewhere who told me they were happy to get credits for their internships, but they really didn't learn much," she said. "My internship was very worthwhile. I had lots to do and always got positive feedback."
As a high school student, Torres leaned toward applying her creative bent toward a writing career until she visited Mercyhurst and discovered its Interior Architecture & Design program, which connected with her on several levels, not the least of which were her television viewing habits. 
"To be honest, I watched a lot of HGTV," Torres said, referencing her favorite reality show, "Flip or Flop," in which a couple purchases dilapidated properties for cash, sometimes sight unseen, and then renovates and flips them for resale. "I always enjoyed that and figured I could put my creativity to work in design."
As for Wieczorek's take, "Abby has been a tremendous addition to our team," he said, noting that he has offered her the opportunity to continue working part time at JW Architecture & Design while she finishes her studies at Mercyhurst. She is set to graduate in May 2024.
Visit Mercyhurst's website to learn more about the Interior Architecture & Design major.