What is a trend? Why every year design experts write interior trend reports like this one after Milan Design Week is over? Seeing blog posts with titles like which trend is IN and which one is OUT is just ridiculous. We cannot set a starting date of a particular trend like, "Hey, this year marble is out so you may throw your table away" or "velvet is a huge trend in 2019". Wait, wasn't velvet dominant in 2017 or 2018? However, what is exciting about trend-seeking, is that we can observe how materials, colors, and textures will cohabitate with humans during the years to come as well as adapting it to our needs.
Today we are tired of touchscreens, unwelcoming light in the public spaces and offices. That's why we are seeking refuge, a cozy, warm space where we can feel well. It applies not only to homes, but it also applies to commercial places as well. Choosing a good commercial interior design is crucial for clients' wellbeing and of course, marketing. Interior design trends in 2020 will center around wellbeing, comfort, and sustainability. At the same time, strangely, with all the modern technologies, smart homes, Alexas, touchscreens, vibes were retro and Art Deco perfect contrast between cold technologies and warm comeback style. I've picked some trends that can make your home or commercial space welcoming and nice. Let's discover these 11 interior design trends for 2020! (Attention, a very long post, I recommend to pin this photo to read it later).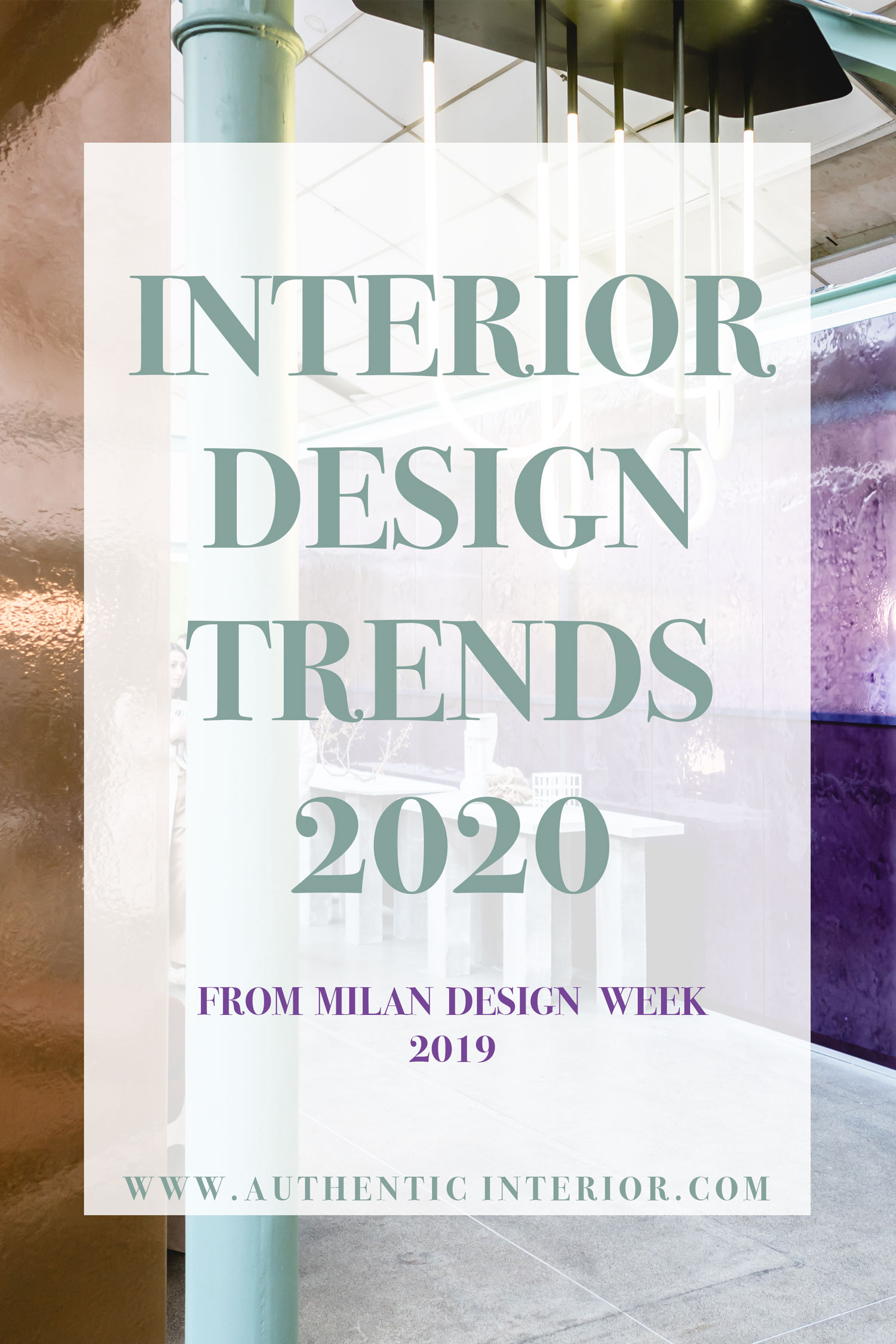 Remember this: classics never make a comeback. They wait for that perfect moment to take the spotlight from overdone, tired trends. – Tabatha Coffey
INTERIOR DESIGN TRENDS 2020 #1: HUMBLE MATERIALS
Materials, perceived as humble – rattan, plywood, jute, sisal, hemp and terracotta will be used more than ever the next years. Wabi-sabi trend, burnt wood are also coming back. Western countries are being inspired by Japanese culture a lot lately.
INTERIOR DESIGN TRENDS 2020 #2: MARBLE
Marble has always been a noble material. With its striking veins and endless color and pattern choices, you can find a suitable marble slab for your interior. Whether a small vase or a whole marble wall, it will add impact and timelessness to your interior. Investing even in a small piece made of marble can add value to your home or business. Coffee table made of a whole marble block by Alimonti Milano. I've spotted this beauty at Studiopepe exhibition "Les Arcanistes".
Salvatori, a famous Marble brand, specializes in bathroom furniture, home accessories and marble coverings.
A freshly opened Tom Dixon restaurant "The Manzoni", the first in the continent, uses extraordinary green marble.
INTERIOR DESIGN TRENDS 2020 #3: CARPET FLOORING
The carpet was literally everywhere during Milan Design Week 2019. You could spot, obviously, on the floor, but moreover, on the walls and on the ceiling. Of course, you do not need to take it seriously, but some inspiration from it. It looks soft and cozy.
Retro vibes are all over the place!
INTERIOR DESIGN TRENDS 2020 #4: 3D WALL COVERINGS
Moooi presented some awesome 3D wall coverings that my grandparents used to have in the 80s. It was so fun to see the trends to come back. I hear you telling that you do not want to make your home look like your grandparent's house. And it won't! Does Moooi exhibition look like an old granny house? I don't think so!
INTERIOR DESIGN TRENDS 2020 #5: BRINGING NATURE IN
Are you a fan of oversized plants? Have you dreamed of having an indoor garden so that you can enjoy summer pleasures? Imagine reading a book on your terrace while being inside can be possible and recommended for your wellbeing. Milan Design Week 2019 was full of oversized indoor plants and interior accessories made to look like these. Blending with nature and relaxing after the work day is one of the main key features defining interior trends for 2020.
INTERIOR DESIGN TRENDS 2020 #6: METALS
Today, mixing different metals in one room or in one furniture piece is a common experience. Now you don't have to worry about having brass door handles and copper light fixture in one room. DeCastelli presented new metal surfaces and furniture collection which is quite fantastic. Just take a look!
I think it is going to be the most instagrammable bathroom!
INTERIOR DESIGN TRENDS 2020 #7: CANE OR VIENNA STRAW
This year as expected, cane (or Vienna straw) is everywhere. Furniture as chairs, armchairs, consoles, then room separators, accessories are made of cane and it looks fantastic. 
INTERIOR DESIGN TRENDS 2020 #8: NEON
Neon signs and lighting will be quite trendy and fun to use. You can lighten up your commercial, AirBnB place or even your home.
INTERIOR DESIGN TRENDS 2020 #9: PATTERNS
Patterns all way up and down! Mixing animal prints with florals, bold with stripes, everything's permitted! Fun prints and eclectic curation will make your home to look like a stylish Parisian laidback luxury apartment.
INTERIOR DESIGN TRENDS 2020 #10: CURVES
Curves and round shapes associate mostly with softness and classic design, right? While it may be true, furniture with curved shapes, rounded corners can be used in modern interiors with a retro twist. We can see that arches, rounded corners, bubble light fixtures, wavy design accessories are very present at Milan Design Week 2019. You can read the whole blog post about curves and round shapes spotted during Fuorisalone 2019 here.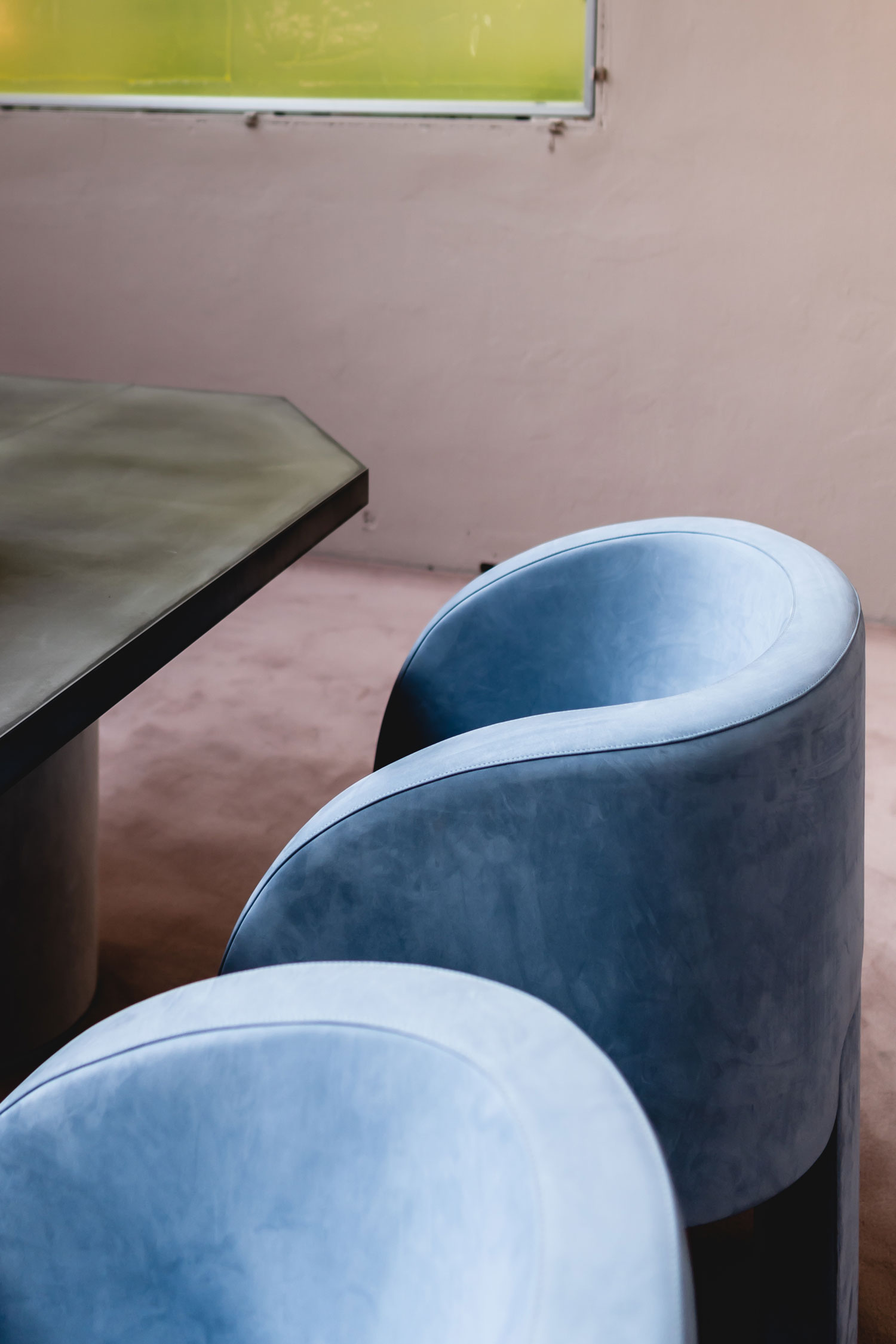 INTERIOR DESIGN TRENDS 2020 #11: TERRACOTTA
from vases to walls, terracotta is highly dominant in 2019 and 2020 interior trends. Terracotta is a warm, natural material and why not cover the entire walls with it?
Terracotta bathtub!
And finally, the queen of the Terracotta during Fuorisalone 2019 – The Land – by Poggi Ugo and Masquespacio.
Photography: ©Aida Sniraite, Authentic Interior if not stated otherwise. Please contact me before using them.   Which installation did you like the most? Let's share your impressions! You can also discover more in my Instagram stories and posts 🙂 Do you have an interior project in mind? Let's chat, I can help you to create your dream home or business, even distantly. You can discover our services here.