Keen to give your bedroom a luxurious touch without breaking the bank? One woman claims a key "design mistake" may be keeping your bedroom from having a high-end feel.
The design mistake was highlighted in a viral TikTok video posted on July 29, by Kiva Brent (@kivabrent), who is "a scientist turned interior stylist" according to Brent's YouTube channel.
Brent says in the video: "Your bedroom will never look high-end if you keep making this design mistake. Your rug is too small." The footage shows different shots of a bedroom with a rug.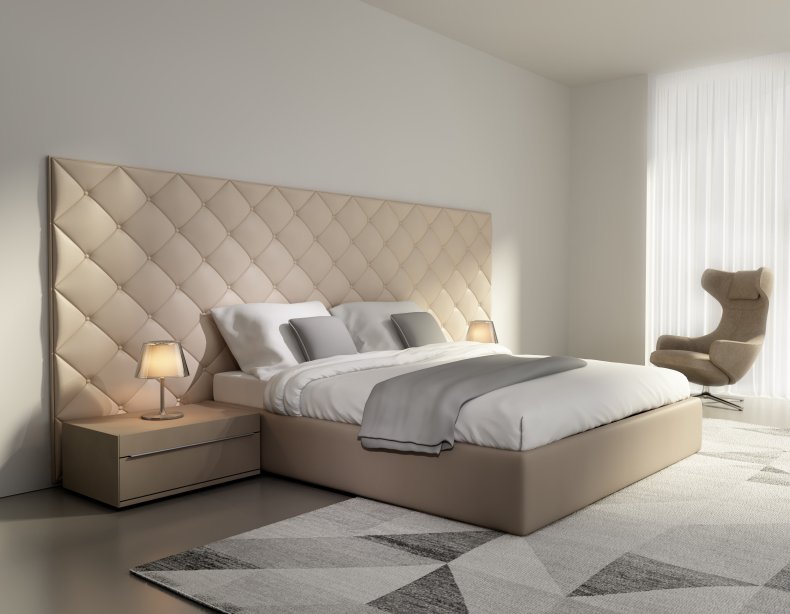 Home decoration purchases saw an "unprecedented" rise in popularity last year, according to a survey of 46,118 U.S. homeowners aged 18 and older, including 24,667 who renovated their homes in 2022, conducted by Houzz, a home design website.
Rugs were among the top interior decor purchases, with 54 percent reported to have bought a rug for their home in 2022. The survey also found 13 percent purchased rugs for outdoor decor purposes.
A caption shared with the latest viral clip reads: "This design mistake is the reason why your bedroom will never look high end!"
Brent says in the video "When your rug looks like this, it's too small," pointing to a floor plan showing an aerial view of a bed with a rug placed vertically beneath it. Most of the rug appears to be hidden by the bed, with about a third of it sticking out beyond the bottom edge of the bed.
"When it looks like this, it needs to be shifted up quite a bit," Brent continues, pointing to a floor plan showing a rug placed horizontally underneath the bed. Most of the rug is shown outside the bed frame.
"Instead, you want them to look like these," she explains. The footage shows two floor plans with rugs underneath the beds but shift closer towards the head of the bed. The amount of rug space sticking out of the bed frame appeared to be equidistant around the perimeter of the bed frame.
"If you can't afford to get a bigger rug, remember that you can always do two runners on either side," Brent notes, as the screen shows a room with two small rugs placed on the left and right sides of a bed.
"Or an oblong rug like a cowhide," she adds, as the clip shows an example of a room with an irregularly shaped rug beneath a bed.
TikTokers were delighted by the latest design tips.
User jaimebsparkly wrote: "Holy cow..never thought of two runners! much more economical. the bed covers up most of the rug."
Mamasawn agreed, noting: "Two runners is brilliant thx."
User Me said: "Oooo, thank you it made all the difference."
Several users wondered whether it's advisable to have a rug when your room is carpeted, such as user9515317757557 who asked "is a rug in a room with carpet a bad idea?"
The original poster replied: " I love when people do that because carpets are boring."
Newsweek has contacted the original poster for comment via TikTok.
Do you have any interior design tips to share? Let us know via [email protected] and your story could be featured on Newsweek.