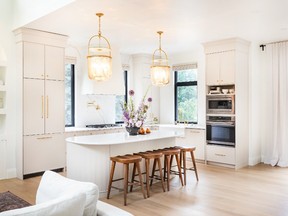 Reviews and recommendations are unbiased and products are independently selected. Postmedia may earn an affiliate commission from purchases made through links on this page.
Article content
During the pandemic, Ryan Thompson's eyes were peeled for real estate scores. The developer and builder behind Grey Isle Design had a history of rehabilitating houses, and quarantine or not, he would pursue his passion. He chanced upon a listing for a 1950s bungalow in the Queensway/Stonegate area, in Toronto's southwest end, that was the perfect candidate for a nip and tuck.
Article content
Situated on a forest-facing lot among trees older than tortoises, the 1,200-square-foot bungalow was dated but liveable, and there were no nosy neighbours.
Article content
"It was a unicorn on this gorgeous street with nature and privacy," says Thompson's wife, Michelle, the designer half of Grey Isle Design.
Yet despite the setting and the bungalow's good bones, it had languished on the market for a month. "Ryan didn't want to show it to me because he thought it would go way over asking," says Michelle. "When I saw it, I instantly fell in love."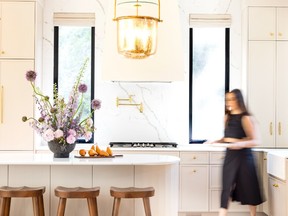 The couple made an offer that day with no conditions and it was theirs. "Our willingness to move quickly while people were in this pause phase during the pandemic was the perfect storm for us to get it," Michelle says.
The pair are accustomed to the packing-up routine. This was their fifth move in four years. And so they moved into the bungalow with their daughter Isla (she's four today) only to learn Isla's sibling, Skye (who's now two), was on the way.
That meant they needed more room, and a splashier interior would be nice. The plan was to add three storeys to the dwelling, boosting it to 3,500 square feet plus a basement, making it 5,000 square feet in total.
Article content
"Our personal style is not overly modern," says Michelle. "We are into transitional spaces with the cleanness and mix of modern and traditional elements."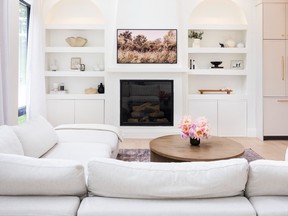 But before the excitement of decorating, they required permits to raze the bungalow. Everything took longer than expected, says Michelle. Because of the nature-filled lot, the couple had to consult with the TRCA, or Toronto Region and Conservation Authority.
"In our area, bungalows have been torn down, and some topped to four storeys," Michelle says. "That wasn't the issue with us. We had to go through additional studies and steps to make sure the TRCA were onside what we were doing. We didn't take down any trees," she says.
"For all of the studies and the TRCA reports it was a few thousand dollars. It was more the extra time that is costly," says Michelle. When they got the green light after six months, the family — including their toddler and newborn — shlepped to a rental while their house was being built.
In the end, Ryan and Michelle are delighted with the outcome: the bungalow's footprint hasn't changed, but it's now got three swanky floors and a fresh interior. Their principal suite, closet and ensuite tops the dwelling with a large window that frames the bucolic backyard.
Article content
Throughout the house, arches softly demarcate room transitions, moulding punches up the walls, and unlacquered brass is elegantly glitzy.
"Yes, arches are trendy," laughs Michelle, "but there is a (timelessness) to them," making the point that arches have been around in architecture forever. The couple has travelled to more than 40 countries from Tel Aviv to Tahiti and have been inspired by plenty of arches on those trips; it's what inspired Michelle to use an arch motif in her own home.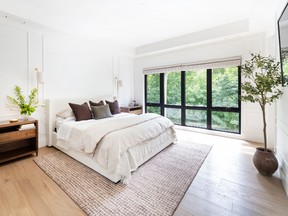 One of them marks the threshold to the first floor's central hangout, the kitchen, where an oval island topped in HanStone quartz (it's on the backsplash, too) picks up on the soft lines, a treatment echoed in the shapely hood vent that looks like it sprouted organically from the wall.
"There's hidden storage on the stool side of the island," says Michelle, "and no traditional uppers to max out views and light. I'm happy we scrapped those uppers."
Brass hardware, including in the prominent pendants, uplift the muted room, so it doesn't feel flat. Open to the kitchen is the living room, where arched bookcases frame the fireplace. Above, black-trimmed windows flood the space in light and capture treetops.
Michelle says the family has finally found their forever home. There's no chance she's making a sixth move anytime soon.
"Sure, we can build another beautiful house, but the lot here is unmatched," she says. "We see deer all the time, foxes, coyotes, snakes, even turkey vultures. My kids get to see cool stuff."