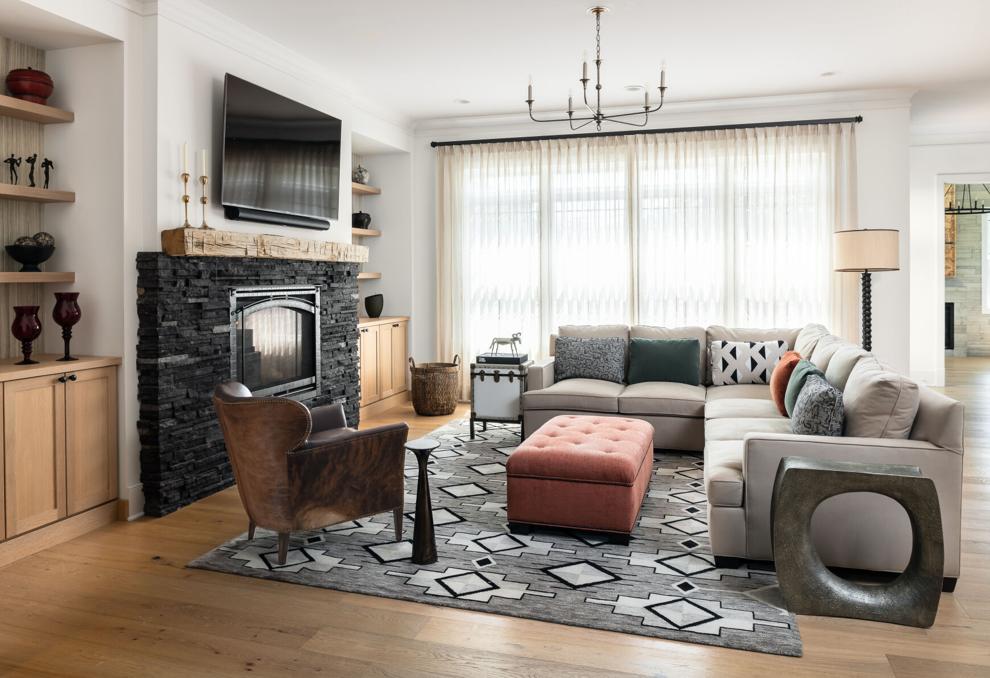 What began as a cold and lackluster living room is now a sleek and sophisticated space thanks to Jennifer Rapp, principal of JCR Design Group.
"The homeowners did quite a bit of overseas travel before the pandemic, and a trip to Africa had been one of their favorite experiences," Rapp says. "These travels, and the luxury resorts they frequented, were the inspiration for this decor. They wanted a comfortable, casual and personal space, with interesting and unusual components."
The rug from New Moon Rugs, which features a bold geometric pattern, was a standout piece that inspired the room's overall aesthetic.
"The clients fell in love with this piece, which in turn influenced the rest of the design elements," Rapp says. "The hair-and-hide chair adds great texture and interest. The backdrop of the sheer linen window treatment and iron traverse rod provides texture and coziness when closed for a more intimate environment, and when open, frames the lush and private backyard."
Key accents such as these help bring the room together.
"The many layers of textures that we incorporated into the space through the fabrics, furnishings, lighting and materials all helped add warmth, personality and interest to the space," Rapp says.
"This project was enjoyable and unique from the get-go. It was our pleasure to bring to fruition the clients' vision for their home and create such an interesting and inviting space!"
JCR Design Group, located in the Interior Design Center of St Louis, 11622 Page Service Dr., Suite 103, St. Louis, 314-706-2727, jcrdesigngroupstl.com