Masquespacio unveils '3 characters' furniture series
Valencia-based creative studio Masquespacio took a brief turn away from interior design to showcase its '3 characters' furniture series, which is inspired by a meeting of three friends. Created without a specific brief, the collection includes a lounge chair named 'Say Hi', a second chair called 'Trencadis', and a lamp called 'Dumbbell'. The three pieces are completely different in their shapes, materials, and production techniques, ranging from 3D printing to 100% handmade Trencadis broken tile mosaic.
The collection is based on the concept of a meeting between three friends who have completely different characters and yet complement each other so well.'We were inspired by the fact that (…), opposites attract and create the perfect whole in the new world where all similar characters aren't working anymore,' the studio shares.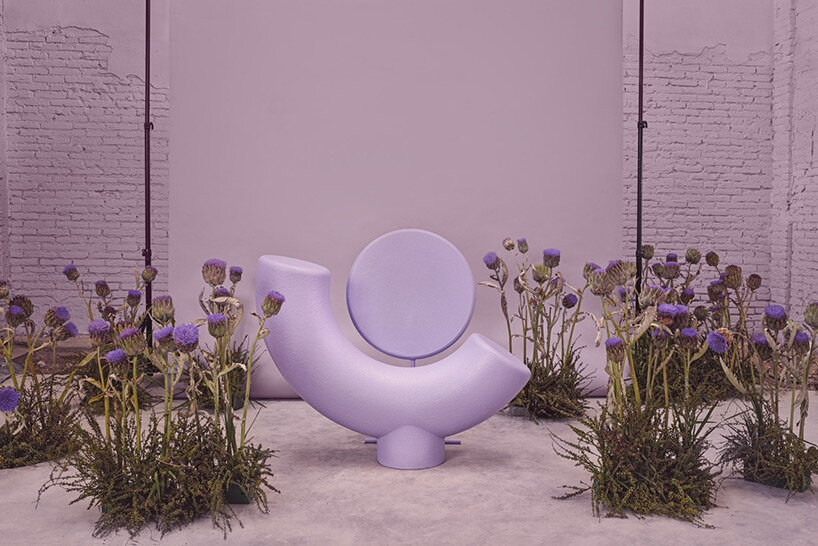 the Say Hi lounge chair represents a person with a vibrant personality
all images courtesy of Masquespacio
the 'say hi' and 'TRENCADIS chairs
The first piece in Masquespacio's 3 characters collection is Say Hi, a lounge chair with a cheerful personality. The Spanish design duo imagined Say Hi as a person who always greets everyone, has a positive attitude, and is very popular without trying hard. To express its cheerful character, Say Hi takes the form of a large armchair whose curved shape replicates a greeting arm and perhaps the face of a smiling person. The sleek design embodies the warm personality of the piece, made using 3D printing and upholstered in a cheerful lilac color.
The Trencadis chair, on the other hand, is conceived as an individual who had to overcome many more obstacles in life to achieve a certain level of well-being. The chair serves as a strong testament to a tough but remarkable life experience. Its unique personality is reinterpreted in its striking design, entirely covered with the mosaic of broken Trencadis tiles. Each small tile piece represents an obstacle that the persona had to get past. The chair takes up the classic technique invented by Gaudí, using small ceramic shards that create a unity between the piece and the famous architect.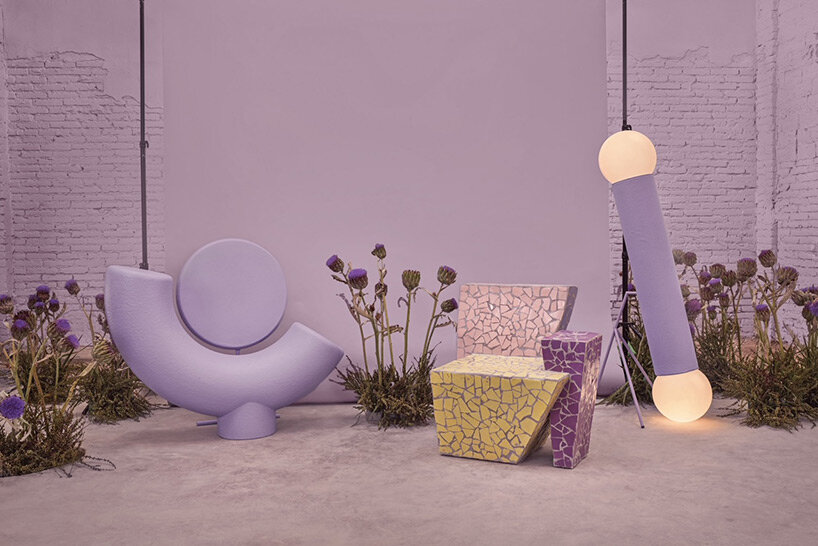 the collection includes the Say Hi lounge chair, the Trencadis chair and the Dumbbell lamp
The Dumbbell Lamp
The Dumbbell is imagined as a person who is a bit silly but in a good sense. 'It's the jackass of the group that likes to be silly and so always makes the meeting a bit more fun,' the team at Masquespacio explains. 'It's the perfect person for a party.' 
The dumbbell lamp clearly shows some instability and represents a bold personality with a muscular posture. The contrast between the fabric of the structure and the glass of the light balls refers to the personality of the lamp, which balances between fragility and warmth, with a shell that makes it appear as a strong person.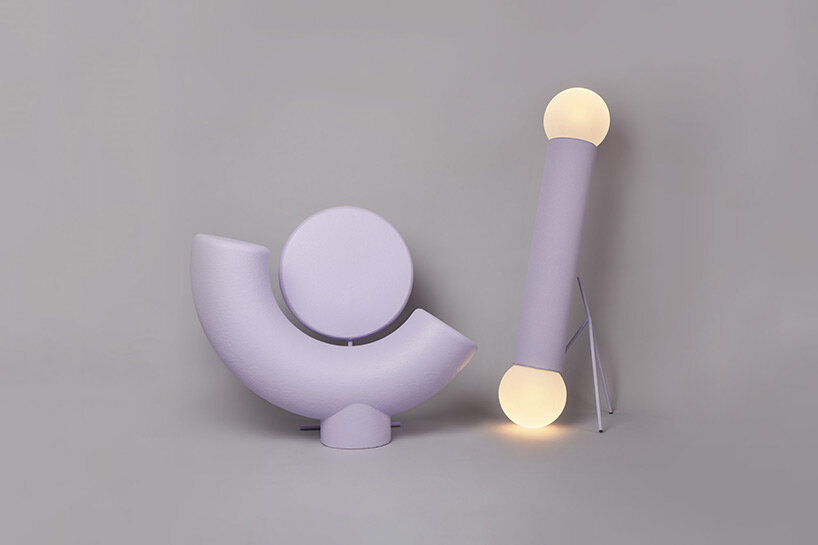 Say Hi is imagined as a person who always greets everyone, while the Dumbbell represents a strong yet silly individual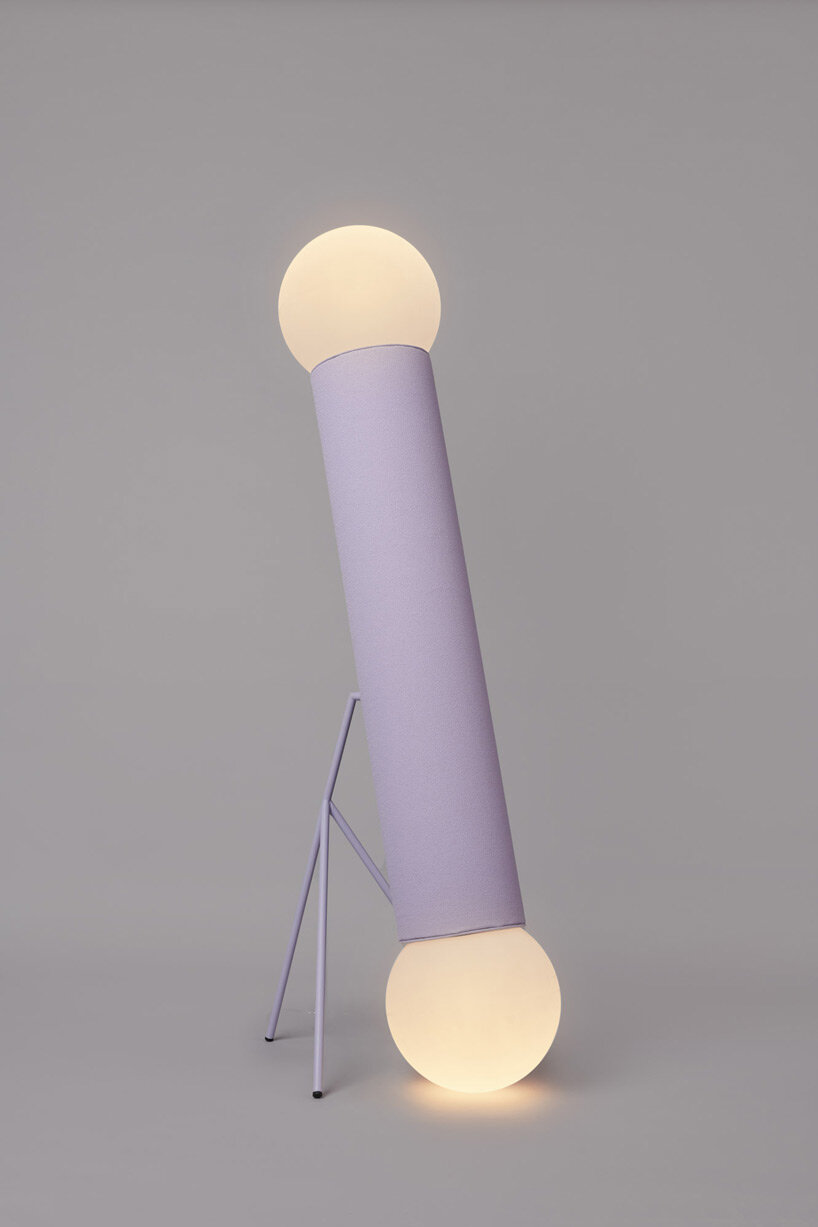 the contrast between the fabric of the structure and the glass of the light balls refers to the personality of the lamp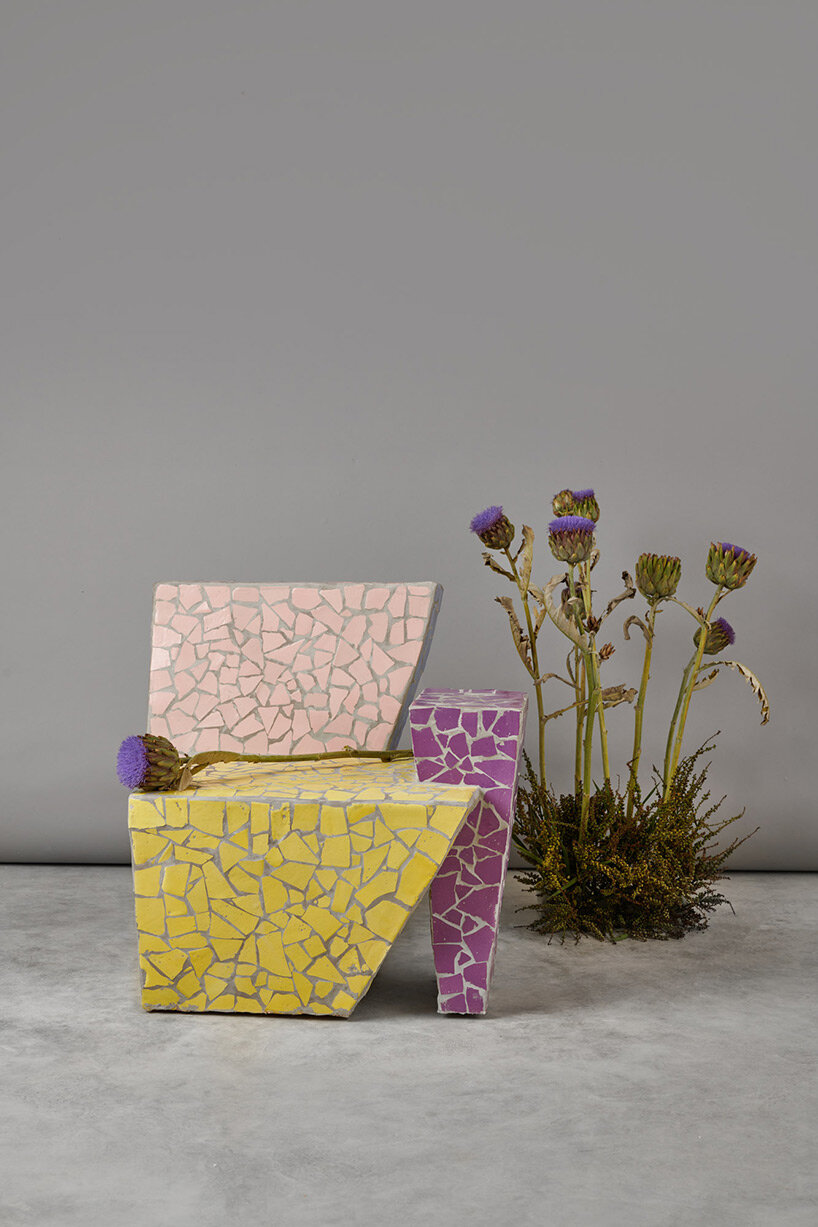 Trencadis' personality is reinterpreted in its striking design, entirely covered with the mosaic of broken tiles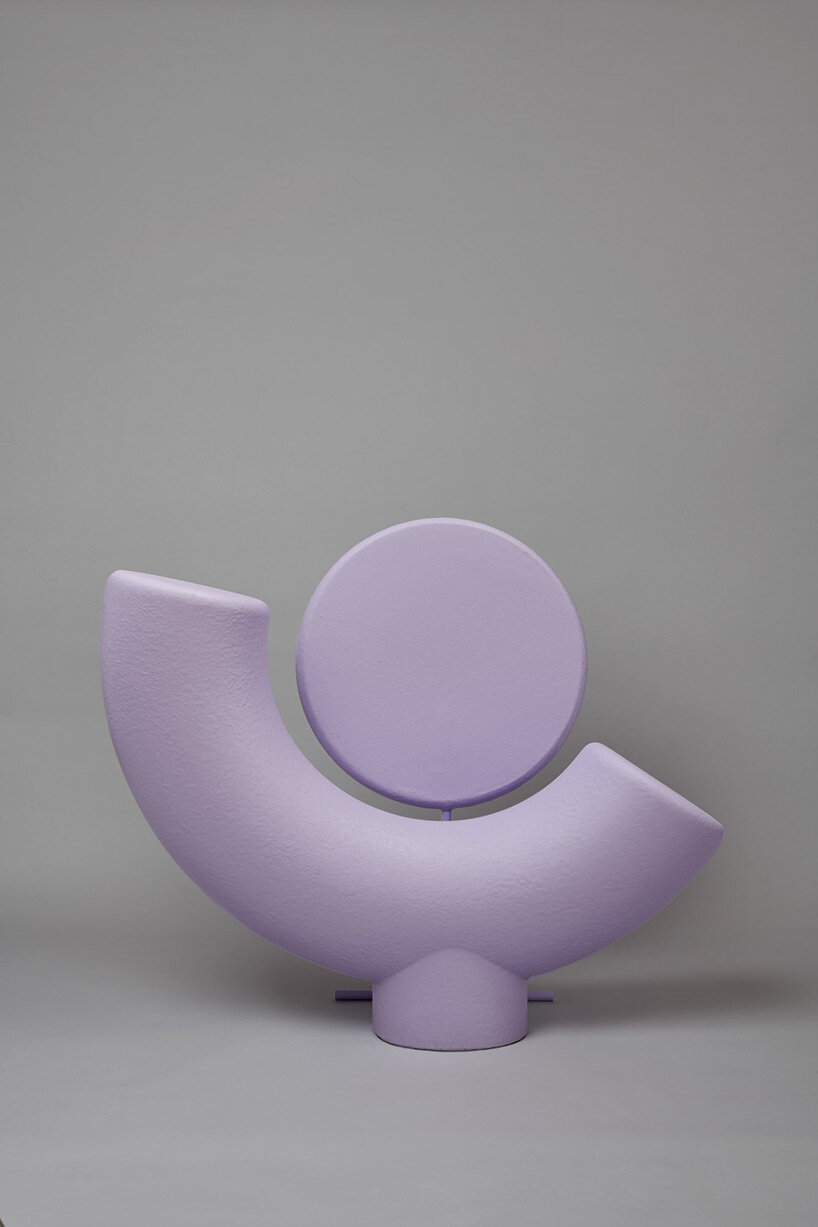 the curved shape of Say Hi replicates a greeting arm and perhaps the face of a smiling person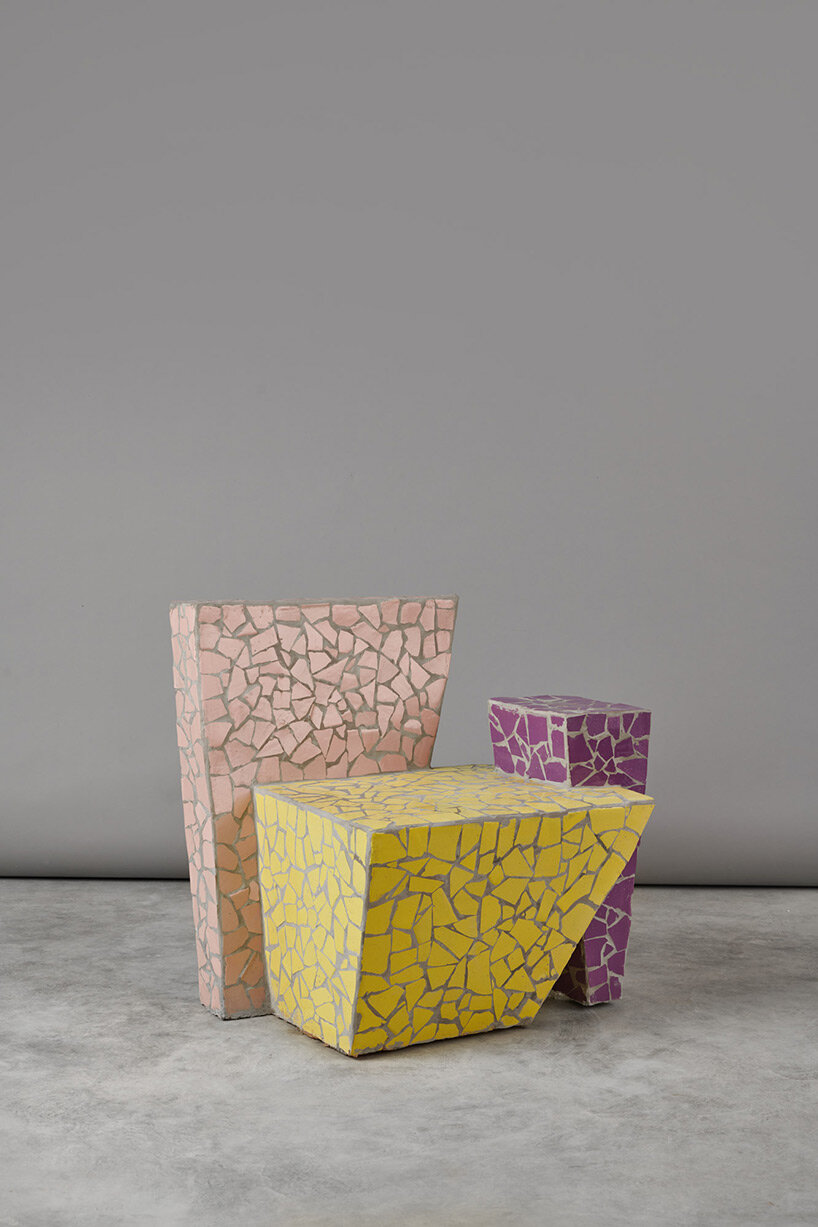 each small tile piece on Trencadis represents an obstacle that the persona had to get past
project info: 
name: 3 characters
designer: Masquespacio
myrto katsikopoulou I designboom
nov 01, 2022