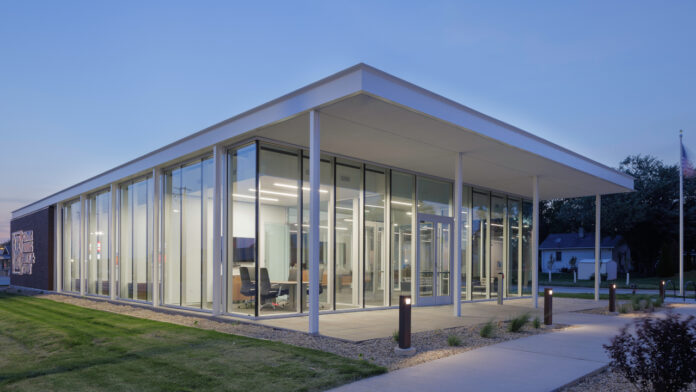 Cedar Rapids Bank & Trust's newest branch location in Marion has received an Excellence in Design Honor Award from the Iowa Chapter of the American Institute of Architects (AIA).
An honor award is the highest award given by the jury of architects, convened annually from across the country, according to a news release.
The AIA Iowa Excellence in Design Awards recognize excellence in architecture projects designed by members of AIA Iowa. Awards reflect a project's design excellence, response to solving architectural challenges, and importance in the community. The event was held virtually as part of the organization's annual conference Sept. 29.
Known for warm and welcoming service, including signature chocolate chunk cookies, the new Marion branch embodies CRBT's commitment to community and fostering relationships.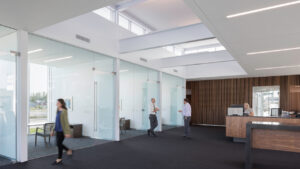 Designed by Cedar Rapids-based OPN Architects, the new 4,100-square-foot bank located at 700 25th St. in Marion balances transparency and security while also capitalizing on its prominent location along Marion's busy Seventh Avenue, just east of the rapidly developing uptown area.
"Cedar Rapids Bank & Trust has a strong commitment to our community. We view this as an investment that solidifies our commitment to serve and grow with Marion," said CRBT president James Klein. "Our roots in Marion are deep and we are excited to enhance our footprint with a more visible and inviting space. The decision to build at the same location came as we considered how to address the evolving needs of our clients, community, and employees."
The new branch models the latest branch design concepts including an expanded, open, and engaging space for clients; improved drive-thru accessibility; and lower emissions and overall environmental impact, including a photovoltaic array on the roof.
To fulfill CRBT's goal of a building that represented its commitment to the community, the AIA award winning design is a simple rectangle of brick and glass with a front porch and "living room." Conference rooms and offices are all highly visible to pedestrians through floor-to-ceiling windows. Inside, walnut wood in the teller area brings warmth to the open space.
"The interior is beautiful and light-filled," wrote the awards jury. "I thought it was a renovation because the degree of design and materiality were only done in the midcentury. It is extraordinary to see it done today. They knocked it out of the park."
OPN Architects has worked with CRBT since the bank's founding in 2001 in Cedar Rapids' Great America Building to the flagship headquarters on First Avenue in Cedar Rapids and many branch renovations in between.
The CRBT award is OPN's third AIA Iowa Excellence in Design Honor Award, including a Central States Honor Award in 2021 for the firm's design of the Lester Buresh Family Community Wellness Center in Mount Vernon, which was completed in January 2020.