No Foyer Entry – We Walk Straight Into The Living Room
Dear Laurel,
I love that post about the entrance to one's home! However, I have just one little problem.
Our new home has no foyer entry whatsoever!
You open the front door and now you are in the living room. My husband and I just purchased this home and love it otherwise. It's a darling cape built in the 1930s. Oodles of charm, but at only 950 sq feet, it is pretty small. The living room is downright tiny!

And furniture placement is quite awkward.

I mean, who builds a house where there's no foyer entry and you walk straight into the living room?



Is there a solution to create that lovely sense of entrance short of building out the front entrance? Maybe one day, but right now, we don't have the funds for that project. I just hate not having a proper entrance into our home.

Sincerely,
Nada Rien-Hall
*********
Dear Nada,
In answer to your question: Who builds a house with no foyer entry? A lot of builders do this.
Why? The only answer I can think of, is because they can. Unless there are some substantial structural issues requiring load bearing beams; it's far cheaper to put up a house without walls, than a house with walls. That might be why; not sure.
But before we go any further…
Nada is a fictitious character this week, but based on real-life issues. And I need to say that especially this week since we've had a lot of very real and very nice people share their homes recently. You can see these posts, here, here, and here
Someone did write me last month about this issue of no foyer entry, but she did not send anything in.
Over the years, I've seen some variation of this situation of not having a real entrance into the home, a number of times. Most of the time, these were interior design consultations, not full-fledged clients.
One thing to consider when buying a new home is this:
Just because something isn't there, doesn't mean that it needs to stay that way.
We will get into some variables and viable solutions, but one of the most obvious ways to deal with no foyer entry is to create one.
But, let's begin with some relatively inexpensive solutions to create the illusion of a foyer area when there is none.
However, If there's enough space and funds I would consider putting up a wall or partition to create an actual foyer entry
The rest of the post is focusing on structural changes one can make when there is no entrance foyer
Let's look at that floor plan again

It's missing a wall on two sides. However, I am presuming that the measurements of the room include what is necessary for the hall. And there are two halls in this case. Yes, that is one itty-bitty living room.
Therefore, if the space isn't very large, it's way better to keep things open.
One solution that I don't have an image of for this post, would be to have some columns, to act as a divider. I would probably do about four– two perpendicular to the fireplace, one in the corner and then one perpendicular to the front of the house.
Option Number two is the very popular "pony wall," sometimes called a "knee wall" or a half-wall.
They can have columns or not. But I love columns and usually prefer square, but it depends on the house. The columns below taper very slightly which is fine for this craftsman-style, but I've seen some that look like pyramids which I think looks a little weird. But that's just me.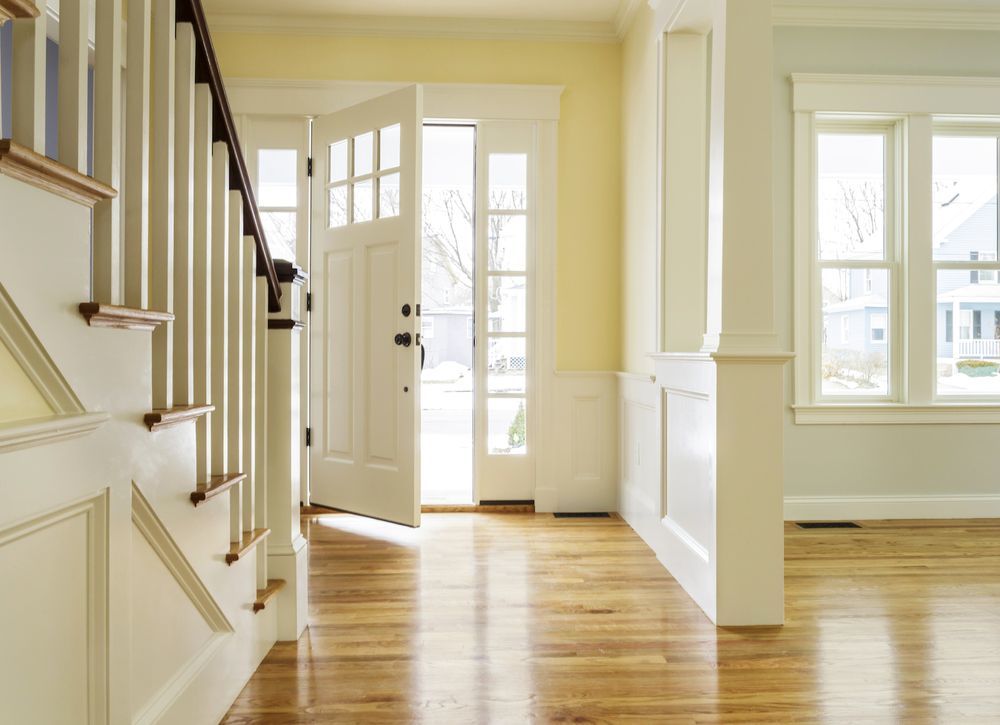 photo by David Papazian
I don't think that it's ever wrong to do a square non-tapering column. Sometimes I see some that IMO, too thick. How thick is too thick? Well, I think it depends on the size of the room and ceiling height.
A six-inch square would be the minimum on each side and I probably wouldn't do more than one foot for most homes. But, for a small living room, one foot would probably be overwhelming. This is when it's important for your builder to draw an elevation so that you can see the proportions.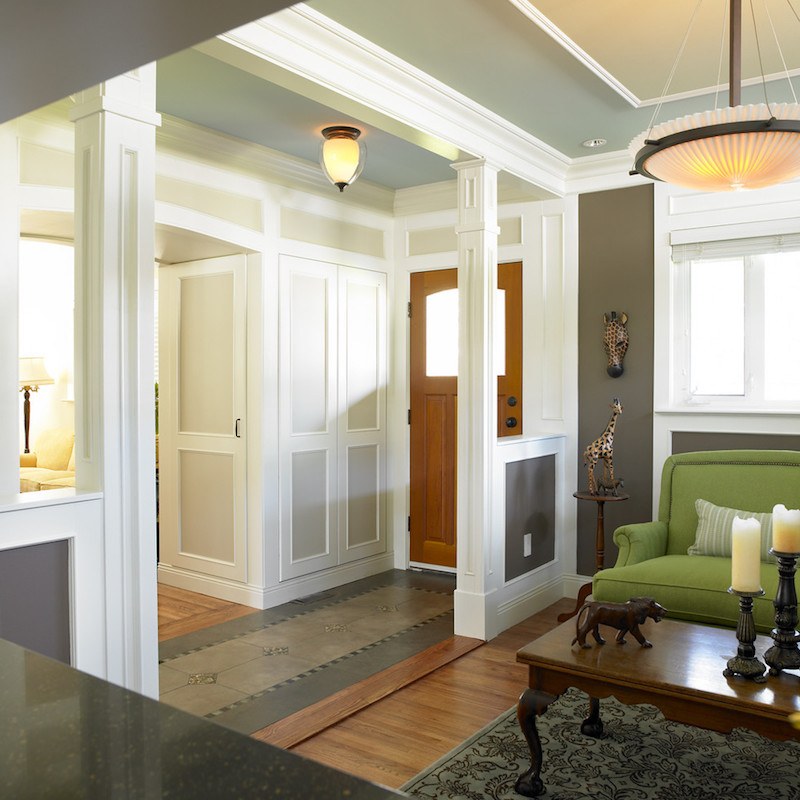 Here's another pony wall. I'm not totally in love with the design as a whole, but I think that the columns and half-walls are in good proportion. And, it gives just enough separation of the spaces. Plus, the architectural interest is a crucial component.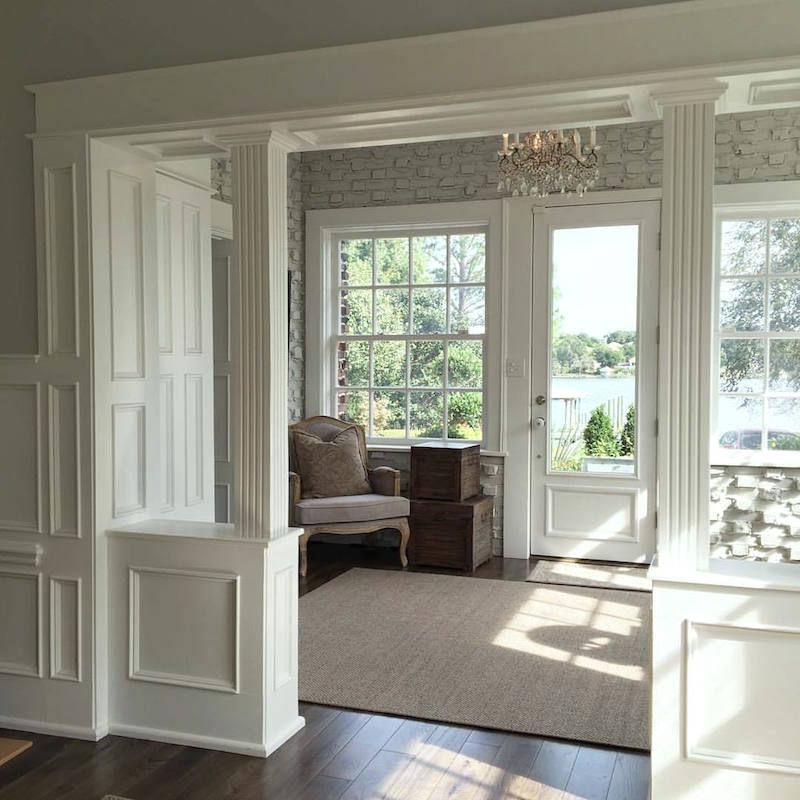 Greg Griegler
This pony wall creates a vestibule before coming into either a hall or a room
There are also a couple of lovely pony walls with columns in this post.
Another huge problem with having no foyer entry, especially in parts of the country that are freezing in the winter.
If the door is opening a lot, then it's going to be very drafty, so sometimes it's good to have a way to block some of that arctic blast.
And that would be with an enclosure or partition.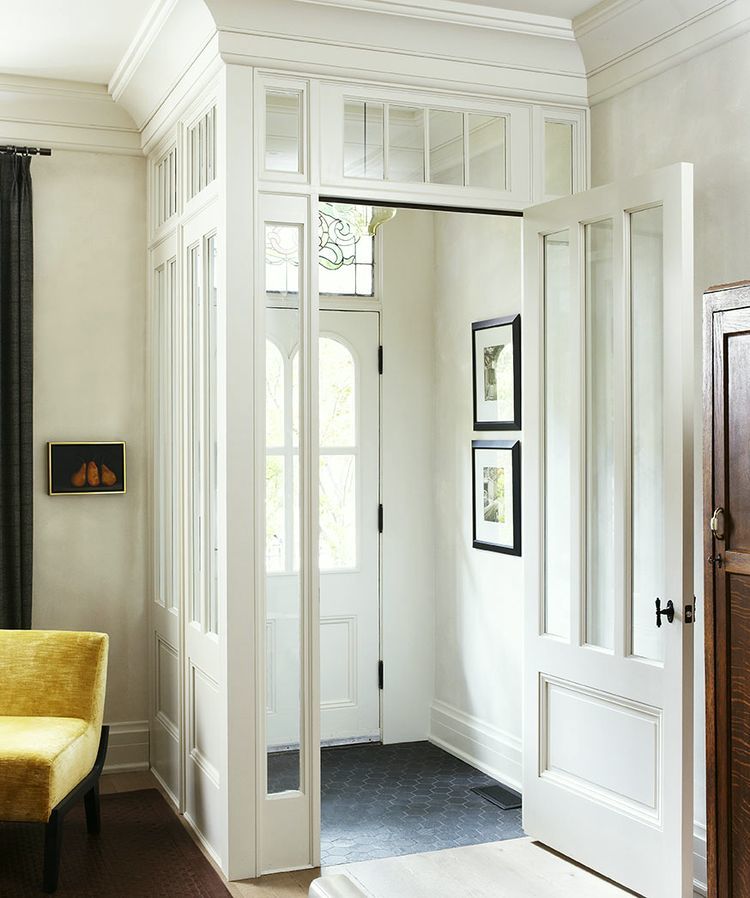 Douglas Design Studio
Most likely an old vestibule was taken down and a more updated one was added, still in keeping with the Victorian architecture. This is a great solution for those "polar vorticies" ;] and to claim a space to store wet boots.
I love the partitions that are really like interior windows and doors.
These seem to be very popular in Europe, but here in the US, they haven't caught on yet. At least not in a big way.
So, let's take a look at the many beautiful options I found. Not all of these are by a front door, or even a living room, but they certainly could be.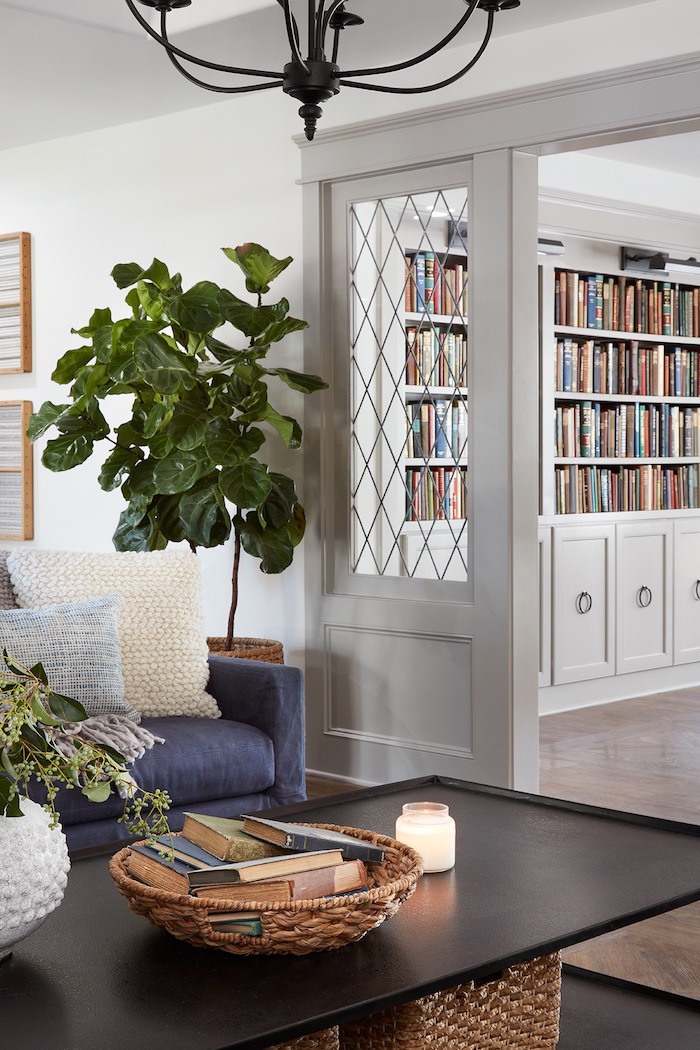 This is from the show Fixer Upper and is probably the most traditional example.
Entrancemakleri.se
One of my favorite glass partition walls – photo Anders Bergstedt – The post in the link is lovely too.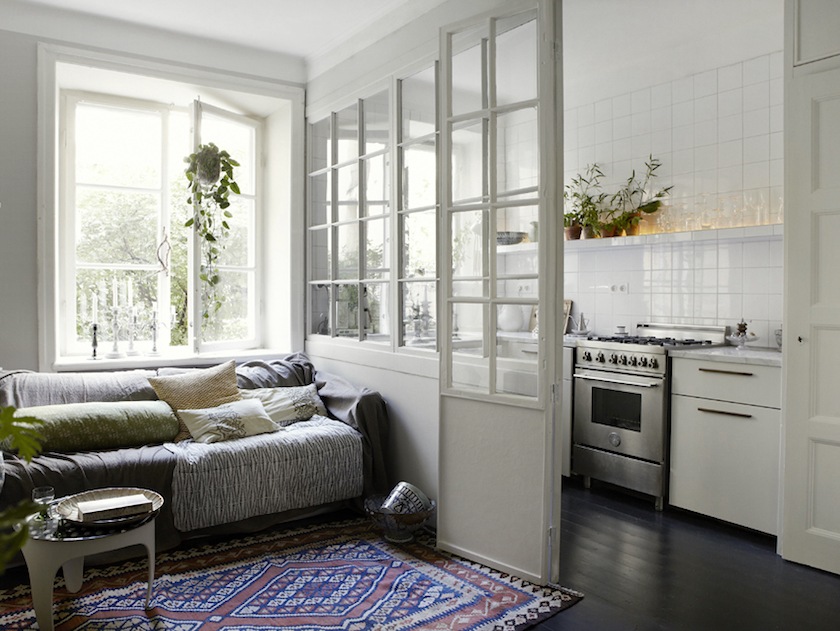 Fantastic Frank – wonderful partition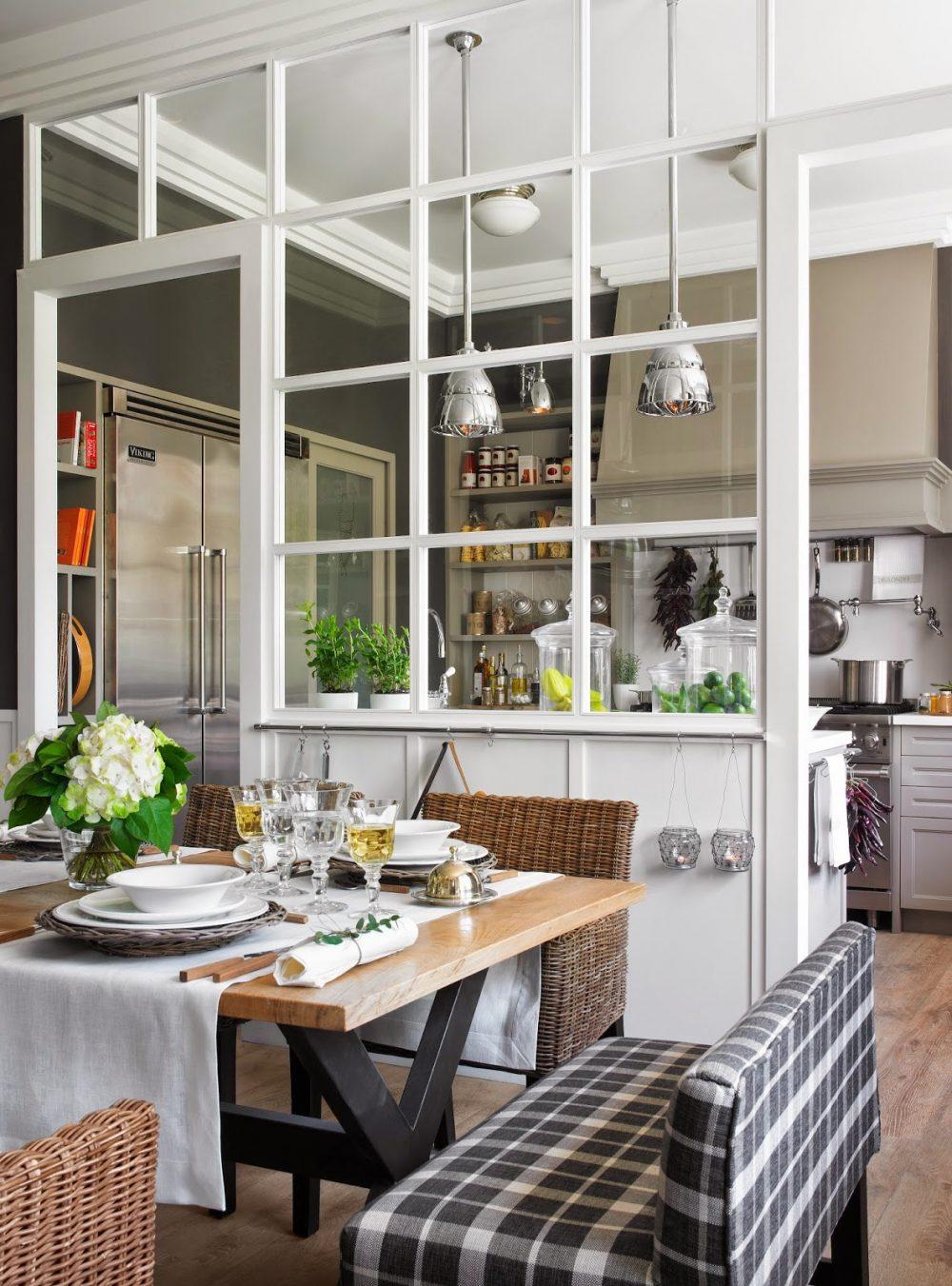 That's reminding me of this amazing partition in a kitchen in one of my favorite posts.
Sorry, original source unknown. This one requires a high ceiling. These of course, also work in loft spaces. I also love them when they have drapes.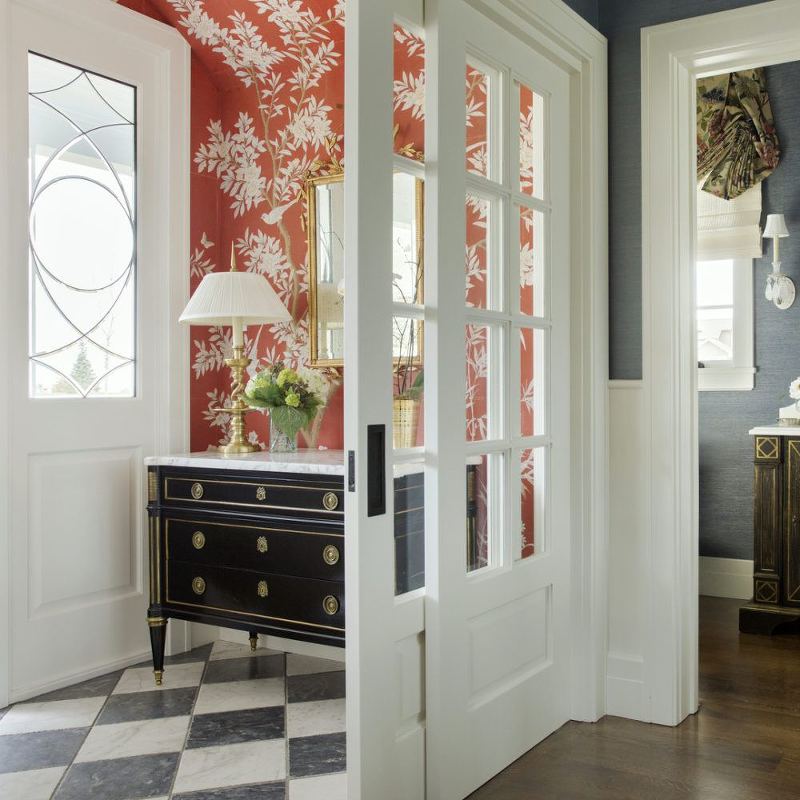 Alexandra Rae
Love what Alexandra did to create a vestibule that has the versatility to be more open or closed.
And of course, the Gracie wallpaper is sublime.
Please check out Alexandra's website. She's a young, super-talented interior designer. And her site is gorgeous! She also has a beautiful instagram account. So, please be sure to follow her on insta.
And while you're there for a sec, if you're not following me, please do so. I don't care that much, but other people do. haha. And I'm just a few away from the 10,000 follower point. Something magical is supposed to happen when you reach that number.
I'm looking forward to finding out what that is. ;]
Next up is the dreaded front door in the middle of the living room.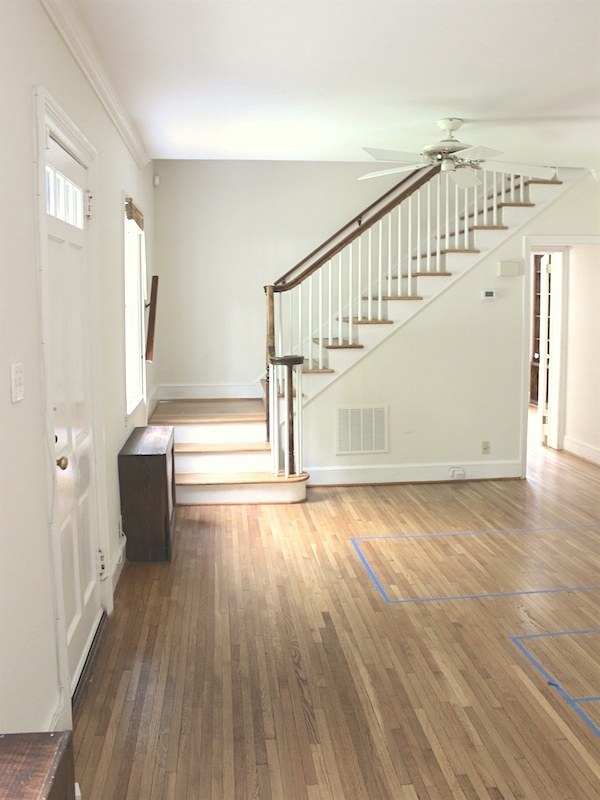 In my internet research travels, I came across this charming home of Corbin Thomas of the Blue Door living blog with a not-so-charming front door, as I said, smack dab in the middle of things. The link above will take you to her post, so you can see more of the room and her floor plan and ideas.
Corbin also has a beautiful instagram account, so please be sure to follow her as well.
And that made me think of yet, another solution. It's not a solution necessarily for the furniture arrangement, in Corbin's case, but it comes close to working with what she's done.

What if we had only a small wall in front of the door. There would need to be a steel header and steel beams on the sides as well. The bottom part could be like the image above or it could be taller. And of course, it could be painted white. And depending on what works best, it could be a little wider.
My last idea is these wonderful iron windows and doors that make beautiful partitions.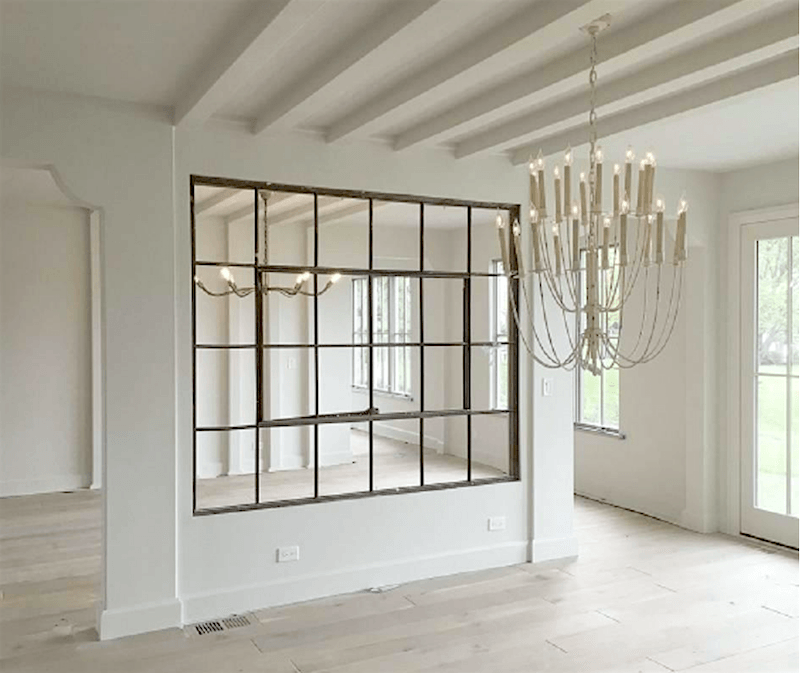 via 1st Dibs
The partition in front of the door could be something like this. Or more plain and probably with the wood muntins.
Fantastic Frank
This would be great if there was very little room. But, it is more industrial looking.
via
These partitions are more contemporary but could also work in a variety of situations. I think that they are beautiful!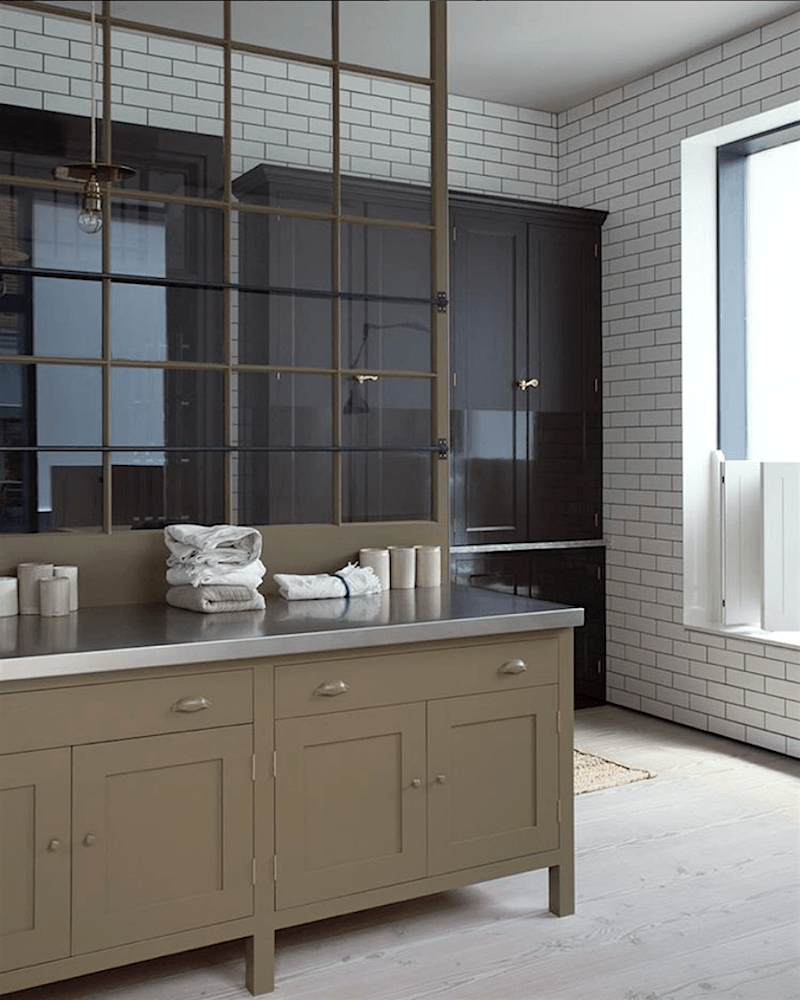 We saw this in this post about wonderful, classic kitchens that aren't white.
There's also another wonderful iron and glass partition in this post.
Well, I hope that gave y'all some good ideas for making a foyer entry even when there is none.
please pin to a pinterest board
xo,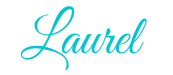 PS: Please be sure to check out this week's hot sales if you have not done so.
The One King's Lane "Private Sale" is still on. Get 25% off EVERYTHING with code: OKLPREFALL (shhhhhhhh, they obviously made a boo boo)
plus– free standard shipping!
But please click on the hot sales link for more offers and to see my favorite picks of the week.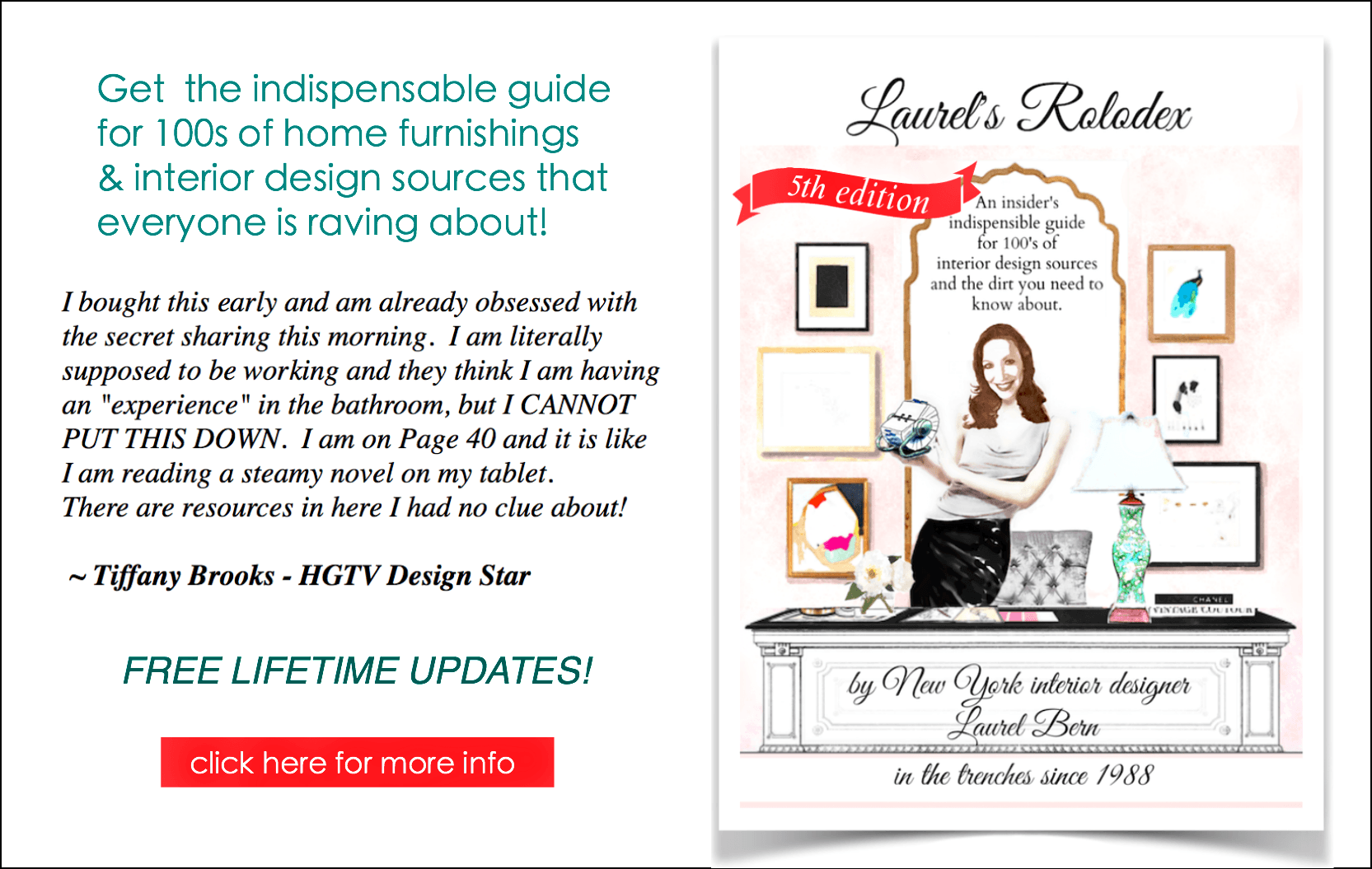 Related