a floating corten steel house by Suppose Design Office
The team at 'Not a Hotel' presents 'Masterpiece', a residential project designed by Suppose Design Office. Perched on a hillside, the final building is defined by a monolithic, corten steel-clad volume that seems to float on its vast natural surroundings. The team came up with this material choice, as it is known for its strength and durability, as well as its charm to change appearance over time. After several years of exposure to weather conditions such as humidity and wind, it will showcase a rougher aesthetic, witnessing the passing of time.
The focus of the project was to create a symbiosis between nature and architecture, while the use of generous amounts of glazing creates a seamless transition to the natural hills beyond. The exterior surface lacks any unnecessary decoration, letting the natural texture do the talking. 'It creates a beautiful texture which is said not to need maintenance for 100 years, and the color's depth will improve over time,'  mentioned the team.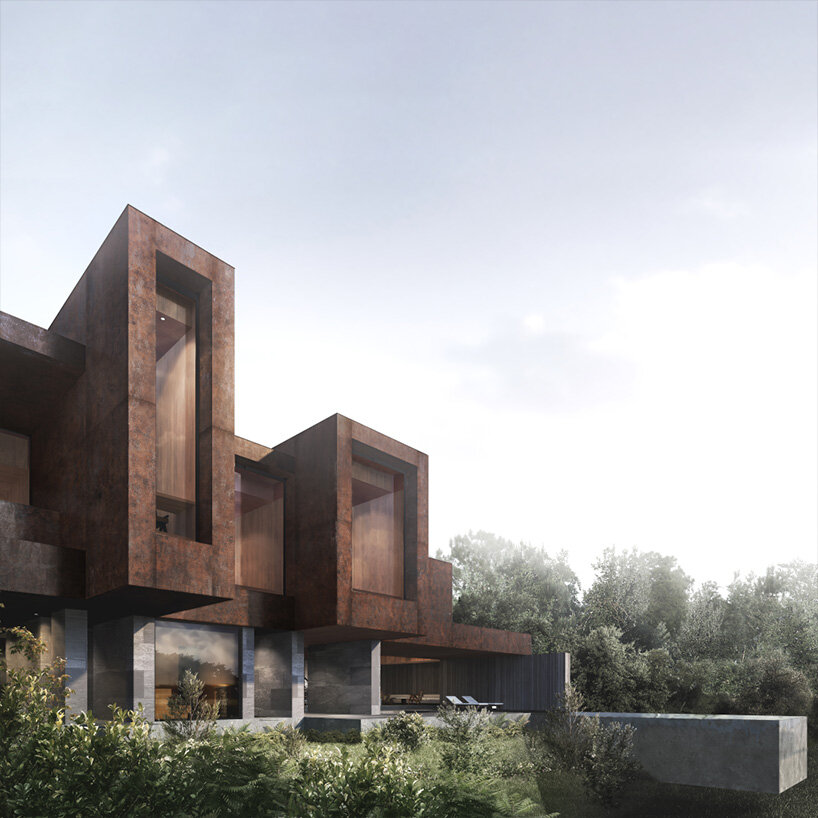 ample glazing maximizes the exceptional vistas opening toward each direction | all images by Not A Hotel
Occupying over 500sqm, including the terraces, the two-story building offers a luxurious experience, bringing its inhabitants closer together and closer to nature. Designed by Suppose Design Office (see more here), the retreat is provided for a variety of occasions that see family and friends together.​ ​Semi-open areas extend the living space, which takes the arrangement of an atrium, and create an ideal atmosphere to accommodate lounges and other grand facilities. A sauna overlooking the highlands, a deep heated bathtub, and a fireplace is a perfect combo for quiet reflection and private enjoyment, surrounded by nature. A 12m pool juts out into the air and overlooks stunning panoramas.
The living room is shielded, but a roughly ten-meter opening between the volumes, lets you take in the scenery. 
Meanwhile, the terrace has a couch that wraps around a fire pit, making it possible to relax both indoors and outdoors with no boundaries.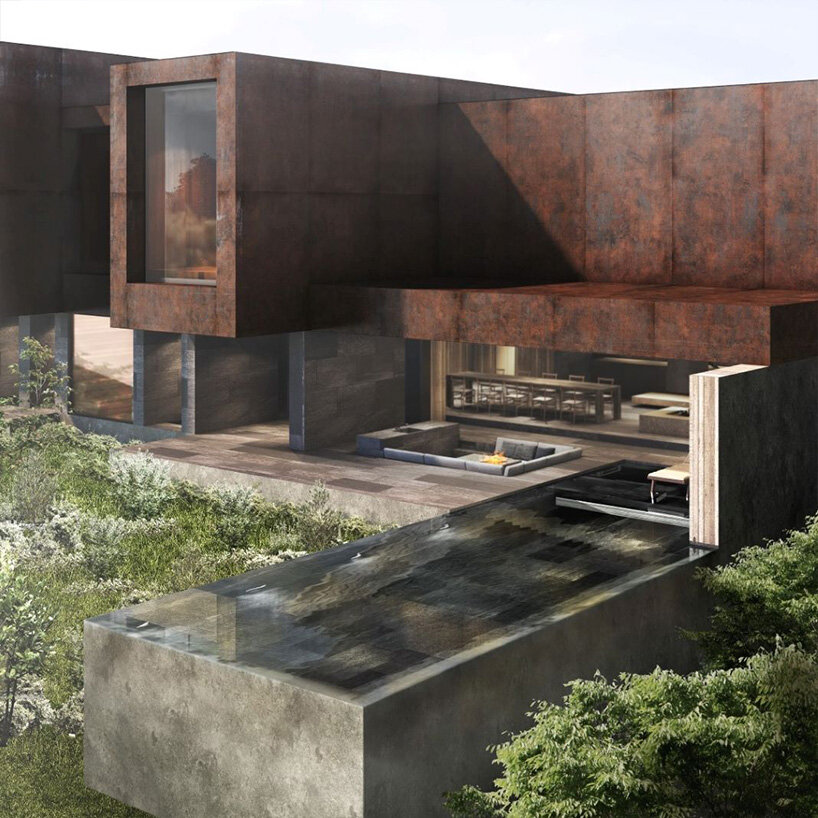 a living room with a wide field of view
inside the 'masterpiece'
The private spaces are next to the living room, letting you enjoy an open-air bath with a view. Furthermore, all three bedrooms feature floor-to-ceiling openings that face the highlands. The second floor hosts a master bedroom and 2 guest rooms, which can accommodate up to 10 people. For further contemplation and reflection, there is a quiet study space, which extends five meters deep and contains nothing beyond a desk and a stunning opening to the outside.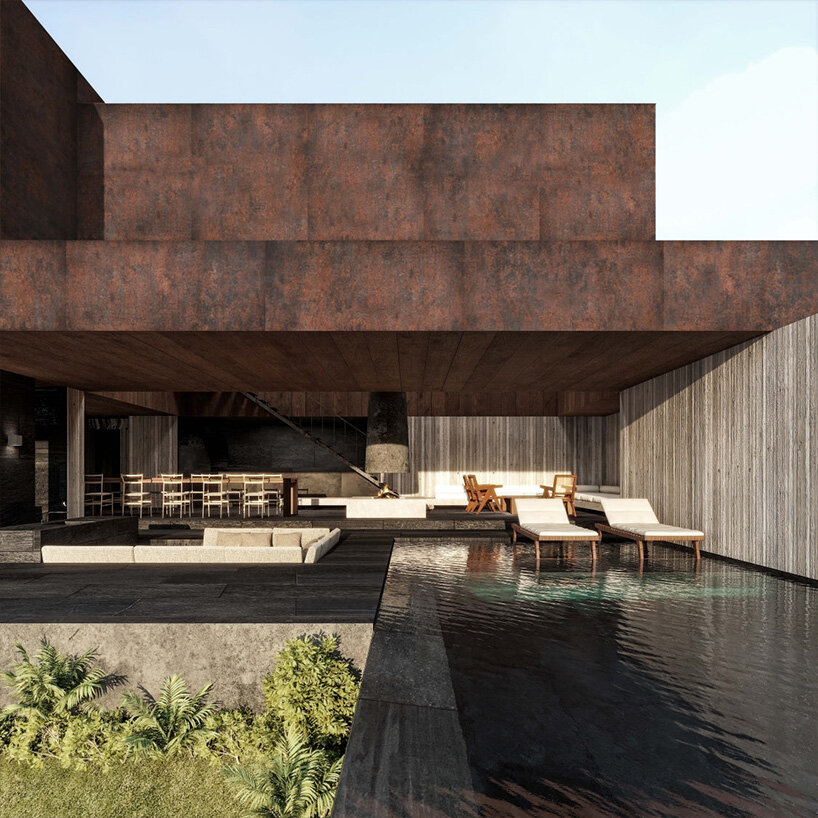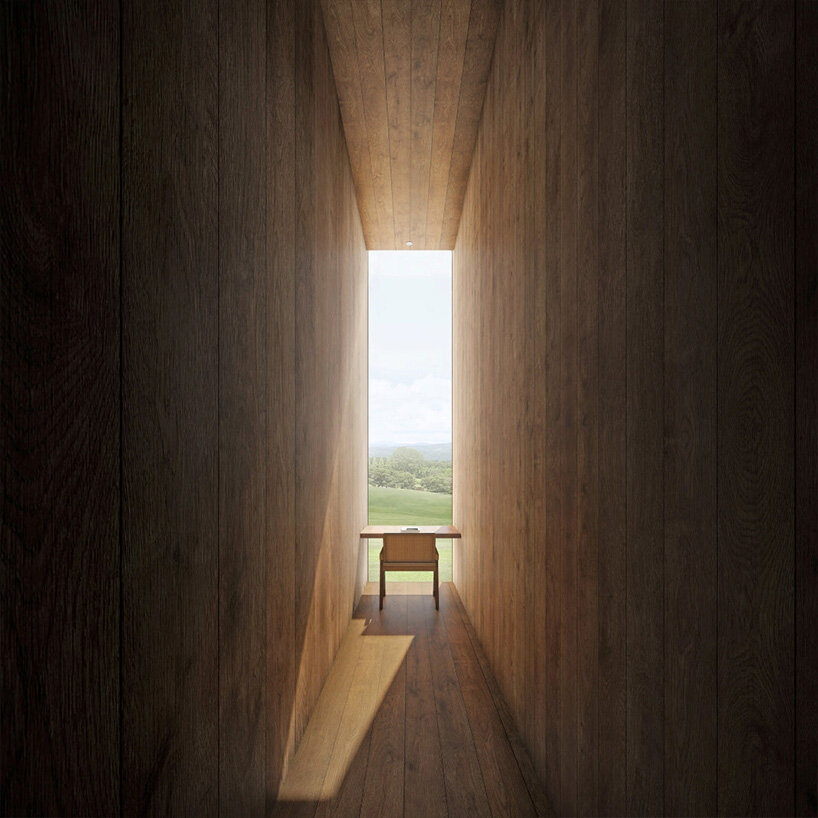 a quiet niche for study and contemplation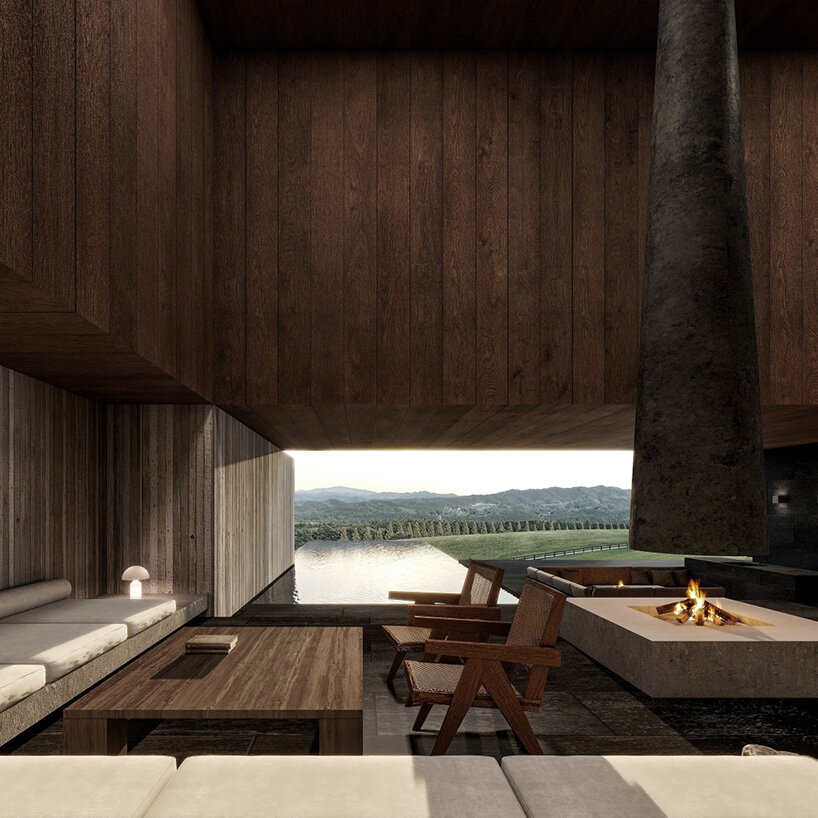 enjoying the sweeping views while relaxing around a fire pit
1/5
the material gets a rust-like appearance, due to its oxidization over time from natural factors
project info:
name: Masterpiece
architecture: Suppose Design Office
client: Not a Hotel | @notahotel_official
floor plan: 286sqm and 215sqm
christina petridou I designboom
nov 05, 2022