Restaurant Design: Elements of Successful Restaurant Interior Design
by Ron Gorodesky and Eileen Madigan

As Americans depend more on meals away from home, dining has become what they do to relax and unwind. If you have ever traveled in Europe, you notice that the dinner meal is eaten much later than in the United States and these meals have a celebratory air about them – people are heavily involved in conversation and the dinner is viewed as an event.
As living has gotten more hectic, Americans have begun to view dining as a one-stop form of nourishment and entertainment. With so much interest and money riding on food, it is extremely important for restaurateurs to develop trends that positively impact customers – including an interior design that appeals to potential customers. This is particularly important since the average American eats 198 meals out a year and spends $855 million on an average day on meals away from home.
So how do restaurants program profitability and success into their interior design? Based on current trends in the industry and working with restauranteurs to design appealing, and profitable, restaurant operations, we believe the following elements are critical for successful restaurant design.
---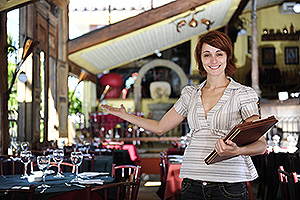 Free Newsletter – Restaurant Marketing, Operations, Service & People Tips…
One can't miss article in each issue!
Sign-up for free and get the very next issue…
---
KNOW YOUR MARKET


Determine what your customers want. This may sound like a daunting task but all it really takes is a little research. Who do you talk to? Talk to your customers if you are an existing restaurant. If you are designing a new restaurant, talk to your competition. You would be surprised how talkative your competition is, especially if they are successful.

Getting feedback from your existing customers is extremely important. Chances are these people dine out at other restaurants and can tell you what they like and don't like about the design of these restaurants.

Talk to your competition – they will tell you what went right with their design and what went wrong. You will also get the added advantage of seeing their design in action.

Do market research – look at the demographics of your location, analyze your competition and determine if there is a niche for your idea.
The information you receive from this research will be priceless. Also, you will be giving your customers what they want.

KNOW THE TRENDS.


This is related to the aforementioned element but goes a step further. In our information-based society, people can find out more information at a faster rate – and things keep getting faster and faster. Three well-known area restaurants were advertising web sites on the Internet in the last issue of this publication. Also, the TV Food Network has been started and is available on most cable television services. People can get information about restaurants quickly and easily. With more information, potential customers can be more discriminating in their restaurant selection. Interior design influences a restaurant's atmosphere which impacts the customer's decision-making process. Some of the recent trends in restaurant design based on our work at RAS and discussions with experts in the restaurant industry incorporate the following elements:

A. An upscale, but casual, theme – Tony Clark's, a recently-opened restaurant in Philadelphia conforms to this design theme – and has been overwhelmingly successful in its fledgling stage. The Striped Bass also falls into this category. The upscale, but casual design trend appears as though it will carry us into the new millennium.

B. Entertainment-themed restaurants – Planet Hollywood and Hard Rock Cafe are excellent examples of this trend. Also, we are currently designing a prototype restaurant for Philadelphia Park, a thoroughbred racetrack and The Turf Clubs, off-track wagering facilities. We are creating a sports entertainment venue that serves food and beverages. Activities in this venue will not be limited to horse racing – the venue will have the capability to simulcast all forms of entertainment including concerts and sporting events.

C.An exhibition cooking area where your chef is visible. The American public likes to see who is preparing their meals. This design also brings chefs out of the kitchen. If your chef is well-known, it will be a great marketing tool for you.

D. Neighborhood feel – People do business with people they know and like. It is the same with restaurants. Restaurants are creating interior designs that make people feel like they belong. It helps to remember the customer's name, too – Remember the television show Cheers?

USE AN INTERIOR DESIGNER WHO HAS RESTAURANT EXPERIENCE.


Although you might not think so, all interior designers are not alike. A restaurant interior designer is different from a residential interior design who is different from a health care interior designer and so on…

An interior designer you use should have experience in designing restaurants. They usually have a portfolio of their work to show you. It is an excellent way to look at the designer's creativity and design ability. Pictures are always worth many words, right? Also, an interior designer should understand the operations of a restaurant – the flow of the food from the kitchen to the customer's table, the flow and circulation of restaurant design from a customer's and employee's viewpoint and knowledge of finish specifications for restaurant furnishings, including durability and feel of furnishings.

DON'T FORGET PROFITABILITY.


Remember you have a budget you need to stick to. Also, keep the employees in mind when you design the restaurant. Create a design that facilitates their movements in and out of the kitchen. This will create seamless service that will make customers happy. It will also contribute to high employee morale. Internally market your design to your employees. They may have some ideas to share with you based on their practical experience.

Most importantly, emphasize to your interior designer the need to adhere to your budget and that your restaurant should run smoothly and look good. Tell your interior designer to create an interior that is programmed for profitability – this is where the designer's value is really reflected based on their experience.

Your restaurant's interior design – as well as great food and great service – has to appeal to restaurant patrons so they keep coming back. Incorporate these elements of success into your design and see!
---
Restaurant Advisory Services provides full-service consulting
services to the restaurant and hospitality industries. The firm offers a full menu of advisory services focusing on every aspect of the life cycle of restaurants and other hospitality organizations, from pre-opening and conceptual planning, to day-to-day operations, to design and brokerage.
More Restaurant Design Articles…
---
Copyright © 1997-2020 Restaurant Report LLC. All rights reserved.