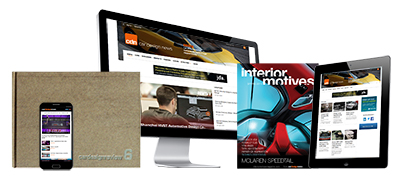 The benefits of your subscription include:
Access to motor show and concours coverage, trend and technology reports, design reviews of new and classic concept and production cars, exclusive interviews, regional reports, who's where, design essays, career resources, design competitions, regular newsletter updates PLUS comprehensive degree show reports from the world's leading design schools, the CDN archive of sketches, images and articles spanning 20 years of coverage.
An online subscription also gains you access to exclusive designer interviews from our annual Car Design Review yearbook, and access to exclusive interior design reviews from Interior Motives magazine. You can also receive Interior Motives in print through our online + print subscription, or buy individual copies of Interior Motives and Car Design Review.
Fees start from £55/€60/$70. Packages available for students, individuals, schools and corporates.


For a one-time only 30 DAY FREE TRIAL REGISTER HERE