Bruno Spaas Architectuur composes WKA Penthouse's interior
Belgian architect Bruno Spaas designs the interior of 'WKA penthouse' situated on the top floor of a tower building in Antwerp, conceived by Swiss architects Diener & Diener. As the owner and the architect of the project, Spaas takes the conscious initiative to implement suitable materials and custom-made furnishings to form a contemporary sleek interior arrangement.
The entire 350 sqm flooring is made from chunks of local light brown natural stone, while several glazed surfaces reflect the cityscape. An immediate panoramic view unravels upon entering the apartment due to a sizable floor-to-ceiling window right opposite the door. Distortion-free tempered mirrors and high-glossy painted surfaces on cupboards, sliding doors, and room dividers are recurrent throughout the design exploring the notions of space, reflection, and perspective.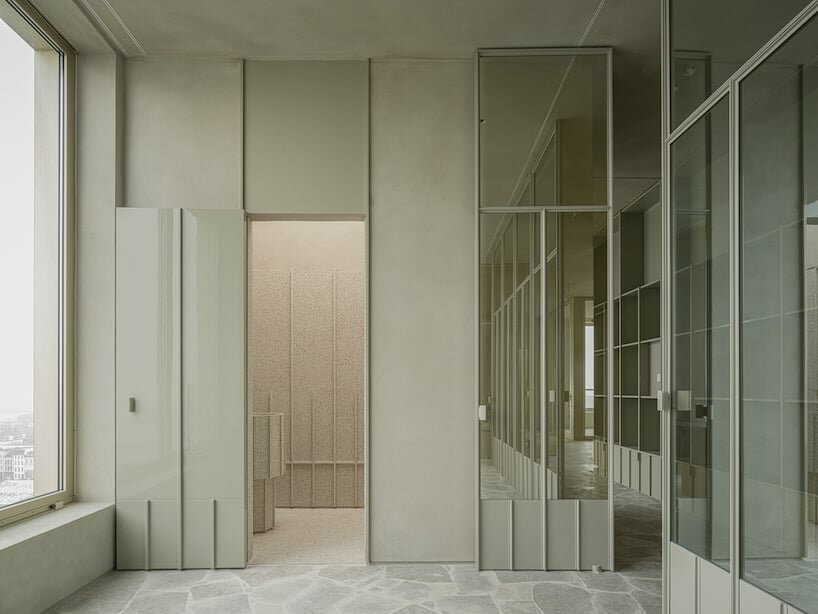 all images by Jeroen Verrecht
vivid blues pop out amongst the light brown material palette
The team at Bruno Spaas Architectuur realizes a flexible and open internal development ensuring free circulation throughout the space with no dead ends, just doors to divide and add privacy when needed. Together with the storage solutions and functional spaces like the pantry and utility room, the plan design and layout reveal a thorough understanding of flow and everyday use. Verticality defines the overall aesthetic of the project with upright linear detailing and features of the built-in and freestanding furniture.
The bench in the foyer and the kitchen islands along with sanitary elements like sinks and the bathtub in the master bathroom are customized pieces carrying the same visual expression, built by strips of locally produced Belgian terrazzo. Their distinct features are echoed in the painted woodwork, creating a common language, and underlining the verticality of the tower. The light brown stone on the floor sets the color tone for the rest of the apartment, yet shades of blues and greens surprisingly pop out when opening drawers and cupboards. The 'WKA penthouse' project demonstrates a level of meticulousness and detail by Bruno Spaas Architectuur achieved in close collaboration with a small group of constructors and local craftsmen.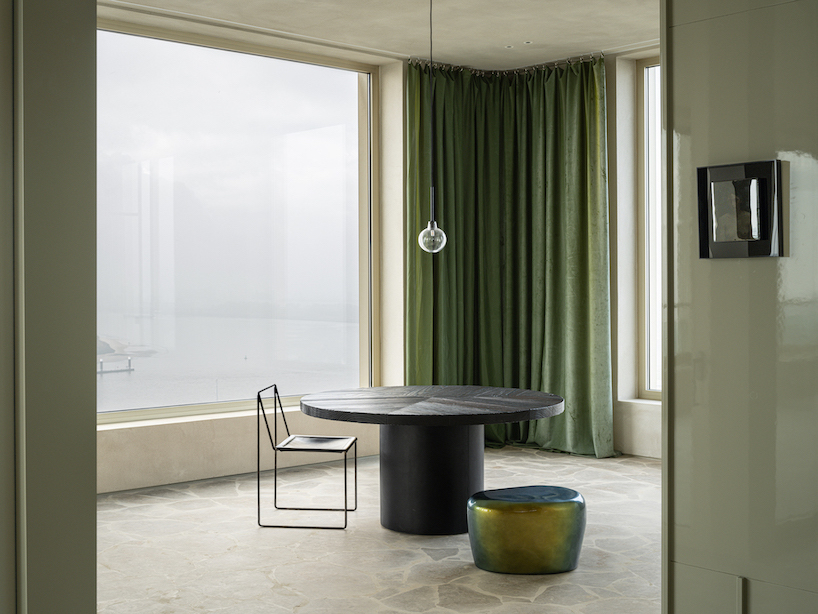 suitable materials and custom-made furnishings are implemented to form a contemporary sleek interior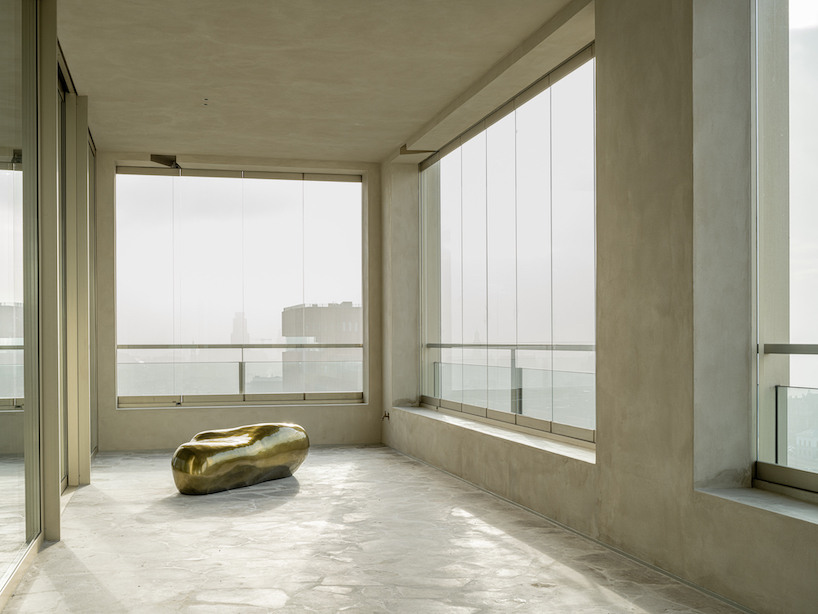 the entire flooring is made from local light brown natural stone, while several glazed surfaces reflect the cityscape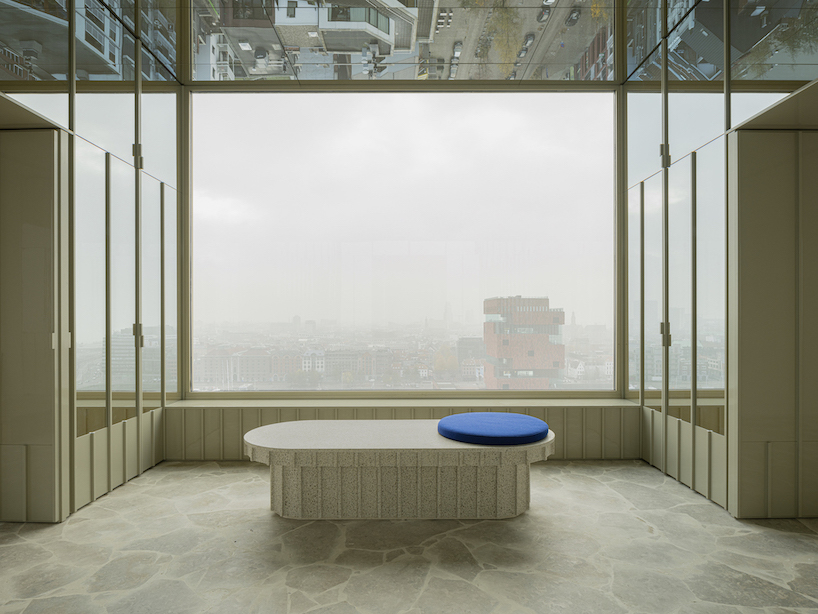 distortion-free tempered mirrors and high-glossy painted surfaces are recurrent throughout the design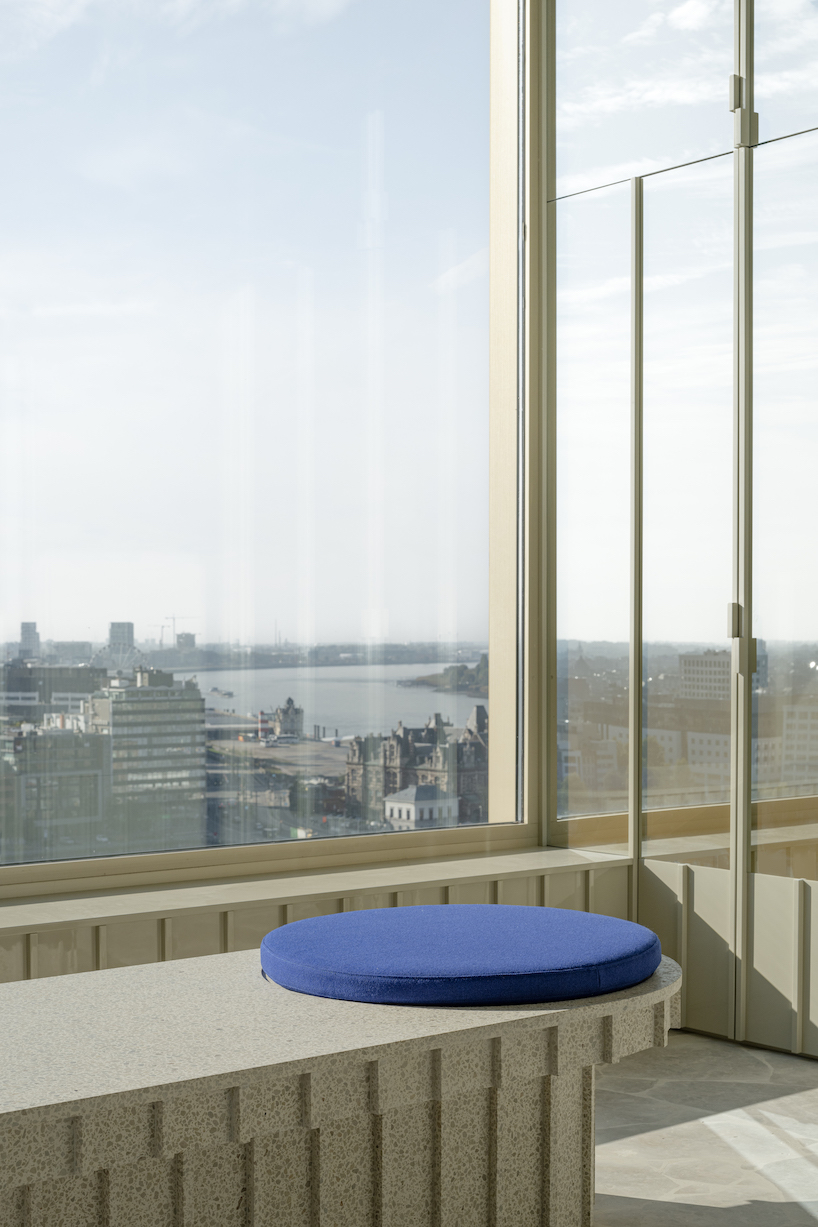 floor-to-ceiling windows allow for an immediate panoramic view