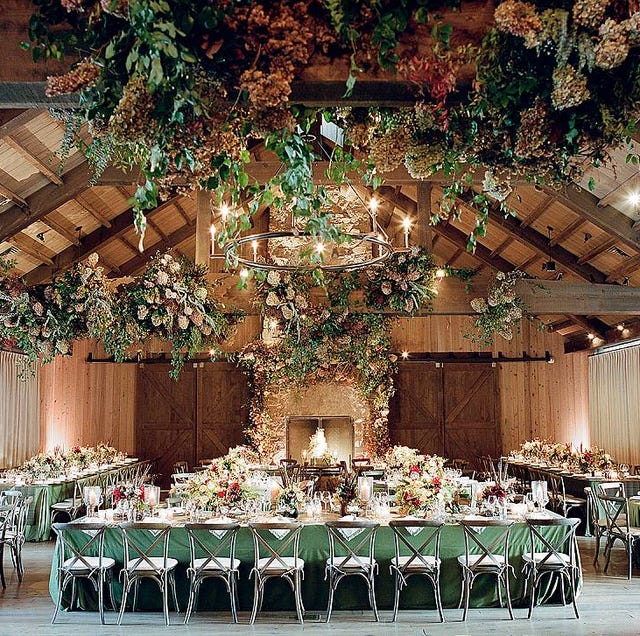 Jose Villa; Easton Events
Deciding on décor for a winter wedding can be a challenge; after all, the colder months are wedding's off-season, and a time of year that lends itself to potentially kitschy or overly literal themes (cue the mistletoe and snowflakes). To boot, the best blooms—like peonies, dahlias, hydrangeas, and more—are nowhere to be found. And if that weren't enough, floral varieties are imported from abroad and inclement weather affects incoming shipments, abundance, and quality. The current coronavirus pandemic has affected floral markets worldwide, and colder weather means even smaller guest counts and safety precautions to account for safe indoor entertaining. And then there are the upsides: winter is a time where everyone feels festive, ready to party, and is feeling the love. The air is crisp and full of hope for the year ahead—and it's one of the most romantic seasons of the year.
With all the pros and cons in mind, design opportunities for the winter months are endless. And if you're planning to get married in an intimate 2020 affair, or are planning cold weather nuptials in the future, don't limit yourself to particular color palettes or motifs. Embrace outside the box tones, play with lighting design, innovate with florals (or lack their of), opt for new textures, and build off the environment of your wedding venue. Here, our favorite ways to decorate for your romantic, rustic, classic, or modern winter wedding–that speak to any style.
Advertisement – Continue Reading Below
Blue Velvet
Shades of blue lend themselves to weddings any time of year, but in the winter months, opt for this icy shade in rich, luxe velvets—from the tablescape, to the backing of the paper suite. This tone works double duty as a pop of color in its deeper tones, and as a neutral as it goes softer. Trust us, this is the shade that will make a color palette of expected jewel tones like rich burgundies, mustards, sage, and emerald greens unexpected and surprising, from the time your guests first receive their invitations, until they are seated at the dinner table.
Pictured: Planning by Easton Events.
Bring On The Branches
Winter sheds the leaves and buds off blooming branches—but rather than get discouraged by the change in seasons, tap that as your main source of your floral inspiration. Trust us, the gestural, modern nature of barely-covered branches is just as ethereal as loads of blooms. Stay seasonal when it comes to your decor, and keep in mind that a winter wedding should feel festive and abundant, but not overly flowery. Luckily, an arch of branches is breathtaking, especially when it opens up to an expansive wintery landscape. As always, work with your florist and wedding planner to determine the look and feel—and to see what will work in your venue environment.
Pictured: Planning by Alison Events; Ceremony structure by Proper Flower; Floral design by Shotgun Florals.
Party On
While balloons and streamers are typically reserved for birthday bashes and children's affairs, they level up the fun at any wedding that coincides with the holidays, especially New Year's Eve. Done in a curated mix of metallics, like gold, platinum, and bronze, this decor element can level up your winter wedding—and make for an epic photo booth moment. Bring on the mylar fringe, balloons, confetti, and more—adding elevated, thoughtful, yet quintessentially-party components will set the mood from moment one, and makes it clear what each guest's priority should be: having a fabulous time.
Pictured: Ann Brady & Scott Kelce's New Year's Eve wedding. Planning by In Any Event NY; Floral design by Lewis Miller.
Cue the Copper Cutlery
To keep things warm, choose warmer metallic objet for your tabletop and cutlery rather than classic silverware. But rather than stick to the typical gold flatware (which is still undeniably chic), opt for something unexpected. Paired with winter greenery and natural textures, copper and rust-toned flatware feels elegant and of the moment. Don't worry about all your metals being consistent—mix and match them.
Pictured: Planning by ByChenai; Floral design by Amanda Jane Flowers; Stationary by Flamboyant Invites.
Let There Be Light
Light up the room with market lights and taper candles for a look that feels as romantic as it does timeless, and hearkens to the joyfulness and spirit of the holiday season. Trust us: Skip the colorful lighting. There is nothing more gorgeous, inviting, and sexy when it comes to lighting a party, dinner reception, or intimate gathering than loads of twinkling lights and mini flames in natural shades of candlelight.
Pictured: Planning and design by RobbinsOtoya.
Simplify Your Color Palette
A winter wedding means you're likely decorating indoors for an intimate group, with COVID-19 regulations in mind. For a fresh take on what will likely be a dinner party for the ages, focus on a more monochromatic color scheme. Colors like goldenrod, mustard, ochre, and honey may seem summery to some, but for BAZAAR Bride Top Florist Putnam & Putnam, it brings the sunlit shades of the west coast into winter; think: jewel tones of citrine, amber fireplaces, and mustard seeds planted up and down the California coastline.
Consider applying this idea to your favorite shade, be it soft blues, winter whites and neutrals, or a deep shade like burgundy, emerald, or eggplant.
Go Green
Rather than cover every railing and table with floor to ceiling flowers, skip the blooms altogether and go green. Draped willow, eucalyptus, redwood, and spruce make for elegant decoration that feels inherently holiday, plus they'll leave behind a fresh scent. Garlands of greenery work on stairwells (as shown here), on fireplace mantles, or down each table at the reception, filled in as needed with moody objet and winter fruits and berries.
Pictured: Planning by Jove Meyer Events.
Drop it Low
With so many family-focused holidays taking place in the winter months, carry on that family-oriented energy throughout your wedding reception—big or small. Low-lying centerpieces create a more intimate dinner experience, as meals should be when you're celebrating with your nearest and dearest. The result feels modern, but sets the tone for a family dinner, regardless of whether you decide to serve family style.
Arrangements this low benefit from loads of texture, and color palettes with a patina for a more moody, seasonal feel. If you're not feeling for flowers, opt for this look with greenery.
Pictured: Design by Preston Bailey; Planning by JZ Events
Keep It Cozy
With COVID-19 precautions at the forefront of our minds, it's likely you may consider a winter ceremony outdoors. Regardless of when and where, make sure your guests are comfortable, safe, and warm. Opt for wool or cashmere throws to work double duty as favors and blankets to keep your guests warm as needed.
Expert advice: Don't expect guests to tote these around all night. Lay them on their seats during the ceremony, and then have your planner present them in baskets at the reception or upon departure for guests to grab on their way out. Concerned about COVID safety? We get you. For a small group, have these steamed before they are re-presented to guests for an extra sanitary step.
Pictured: Planning by Calder Clark
Holiday Spirits
There's nothing like tapping holiday favorites for your menu—and then using them as an added decorative moment. Set up a dark wood bar stocked with amber-toned spirits and encourage guests to pop in throughout the night for a craft cocktail of their choice. We suggest serving wintery riffs on classic cocktails, like the cinnamon rosemary old fashioned shown here, for a post dinner nightcap, with dessert, or at the after party.
This content is created and maintained by a third party, and imported onto this page to help users provide their email addresses. You may be able to find more information about this and similar content at piano.io
Advertisement – Continue Reading Below